"Higher for longer be damned": consumers and businesses.
The 10-year yield closed at 4.28% today, according to Treasury Department data, the highest since, well, let's look here, November 14, 2007, so about 15 years ago, having edged past November 2022 and June 2008 by a hair. 2007 is notable in that it was the last year before the arrival of QE.
What is hilarious in a twisted way is that the 10-year yield had dropped to 0.5% in August 2020, and everyone and their dog were preaching to the world that longer-term yields would drop into the negative in the US, as they'd already done in Europe, because of course the 40-year Great Bond Bull Market – Great Bong Bull Market? – would have to continue for evermore, with yields falling deeper and deeper into the negative. I have a term for this: Consensual Hallucination.
The entire sucker-rally from November last year through May this year has now been mopped up.
So it has been quite a trip, from the all-time low in August 2020 via raging inflation to the 15-year high. And every step along the way, the longer end of the Treasury market has been in denial.
But gradually the market is grappling with the notion of coming out of denial. The thing is, in normal times a 10-year Treasury yield of 4.28% would be low, when short-term yields are 5.5%, with inflation and the uncertainty of inflation bouncing all over the place. Eventually investors would want to be compensated for inflation, no?
Mortgage rates today rose to 7.34% for the average fixed-rate 30-year mortgage, according to the daily Measure by Mortgage News Daily. This morning, the Mortgage Banker's Association reported that the average rate during the reporting week was 7.16%. And the housing market is not exactly jubilating.
Higher rates mean lower asset prices. This goes in lockstep with yield producing assets, such as bonds and real estate investments. It doesn't go in lockstep with other assets, such as stocks, but it goes. Just like lower rates meant higher asset prices all around for the past 15 years of interest rate repression.
Inflation, once it reaches this magnitude, tends to dish up nasty surprises, and we just got another one from the UK where services inflation spiked to a 40-year high, and we got one from the Eurozone where services inflation spiked to a new high, and we're going to get some "surprises" in the US in the second half for reasons we've spelled out here.
Bond market has to grapple with a wild mess.
1. "Higher for longer" inflation, yup, still a huge thing, and still making the Fed very nervous, and not just the Fed.
2. "Higher for longer" Fed rates to tamp down on higher-for-longer inflation. Looks like one or two more are coming this year. Who knows, rates are already a lot higher than we had imagined in March 2022, when the rate hikes finally started.
3. "Higher for longer be damned." The economy is not slowing down. Consumers are doing fine. Wages are rising. Businesses are hiring. The housing market hasn't collapsed. Inflation has shifted to services. The federal government is deficit-spending its way to happiness. And rates may have to go higher still.
4. A tsunami of longer-term Treasury securities. The Treasury Dept. detailed it in early August, which we sorted out here. The tsunami of issuance is needed to fund the ballooning government deficits and to increase the balance in the Treasury Department's checking account (TGA). The first ripples have already arrived via ramped-up auctions of notes and bonds in August, including 10-year notes and 30-year bonds last week.
5. While the Fed is unloading Treasuries. So far, the Fed has reduced its holdings of Treasury securities by $723 billion from the peak in June 2022. It reduces its holdings by not replacing maturing securities. At $5.05 trillion, its holdings are now the lowest since May 2021. It has shed 22.3% of the Treasury securities it had bought under its pandemic QE ($3.25 trillion).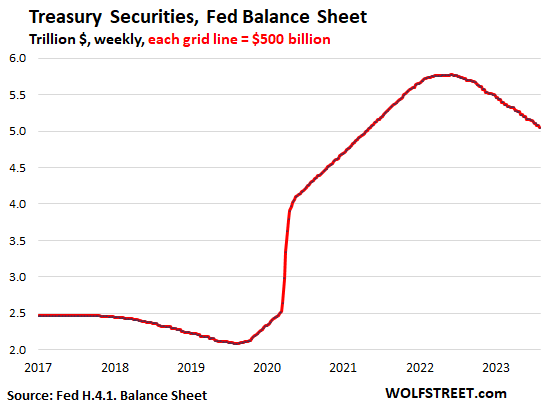 Future investors lick their chops, but are edgy about inflation. Obviously, a 4.28% yield on 10-year money with no credit risk is a lot more attractive to future buyers than 3% was, or 0.5% LOL.
But a 5% yield will be even more attractive, and lots of investors are holding out for that 5%, because the unknown is inflation over the longer term, and it can spook investors that want to commit funds for 10 years or longer.
Inflation bludgeoned bond investors year after year in the 1970s and early 1980s. The survivors formed the bond vigilantes, and they refused to buy, and for years, Treasury yields remained high, even as inflation was falling. But thankfully, the crowd in the market today has no idea what that was like, and they're still expecting inflation and yields to be a lot lower in a year or two rather than, God forbid, higher.
And when inflation gets bad enough, and keeps dishing up nasty surprises as it did in the 1970s and early 1980s, well then 5% may not be enough either to entice enough buyers to absorb the tsunami of new issuance. Ironically, looking back over the long term, that 5% to 6% range wasn't a bad place to be for the economy, such as in the 1990s (circled in the chart below), but asset prices were relatively speaking a lot lower.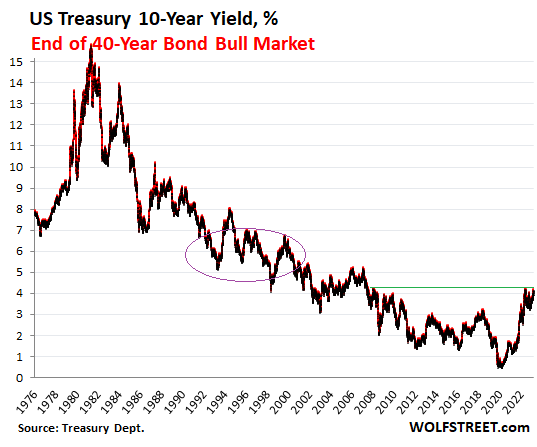 Enjoy reading WOLF STREET and want to support it? You can donate. I appreciate it immensely. Click on the beer and iced-tea mug to find out how:

Would you like to be notified via email when WOLF STREET publishes a new article? Sign up here.