But motor fuel prices plunge, and inflation in durable goods and food cools – same as everywhere.
This is a global phenomenon: Inflation has moved from energy products and durable goods to services. Inflation measures that track services are redlining, and "core" measures, that exclude food and energy products, are stuck at very high levels, driven by inflation in services, while overall CPI readings have been pushed down by plunging energy prices and by either slowly rising, flat, or even dropping prices in some major durable goods categories as the supply chain chaos has gotten largely resolved. And so, inflation has gotten solidly entrenched in services, where it's very hard to combat.
The UK Services CPI spiked by 1.0% in July from June (12.7% annualized), and by 7.44% year-over-year, the worst services inflation in 40 years, edging past the prior four-decade record of May (7.35%), according to data from the UK Office of National Statistics (ONS) today.
This was broad-based, not just one big item, driven by red-hot increases in insurance of all kinds, rents, transportation services, particularly by air and rail, water & sewer charges, various healthcare services, restaurants, hotels, etc.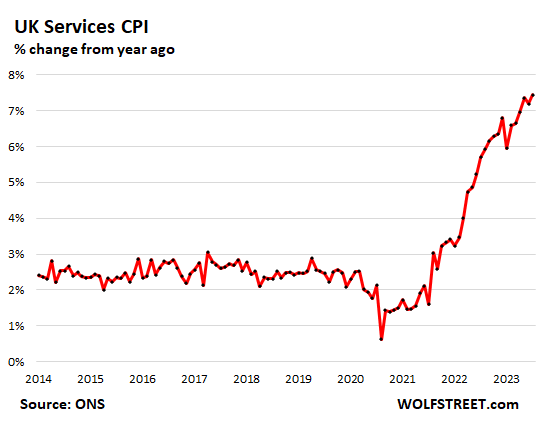 It's in services where all heck has now broken loose. A similar record price spike in services is raging in the Eurozone. In the US, red-hot services inflation was cooled somewhat by special effects that will flip in the second half of the year.
The UK Durable Goods CPI fell by 1.3% in July from June, the second month in a row of declines, and the steepest drop since January 2013. It reduced the year-over-year gain to 3.9%.
The month-to-month decline was a result largely of the CPIs for vehicles (cars, motorcycles, and bicycles), furniture, products for outdoor recreation, games and toys, audiovisual equipment, and computers. All the stuff that had gotten hung up in the supply chain chaos in 2020 through 2021 is now plentifully available, and the huge price spikes of yore are partially being whittle down.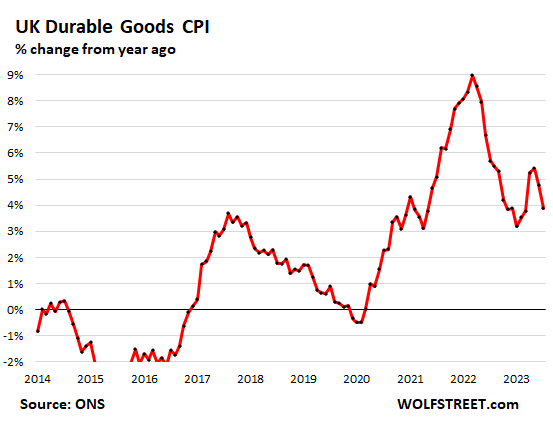 So Core CPI rose by 6.9% year-over-year, same as in June (actually, unrounded, just a hair above June), the second-worst reading since March 1992, the worst having been May (7.1%).
Core CPI excludes energy products, food, alcohol, and tobacco. So this is not looking very propitious, and it's driven entirely by services – not goods: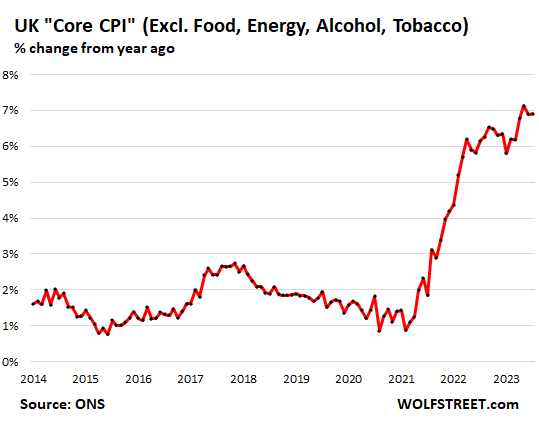 Food inflation is cooling from the horrible pace earlier in the year. The CPI for food and non-alcoholic beverages rose by just 0.1% in July from June. The month-to-month drop was driven by fruit (-1.0%); coffee, tea, and cocoa (-1.4%), milk, cheese, and eggs (-0.4%). But fish prices spiked (+1.9%).
Year-over-year, the CPI for food rose by 14.8%, and as bad as it is, it was the least terrible since September 2022.
Food inflation has been a global phenomenon, and not the result of Brexit: a number of countries in Europe had worse food inflation than the UK. And all of them are cooling.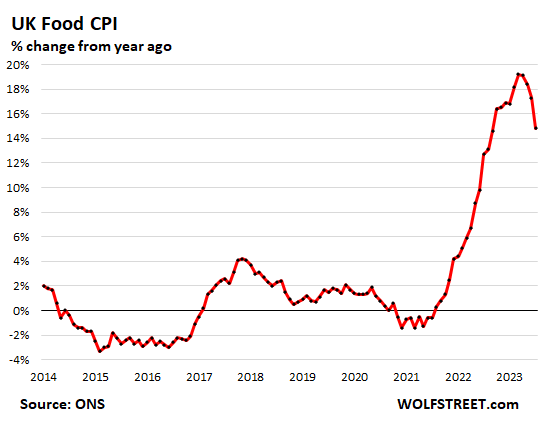 Motor fuel prices plunged by 24.9% year-over-year, after having spiked by as much as 44% last summer.
Month-to-month, prices dipped 0.4%, after having plunged in 9 of the past 10 months, by month-to-month rates between 1.2% and 6.8%. This collapse of the price spike last year has taken a lot of pressure off the overall CPI: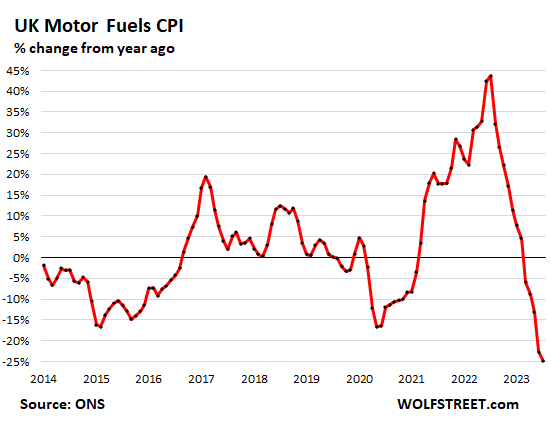 Overall CPI rose by 6.8% in July compared to a year ago, the smallest increase since February 2022, pushed down by the collapse of the spike in fuel prices, cooling prices of durable goods and food. But fuel prices aren't going to plunged 25% per year forever. And the price spikes in services continue unabated. So the days of the downtrend are numbered. In the US, the downtrend of overall CPI has already reverted to an uptrend.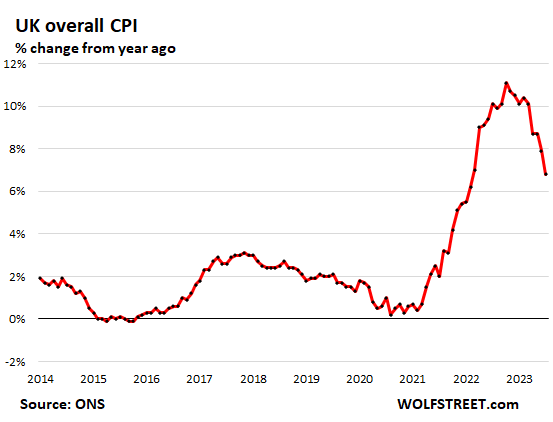 The bond market is slowly buying into the concept of "higher for longer" – meaning higher inflation and higher policy rates for longer. The 10-year UK Government bond yield has risen above the pension-fund panic spike in October last year that had caused the Bank of England to intervene briefly. It reached 4.65% today, and this time, the BOE, facing further rate hikes, is smiling thankfully at the markets for carrying its water. Little by little: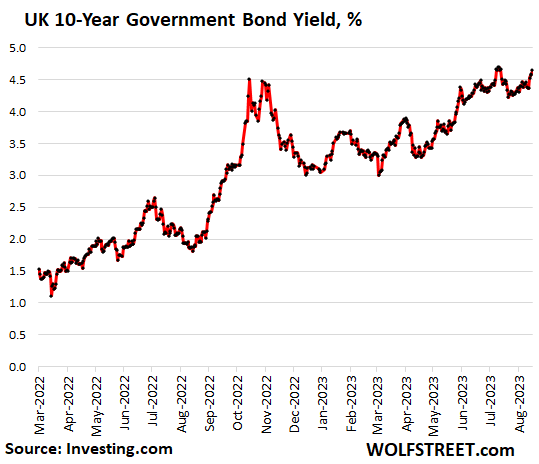 Enjoy reading WOLF STREET and want to support it? You can donate. I appreciate it immensely. Click on the beer and iced-tea mug to find out how:

Would you like to be notified via email when WOLF STREET publishes a new article? Sign up here.