At cannabis shops, restaurants, and gas stations, sales hit records. At auto dealers, the biggie, sales sag.
Total retail sales – including at restaurants and bars, where business is booming – fell by 1.1% in July from June, to $618 billion (seasonally adjusted), according to the Commerce Department today. Retail sales without restaurants and bars fell by 1.5%; and these sales minus gas stations fell by 1.9% from June.
This isn't adjusted for price increases. And there have been some big ones over the one-month period, for example: Prices of food bought at the store (+0.7%); at restaurants, delis, cafeterias, etc. (+0.8%); gasoline (+2.4%), new vehicles (+1.7%). This is the loss of the dollar's purchasing power, where consumers have to pay more to get the same thing or to get even less.
The government's stimulus, which had had a massive effect on retail sales over the past 12 months, is now fading. And some of this money is now shifting back to services. The biggest portion of the historic spike in retail sales was powered by the stimmies of $1,400 that started going out in March, and came on top of all the other stimulus and unemployment benefits and the rents that didn't have to be paid and the mortgage payments that didn't have to be made. Despite the recent slowdown, the historic spike is still up by 18% from July 2019. It's not like Americans aren't doing the best they can: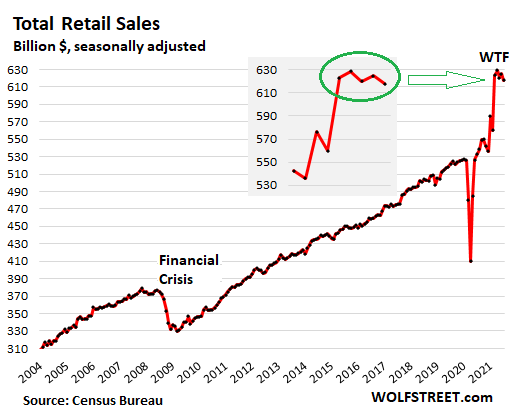 New & used auto dealers and parts stores: Sales dropped 3.9% in July from June despite rampant price increases, to $127 billion (seasonally adjusted), the third month in a row of declines from the stimulus-powered spike in March and April. Year-over-year, CPI inflation for new vehicles surged 6.4% and for used vehicles 42% (forty-two %), even as new vehicle sales volume plunged in July.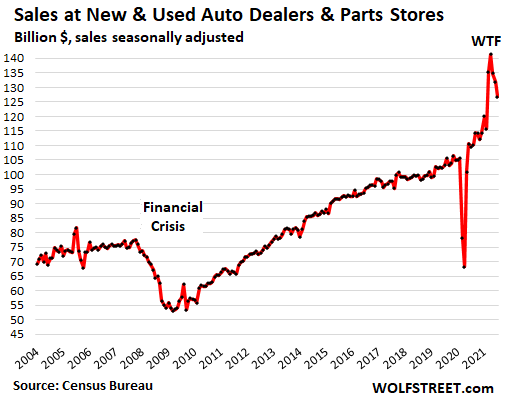 Auto dealers and parts stores are the dominant retail segment, accounting for over 20% of total retail sales (black line in the chart below). Nonstore retailers, which is mostly ecommerce, have jumped into second place (red line), followed by Grocery and beverage stores (green line), restaurants and bars (purple line), general merchandise stores (Walmart, etc.), building material and garden supply stores (Home Depot, etc.), followed by the rest: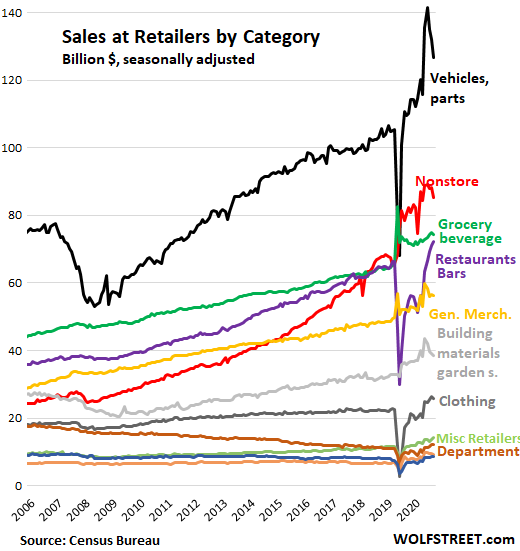 Ecommerce and other "nonstore retailers": Sales fell 3.1% in July from June, to $85 billion, seasonally adjusted, but were up 27% from July 2019. This includes ecommerce sales by any retailer, including the online operations of brick-and-mortar retailers, plus sales by mail-order houses, street stalls, vending machines, etc.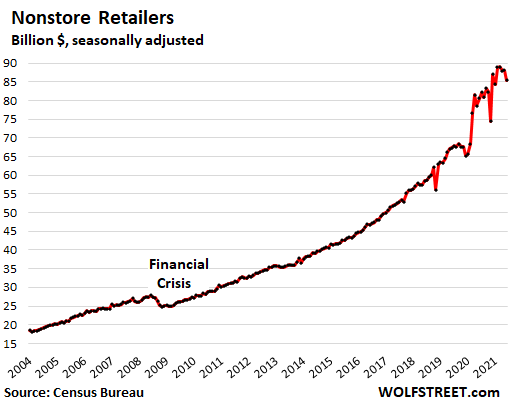 Food and Beverage Stores: sales fell 0.7% in July from June, despite surging prices – the CPI for food purchases at these stores jumped 0.7% over the same period. At $74 billion, sales were still up 15% from July 2019, driven in part by how life for many Americans has changed, including the shift to working from home, or not working at all, that moved some consumption from commercial buildings to supermarkets.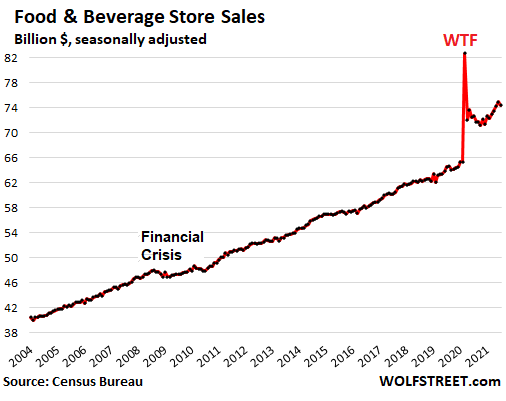 Restaurants & Bars: Sales rose 1.7% in July to $72 billion, the third monthly record in a row, and were up 12% from July 2019, amid widespread price increases and the phenomenon of "revenge spending," where people, after all the hardship, just want to blow some money to buy satisfaction for the soul: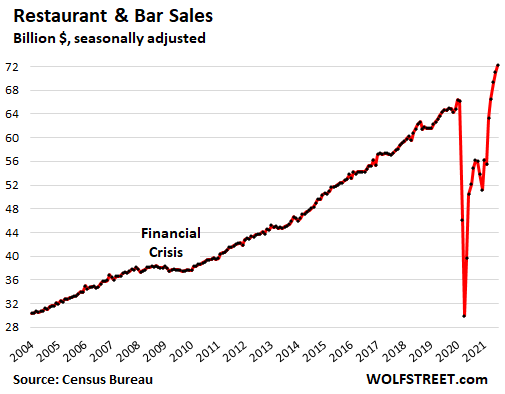 General merchandise stores: Sales were roughly flat in July, at $56 billion, and were up 16% from July 2019. The brick-and-mortar stores of Walmart, Costco, Target, etc. are in this category, but not their ecommerce sales (included in nonstore retailers):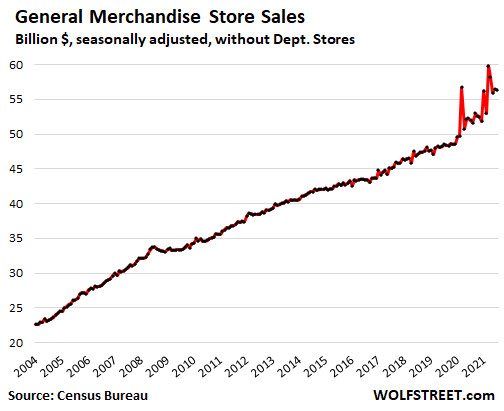 Building materials, garden supply and equipment stores: Sales fell 1.2% for the month, the fourth month in a row of declines, to $39 billion, as the passion for DIY is starting to fade – confirmed today by Home Depot's earnings report – but were still up 22% from July 2019: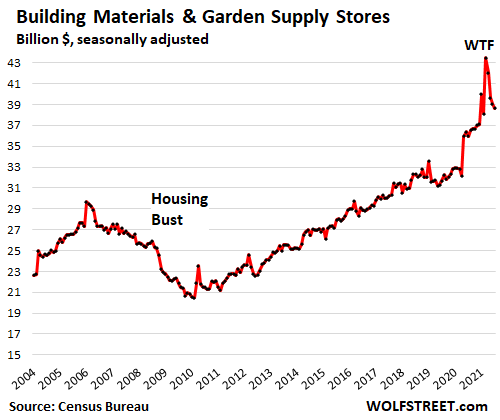 Gas stations: Sales rose 2.4% for the month and hit an all-time high of $49.5 billion, amid soaring gas prices and a large-scale shift to driving for vacations in the US, as foreign destinations are mostly too much hassle or impossible to get to. This surpassed the previous records in July 2008 ($47 billion) and February 2013 ($49 billion). In both those periods, crude oil was over $100 a barrel (WTI). Currently, WTI trades at $67 a barrel. Sales at gas stations also include sodas, junk food, beer, motor oil, and other stuff they sell: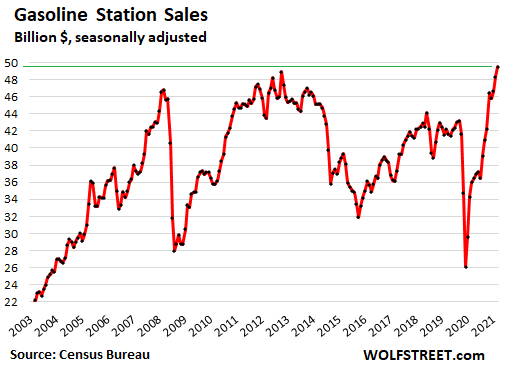 Clothing and accessory stores: Sales fell 2.6% in July, wiping out the gain in June, to $26 billion, up 15% from July 2019: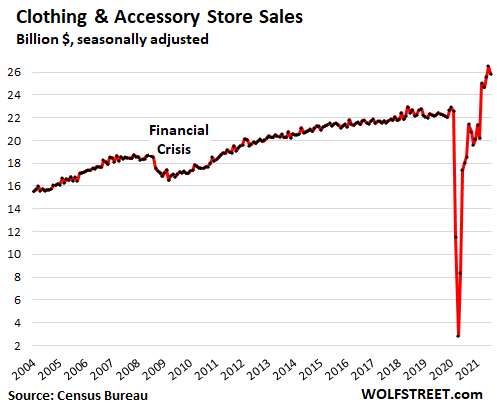 Miscellaneous store retailers, boom in legal cannabis? Sales jumped 3.5% for the month to $14 billion and are up 26% from July 2019. This is a category of specialty stores, many of them tiny, selling just one category of product. And it includes a newly legal type of store in many states: marijuana retailers: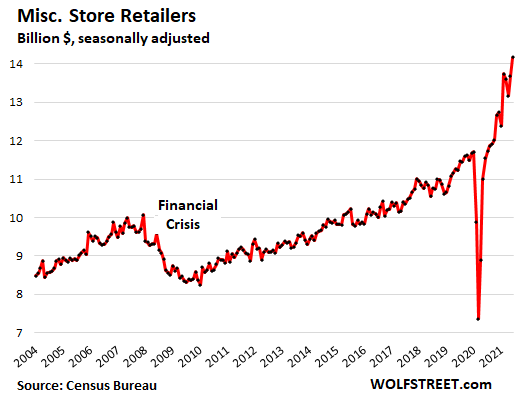 These miscellaneous store retailers make up a fun list. Here are some of them:
Architectural supply stores
Art supply stores
Beer making supply stores
Binocular stores
Cake decorating supply stores
Calendar shops
Candle shops
Cemetery memorial dealers (e.g., headstones, markers, vaults)
Closet organizer stores
Collectors' items (e.g., autograph, card, coin, stamp) shops (except used rare items)
Electronic cigarette stores
Emergency preparedness supply stores
Fireworks shops (i.e., permanent location)
Flag and banner shops
Flower shops, artificial or dried
Home security equipment stores
Hot tub stores
Janitorial equipment and supplies stores
Marijuana stores, medical or recreational
Monument (i.e., burial marker) dealers
Police supply stores
Religious goods (except books) stores
Swimming pool supply stores
Trophy (including awards and plaques) shops
Wine making supply stores
Furniture and home furnishing stores: Sales edged down 0.6% for the month, to $12 billion, but were still up 21% from July 2019: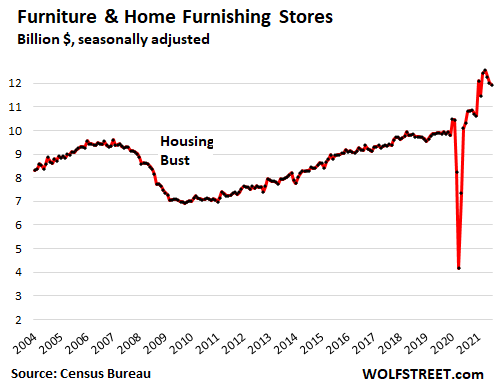 Department stores: sales edged down 0.3% for the month, to $12 billion, up 6% from July 2019. This includes sales at brick-and-mortar stores of Macy's, Kohl's, J.C. Penney, etc., but not their sales that were originated online (ecommerce):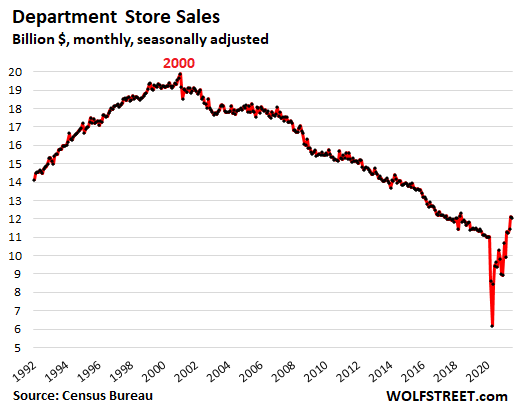 Sporting goods, hobby, book and music stores: Sales dropped 1.9% for the month, to $9 billion, but were still up 38% from July 2019: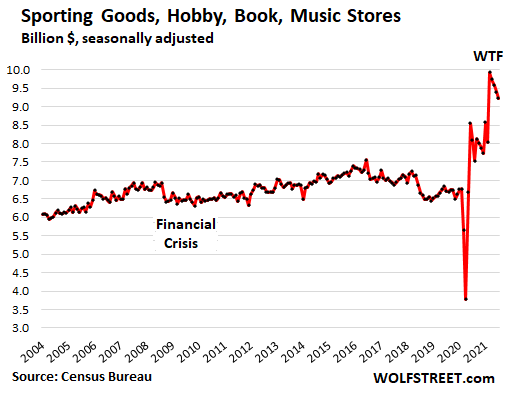 Electronics and appliance stores: Sales were flat for the month, at $8.6 billion, and were up 4.7% from July 2019. These products, a booming business in the US, started shifting to ecommerce many years ago. And these are the crumbs left for brick-and-mortar stores to fight over: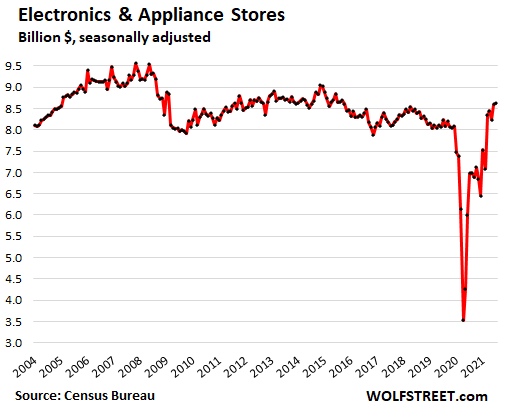 Enjoy reading WOLF STREET and want to support it? You can donate. I appreciate it immensely. Click on the beer and iced-tea mug to find out how:

Would you like to be notified via email when WOLF STREET publishes a new article? Sign up here.