NAR, the Realtor lobbying group, demands its easy-money heroin back that the Fed has confiscated.
The national median price of previously owned houses, condos, and co-ops fell to $394,300 in September, down by 4.7% from the peak 18 months ago, in June 2022, according to data from the National Association of Realtors (NAR) today.
June is usually the seasonal price-peak of the year, but June 2023 was below the peak in June 2022 for the first time since the Housing Bust, and prices skidded lower since then.
Due to the price plunge last year in July through September, the median price was up year-over-year by 2.8%, but that was a lower rate than the 3.2% year-over-year in August (historic data via YCharts):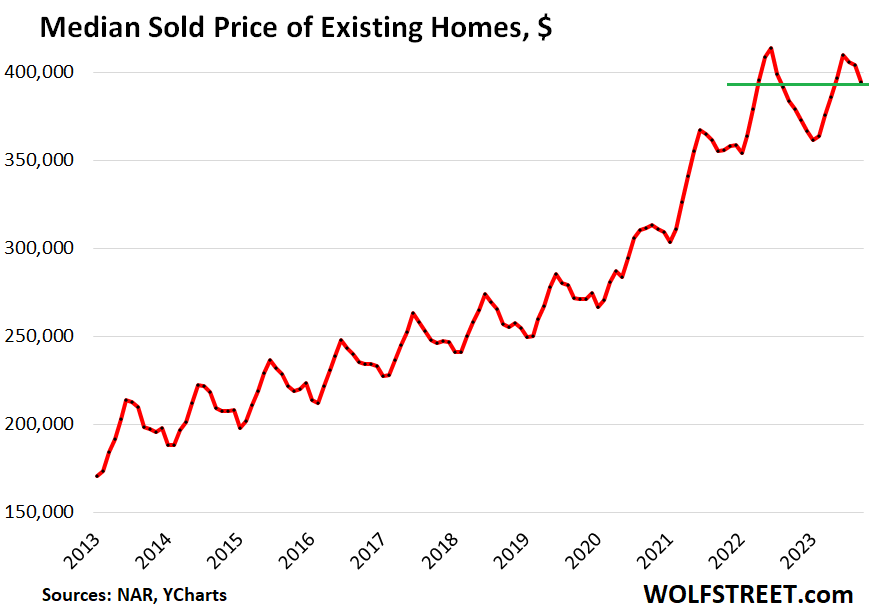 Price reductions jumped to 37.5% of active listings in September, blowing by the pre-pandemic highs, as sellers are getting more motivated to sell their homes while buyers have vanished at these prices (data via realtor.com):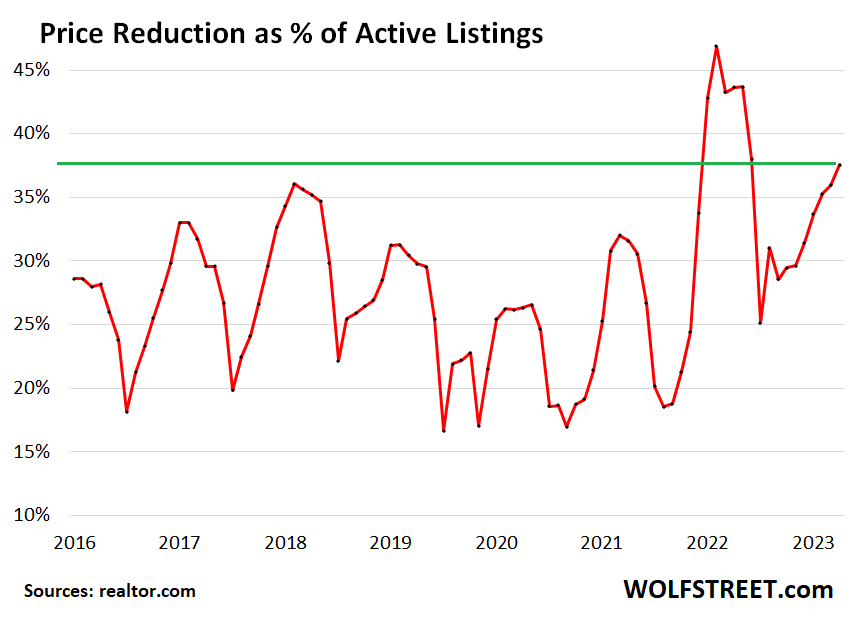 Sales of previously owned houses, condos, and co-ops crashed to a seasonally adjusted annual rate of 3.96 million homes in September, the lowest since the depth of the housing bust in 2010. Compared to the Septembers in prior years (historic data via YCharts):
From 2022: -15.4% from already depressed levels
From 2021: -35.9%.
From 2019: -26.8%.
From 2018: -23.6%.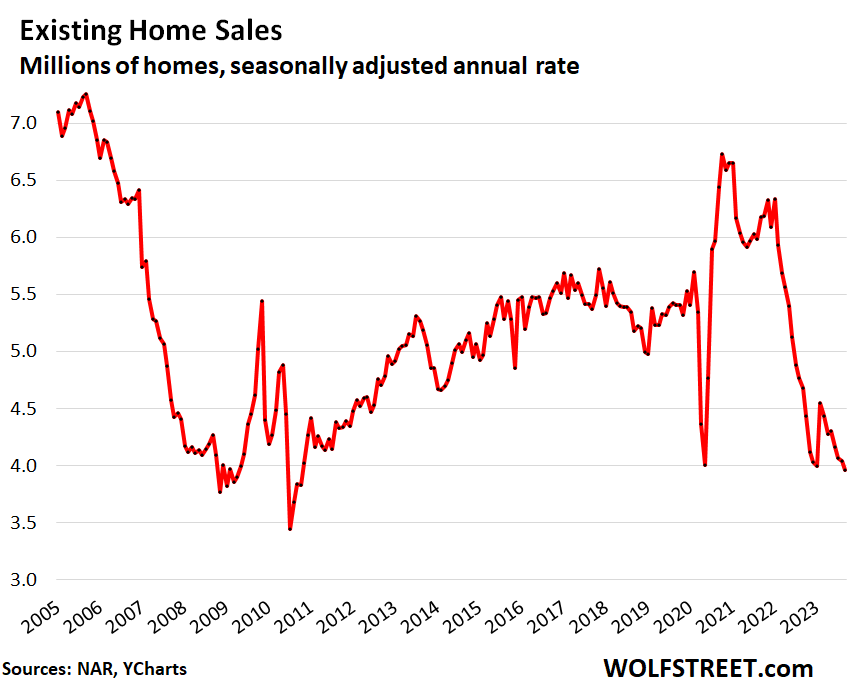 The NAR demands its easy-money heroin back from the Fed.
"The Federal Reserve simply cannot keep raising interest rates in light of softening inflation and weakening job gains," whined NAR Chief Economist Lawrence Yun in the press release, because the NAR is a lobbying group for Realtors, and Realtors make commissions off every sale they handle, coming and going, and as sales volume plunges, their income plunges.
The industry has gotten hooked on the heroin of the Fed's easy money between 2008 and 2022 that caused mortgage rates to plunge below 3%, and home prices to inflate to the moon, and now they hate the normalization of interest rates, and they want their heroin back.
Obviously, Realtors and the NAR could boost sales volume by pressuring their clients to lower asking prices by a big chunk to bring them in line with 8% mortgage rates, and these lower prices would bring out the buyers, and that would help getting the market out of the deep-freeze, but no. It's much better to whine to the Fed about handing out more heroin.
Actual sales – not seasonally adjusted annual rate – fell 18.9% from the already depressed levels in September 2022 to 347,000 homes.
January and February usually mark the low points of the year; June marks the peak volume and the end of "spring selling season." During the second half, sales careen lower. The actual sales data offer a better picture of sales and seasonality than the seasonally adjusted annual rate of sales above (data via NAR):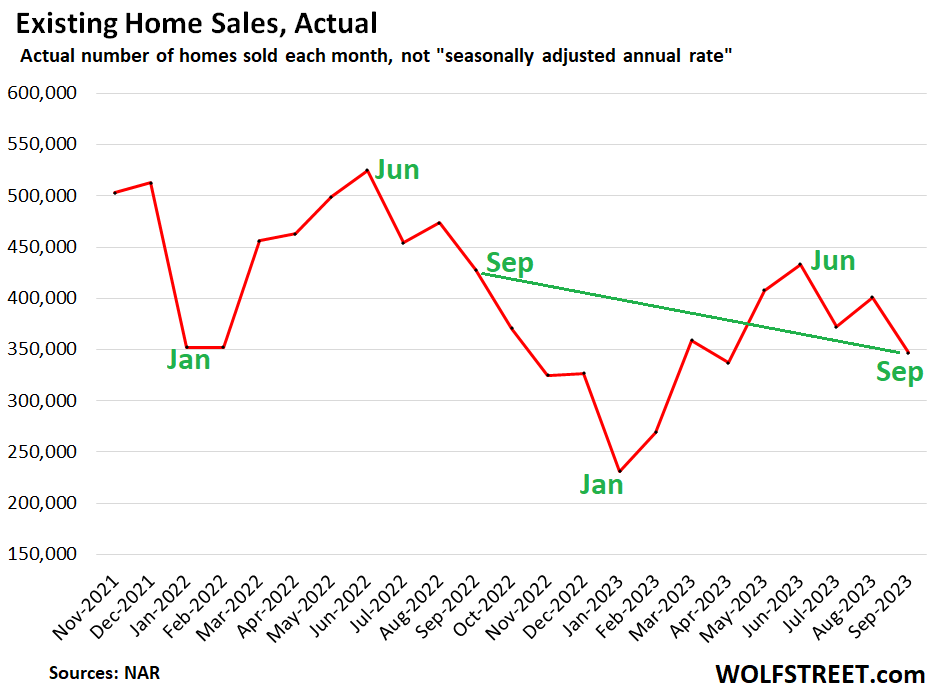 By region, sales plunged in all regions from the already beaten-down levels last year:
Demand and supply have vanished in equal measure.
I have described this phenomenon here: Homeowners with a 3% mortgage are not buying a new home, so they have vanished as buyers; and they're therefore not listing their current home, and so they have also vanished as sellers. This phenomenon, according to my estimates, caused the entire housing market – buyers and sellers – to shrink by about 20%.
These homeowners vanished as both buyers and sellers at the same time. They left the market as buyers and sellers. As a result, there is less churn, and Realtors make money off the churn coming and going, and so the NAR whines about this situation that is so dire for them.
But as far as the market is concerned, with both buyers and sellers gone in equal measure, the balance is still there, but it's just a lot lower: lower demand, lower supply, and lower churn, and less money for Realtors.
Realtors could help fix this situation by exhorting sellers to bring their asking prices in line with 8% mortgages, which would help this market emerge from the deepfreeze.
Cash buyers have pulled back too starting in mid-2022. Sales to cash buyers have stabilized at about 100,000 per month over the past five months, down about 20% from early 2022.
Days on the market lengthened further: Homes spent 48 days on the market in September before they were either sold or pulled off the market, up from 47 days in September 2022, according to data from realtor.com.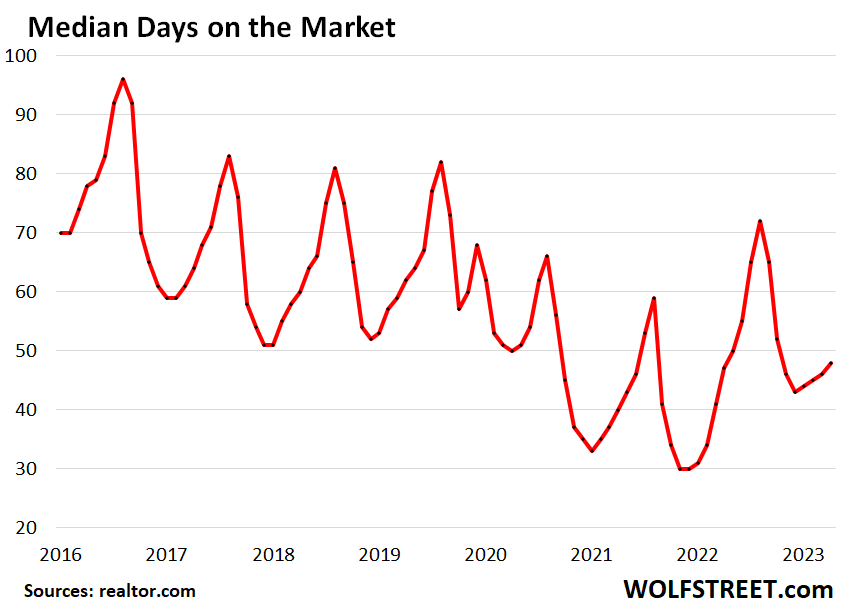 Supply rose to 3.4 months, the highest since June 2020, with 1.13 million homes for sale in September, according to NAR. Supply in 2017 through 2019 ranged between 3.0 and 4.3 months (historic data via YCharts).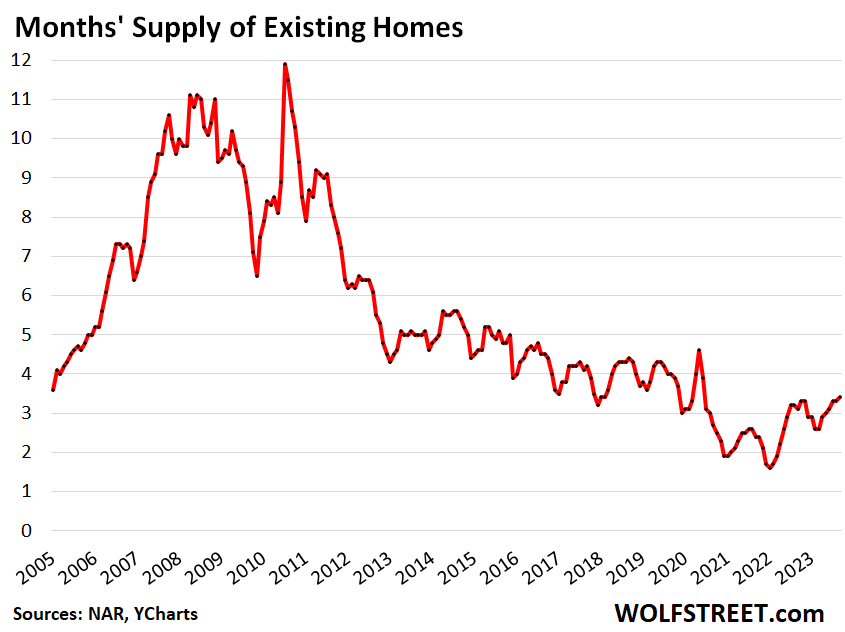 Active listings rose by 4.9% in September from August — much more sharply than the slight increases or even decreases that were normal from August to September before the pandemic – to 702,000 homes. This cut the year-over-year gap by nearly half, to 4% (data via realtor.com):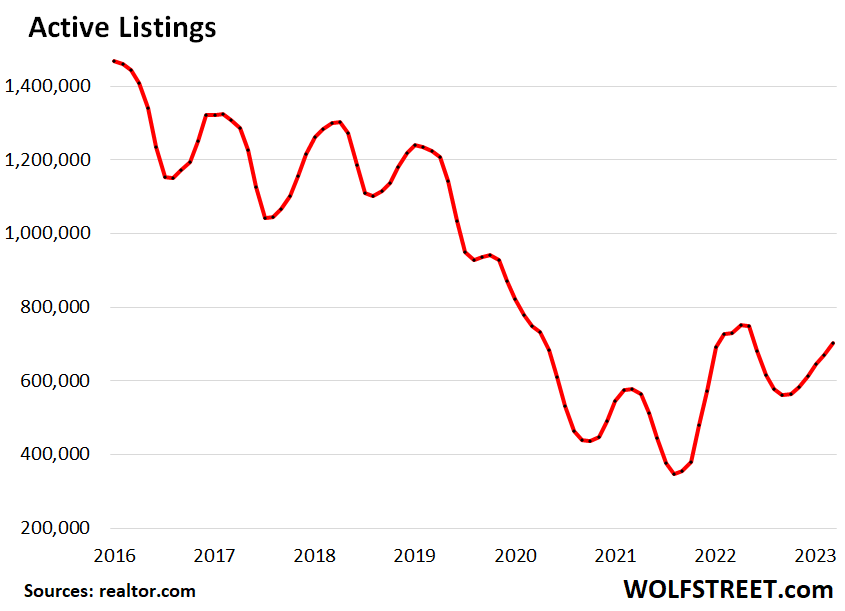 Enjoy reading WOLF STREET and want to support it? You can donate. I appreciate it immensely. Click on the beer and iced-tea mug to find out how:

Would you like to be notified via email when WOLF STREET publishes a new article? Sign up here.