There will be a recession someday, there always is one eventually. But not yet.
Our recession-watch here started shortly after the Fed kicked off its rate hikes in March 2022. The National Bureau of Economic Research (NBER), which calls out recessions, defines them as broad economic downturns that include downturns in the labor market. So, among other things, we're looking for sharp increases in weekly claims for unemployment insurance benefits, our most immediate measure of the labor market; they're highly correlated with recessions as defined by the NBER.
Initial unemployment insurance claims backtracked further. Initial claims for state unemployment insurance benefits by people who've lost their jobs have been declining since the end of June and for the reporting week fell to 198,000, according to the Labor Department today. This was the lowest since January 2023, and very near the historic lows.
The four-week moving average, which irons out the week-to-week ups and downs, fell to 205,750 initial claims, the lowest since the beginning of February.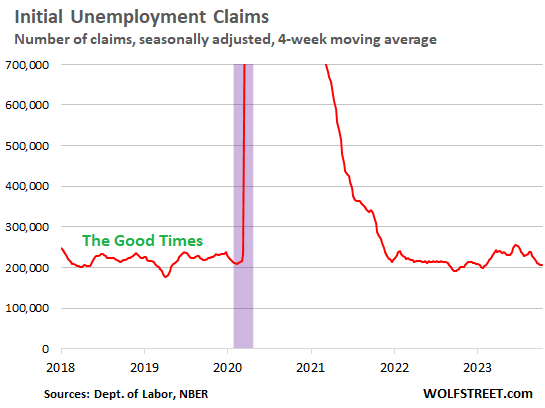 The long-term view shows just how low this four-week moving average of 205,750 initial claims is: It has been seen over the past 50 years only in the two years just before the pandemic and in the hot labor market coming out of the pandemic. Note how unemployment claims surged shortly before recessions began (recessions indicated in purple):
December 2007, the official beginning of the recession, initial claims pierced 340,000.
March 2001, the official beginning of the recession, initial claims pierced 380,000.
At the beginning of the three recessions in the 1980s and 1990s, initial claims pierced 400,000.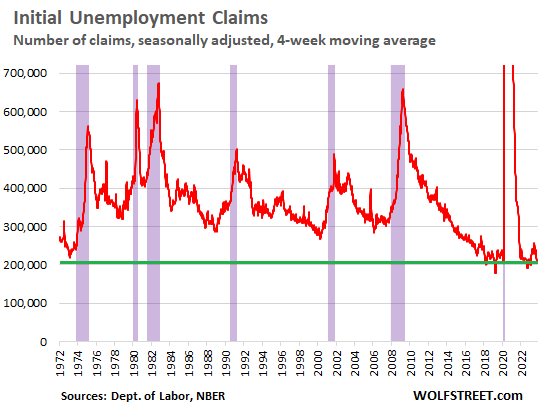 Unemployment claims had risen from September 2022 into early 2023, making us somewhat nervous. But then in the spring, they backtracked and fell again. And now, as we approach the end of the year, they're telling us that there's still no recession in sight.
My favorite recession indicator.
The number of people who are still claiming unemployment insurance at least one week after the initial application – people who haven't found a job yet – started rising from historic lows in late 2022 through March 2023, but remained low, and we thought, OK, if this keeps going…. But then they backtracked substantially.
Over the last three weeks, they ticked up a little, in the latest reporting week to 1.73 million, which is still very low.
The initial claims in the charts above mean that fewer people are losing their jobs; and the continued claims in the chart below mean that those that do lose their jobs and receive unemployment benefits, find new jobs quickly and don't remain on the unemployment rolls for long.
Recessions from the Great Recession back through the early 1980s began when continued claims for unemployment insurance spiked through about the 2.6-million mark (black line), which makes it a recession indicator. Today's level of 1.73 million is far below recessionary levels, pointing instead at a labor market that is still tighter than in the prior 50 years.
There will be a recession someday for sure. There always eventually is a recession. But when? Not yet. Other labor market data, which lag unemployment claims data a little, gave us similar indications, and I've discussed them most recently here, here, and here.
What this labor market is telling us recession watchers here is that there is still no recession in sight, and we'll just have to keep watching for it.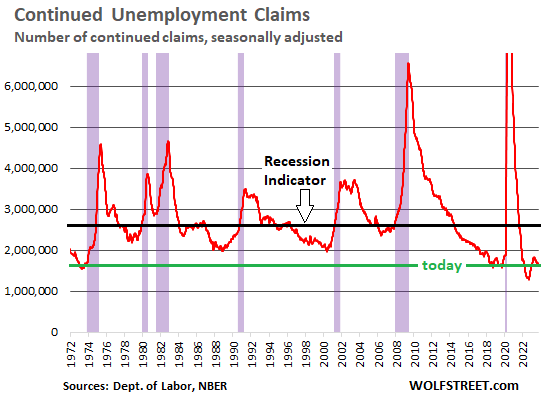 Enjoy reading WOLF STREET and want to support it? You can donate. I appreciate it immensely. Click on the beer and iced-tea mug to find out how:

Would you like to be notified via email when WOLF STREET publishes a new article? Sign up here.