While fewer and fewer Americans head to the malls.
Amazon announced in a blog post that it plans to hire 250,000 workers for the holidays, up from the 150,000 workers it said a year ago it would hire, and up from the 200,000 workers it said in 2019 it would hire.
These jobs will be "in full-time, part-time, and seasonal fulfillment center and transportation roles in hundreds of cities and towns across the U.S.," it said.
And it said it's going to pay them more – addressing the tightness of the labor market. It said it will raise "the average pay for those roles to over $20.50 per hour (a more than 50% increase over five years), with some locations offering as much as $28 per hour." In addition, Amazon is offering "signing bonuses between $1,000 and $3,000 in select locations."
Over the past five years, Amazon has added 800,000 workers, and so far this year, it said it "has opened over 50 new fulfillment centers, delivery stations, and same-day delivery sites in the U.S., resulting in hundreds or thousands of new job opportunities per site, depending on its size and location."
This puts the layoff announcements of 18,000 in January and 9,000 in March into perspective, just trimming off some excess fat on the edges after the phenomenal hiring binge during the pandemic. Most of those layoffs were in their web services and technology divisions – including at its devices division which, outflanked by Apple and other device makers – has fallen on hard times.
Amazon said it is "now investing $1.3 billion this year toward pay increases for customer fulfillment and transportation employees." A sign of just how tight the labor market still is.
Amazon's announcement attests to the strength of ecommerce. In Q2, ecommerce retail sales were up 7.5% from a year ago, despite flat or dropping prices in many categories of goods that ecommerce retailers sell, as inflation has moved from goods to services.
The huge spike of ecommerce sales during the early parts of the pandemic was supposed to unwind afterwards, but never did, and instead became the base for additional growth: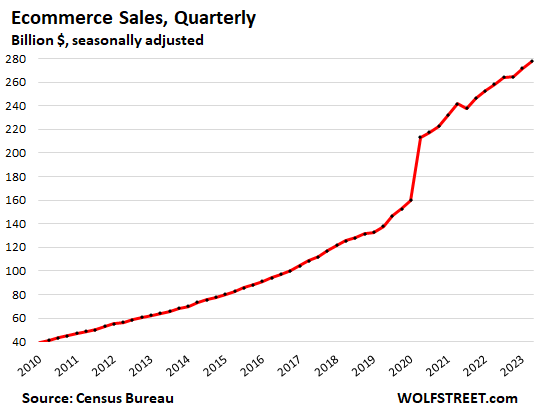 Walmart, in a massive strategic shift years ago when it finally saw the writing on the wall – the brick-and-mortar meltdown, as I have been calling it since 2016 – has become the second largest ecommerce retailer in the US behind Amazon, booking huge growth rates each year with its ecommerce operations and reaching a share of 6.3% of total ecommerce sales in 2022, according to eMarketer. And it has become the largest grocery store by sales; it saw years ago that groceries, unlike most of its brick-and-mortar business, are largely immune to getting crushed by ecommerce.
Meanwhile, department stores and other mall stores have gotten crushed by ecommerce.
Target, which has also shifted to ecommerce, but less successfully, with a share of 2.1%, said that it would hire nearly 100,000 seasonal workers, about the same as in the prior two years.
Macy's trimmed back its hiring plans to 38,000 this year, down from 41,000 last year. Macy's is among a handful of surviving brick-and-mortar department stores and has been closing stores for many years, dramatically shrinking its brick-and-mortar footprint.
They're all trying to shift to ecommerce. Macy's used to be on the top 10 list of ecommerce retailers but has fallen off after shutting down its tech center and headquarters of macys.com in San Francisco just before the pandemic. Another brilliant move, it seems.
Ecommerce operations sell everything department stores sell, plus everything else that department stores don't sell, with less hassles, and no driving or parking involved, straight to your door, and often at lower prices. Americans have changed how they do their shopping, including their holiday shopping: online.
As a result, countless regional and national department store chains have been liquidated in bankruptcy court, and all of the few survivors – including J.C. Penney, which was bought out of bankruptcy by the largest mall landlords in the US because they didn't want the shuttered anchor stores to doom their malls – have been closing stores for years to shrink their footprint. Department stores are the core the brick-and-mortar meltdown.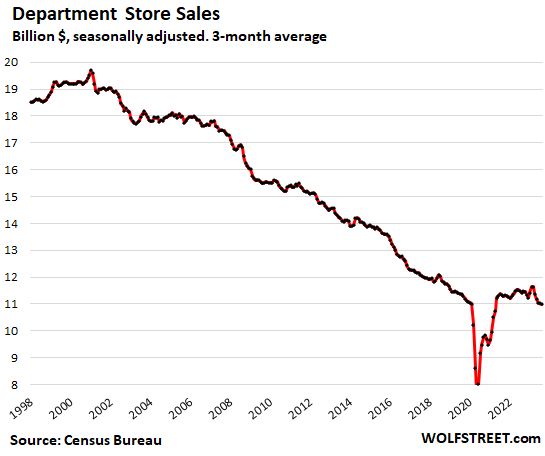 And that business has walked off to ecommerce retailers, including the ecommerce operations of brick-and-mortar retailers.
And ecommerce continues to hit it out of the ballpark, even as brick-and-mortar department stores and other mall stores fade, and it doesn't matter whether consumers are in a sour mood or not, and whether they plan to trim back their holiday purchases or whatever, they're going to spend gobs of money online.
Enjoy reading WOLF STREET and want to support it? You can donate. I appreciate it immensely. Click on the beer and iced-tea mug to find out how:

Would you like to be notified via email when WOLF STREET publishes a new article? Sign up here.