Inflation dished up another nasty surprise. Other costs jumped too. Gasoline didn't help. This was a broad-based mess.
In a nasty big surprise of the type that inflation, once it's running loose, likes to dish out, the Consumer Price Index in Canada re-accelerated in August for the second month in a row, to 4.0% year-over-year, according to Statistics Canada today, up from 3.3% in July, and 2.8% in June (red line in the chart below). As everywhere, part of it was the jump in gasoline prices. But that's just a convenient side story.
The scary part is the red-hot inflation in housing: Inflation in rents has been shooting up and raged at the highest rate since 1983; and inflation in homeownership costs also surged.
Core CPI, which excludes food and energy, accelerated to 3.6% (green). June was Canada's inflation-is-vanquished month. It was fun while it lasted. The other worrisome part is that on a month-to-month basis, inflation was broad-based, on top of the spikes in housing and gasoline.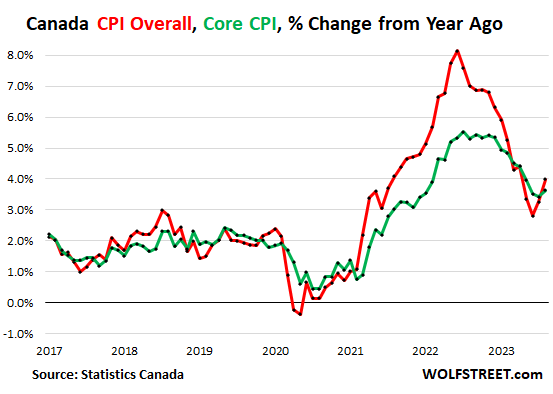 Rent inflation, hottest since 1982. In August, the CPI for rents spiked by 6.5% year-over-year, the highest since 1983. This is another sign that housing – rents and ownership costs – started to fuel inflation, and that inflation isn't going to just vanish unless housing stops fueling it.
This long-term chart shows what massive problem the Bank of Canada has on its hands: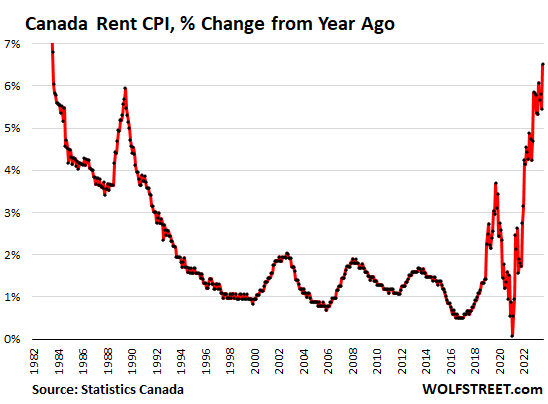 "Among other factors, a higher interest rate environment, which may create barriers to homeownership, put upward pressure on the index," Statistics Canada said.
"While rent prices accelerated in eight provinces, those with the fastest price growth were Newfoundland and Labrador (+8.4%), Alberta (+6.5%), Nova Scotia (+9.5%) and Manitoba (+6.1%)," Statistics Canada said.
The month-to-month jump in the rent CPI of 0.7% (8.7% annualized) was the second-highest this year, and third-highest in 14 months: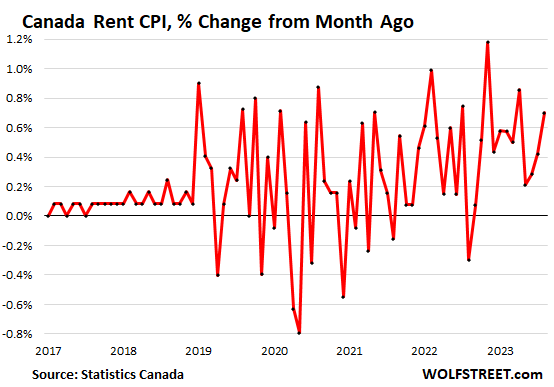 Homeownership inflation has accelerated on a month-to-month basis in the 0.5% to 0.7% range for the past five months. In August it rose by 0.6% from July. Year-over-year, it accelerated to 6.4%, the highest since February.
This CPI for "owned accommodation" includes (% year-over-year):
Mortgage interest cost: +30.9%
Homeowners' home and mortgage insurance: +9.7%
Homeowners' maintenance and repairs: +6.0%
Property taxes and other special charges: +3.6%
Other owned accommodation expenses: -0.3%
Homeowners' replacement cost (the dropping home prices): -0.9%.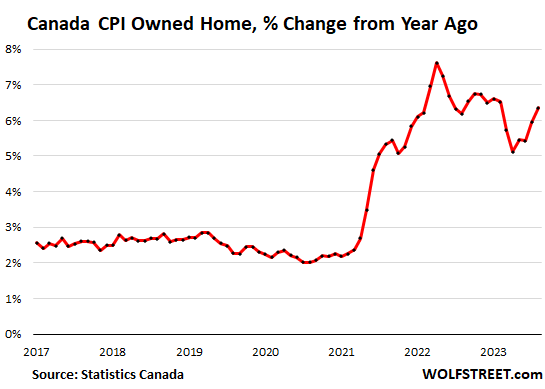 The other worrisome part is that on a month-to-month basis, inflation was broad-based, on top of the spikes in housing.
Major categories showed substantial inflation on a month-to-month basis: Transportation (+0.7% or 8.7% annualized!); clothing and footwear (+0.5%); health and personal care (+0.4%); durable goods, which were supposed to decline (+0.3%); recreation and reading (+0.3%); household operations (+0.3%); food (+0.2%).
The Bank of Canada is now in a pickle of its own making, after having repressed interest rates for many years and after unleashing a massive QE program during the pandemic, that it is now rapidly unwinding. These erstwhile policies had the effect of creating one of the biggest housing bubbles in the world, that is now deflating.
With inflation resurging, while economic growth fizzled, the BoC left its overnight rate unchanged at 5.0% at the last meeting on September 6. With an eye on inflation, it added a clear bias for further tightening: The BoC "remains concerned about the persistence of underlying inflationary pressures, and is prepared to increase the policy interest rate further if needed," it said in the statement. It has been mentioning the housing market as a source of concern. So it now has a lot more reasons to be frazzled about the housing market and how it fuels inflation.
Enjoy reading WOLF STREET and want to support it? You can donate. I appreciate it immensely. Click on the beer and iced-tea mug to find out how:

Would you like to be notified via email when WOLF STREET publishes a new article? Sign up here.