BoC already shed 50% of its QE assets. And the shedding continues.
The Bank of Canada left its policy rates unchanged at its meeting today after two consecutive rate hikes following its spring "pause":
Overnight rate: 5.0%, the highest in 22 years
Bank rate: 5.25%
Deposit rate: 5.0%
And it inserted a clear bias for further tightening: It "remains concerned about the persistence of underlying inflationary pressures, and is prepared to increase the policy interest rate further if needed," it said in the statement.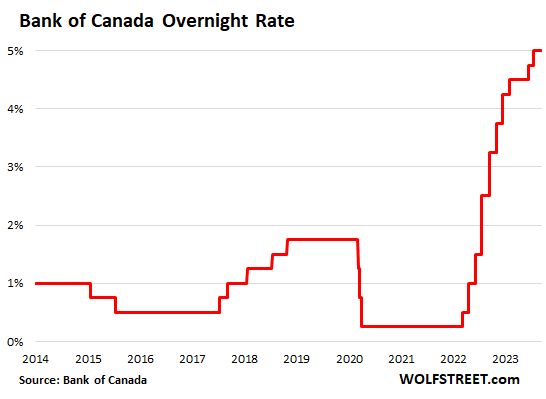 Tightening bias: inflation without economic growth.
The problem the BoC faces is re-accelerating inflation in a slowing economy, with GDP dipping 0.2% annualized rate in Q2, while CPI inflation accelerated from 2.8% in June to 3.3% in July. And the BoC expects CPI to further accelerate going forward.
Economic growth fizzled, "which is needed to relieve price pressures," the BoC said in the statement:
"Economic growth slowed sharply in the second quarter of 2023, with output contracting by 0.2% at an annualized rate. This reflected a marked weakening in consumption growth and a decline in housing activity, as well as the impact of wildfires in many regions of the country."
"Household credit growth slowed as the impact of higher rates restrained spending among a wider range of borrowers."
"Final domestic demand grew by 1% in the second quarter, supported by government spending and a boost to business investment."
"The tightness in the labour market has continued to ease gradually. However, wage growth has remained around 4% to 5%."
But inflation accelerated, and inflationary pressures remain "broad-based":
"After easing to 2.8% in June, CPI inflation moved up to 3.3% in July," it said.
"With the recent increase in gasoline prices, CPI inflation is expected to be higher in the near term before easing again."
"Year-over-year and three-month measures of core inflation are now both running at about 3.5%, indicating there has been little recent downward momentum in underlying inflation."
"The longer high inflation persists, the greater the risk that elevated inflation becomes entrenched, making it more difficult to restore price stability.
So the tightening bias: wait and see, "prepared" to tighten further.
"However, Governing Council remains concerned about the persistence of underlying inflationary pressures, and is prepared to increase the policy interest rate further if needed."
"Governing Council will continue to assess the dynamics of core inflation and the outlook for CPI inflation."
"In particular, we will be evaluating whether the evolution of excess demand, inflation expectations, wage growth and corporate pricing behavior are consistent with achieving the 2% inflation target."
Quantitative tightening continues.
Unlike the Fed, the Bank of Canada has no caps on how much of its portfolio is allowed to roll off every month. Whatever matures is allowed to roll off without replacement.
The main item left on the balance sheet are Government of Canada (GoC) bonds (red in the chart below). During the pandemic QE, the BoC added $356 billion (all amounts in Canadian dollars) to its existing pile of GoC bonds, bringing the peak QE balance to $434 billion. The QE add-on of GoC bonds has now fallen by 39%, or by $139 billion, to $294 billion, as of the balance sheet on Friday.
The second largest asset, behind GoC bonds, is an account the BoC calls "indemnity" (brown), $31 billion, which tracks the unrealized losses on its bonds. Since it holds bonds to maturity, when it will get paid face value, those losses are theoretical, and vary with long-term bond yields. This "indemnity" reflects the losses that the Government of Canada would have to reimburse the BoC under their pandemic-era indemnity agreement if it actually ever sold all its QE bonds, rather than holding them to maturity.
The liquidity measures – mainly repos (green) and short-term Canada Treasury bills (purple) were allowed to roll off in 2021 and early 2022 and have completely vanished. There are only minuscule amounts of other securities left on the balance sheet, including some mortgage bonds and some provincial bonds.
Total assets (gray) have dropped by $226 billion, or by 39% from the peak of QE in March 2021, to $349 billion.
In terms of the BoC's pandemic QE, it had added $455 billion to its balance sheet from March 2020 through March 2021. Of this pandemic QE, it has now shed $226 billion, or roughly 50%.
And the BoC said today that this QT will continue.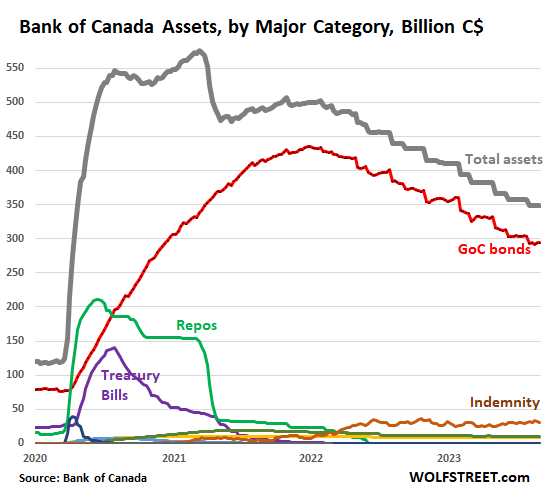 Enjoy reading WOLF STREET and want to support it? You can donate. I appreciate it immensely. Click on the beer and iced-tea mug to find out how:

Would you like to be notified via email when WOLF STREET publishes a new article? Sign up here.