"Disinflation" already ended.
The average price of gasoline, all grades, across the US last week – after surging for three months – exceeded the price in the same week a year ago for the first time since February 2022. According to EIA data this afternoon, the average price at $3.93 per gallon, was up by 1.7% from the same week in September a year ago ($3.86).
So this is the year-over-year percent change of the average price of gasoline on a weekly basis. And it's another setback for the Consumer Price Index to come. "Disinflation" good bye. But we already said goodbye to "disinflation" with the July CPI.
The average price of gasoline had spiraled to +60% year-over-year in June 2022. Then prices plunged. By June 2023, the year-over-year drop bottomed out at -27%. And now, gasoline is up +1.7% year-over-year. The great plunge in gasoline prices was a major factor had caused CPI to cool 12 months in a row, from +9.1% in June 2022, to +3.0% in June 2023 – the infamous and now bygone era of "disinflation."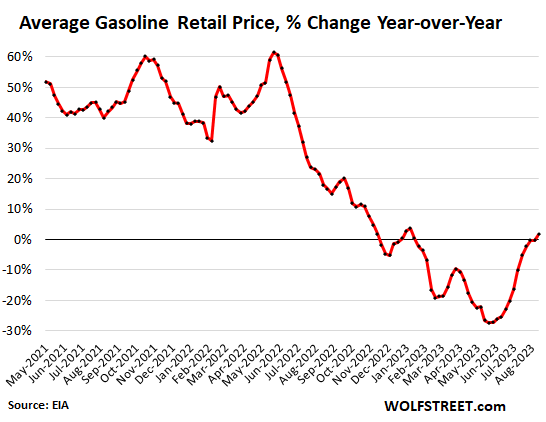 This comes as the price of crude oil grade WTI has surged by 28% since June.
The surge of the gasoline prices from mid-2020 ended in June 2022 at $5.11 per gallon. It was then followed by a majestic plunge into December 2022, to bottom out at $3.20. And it has since then risen by 23%.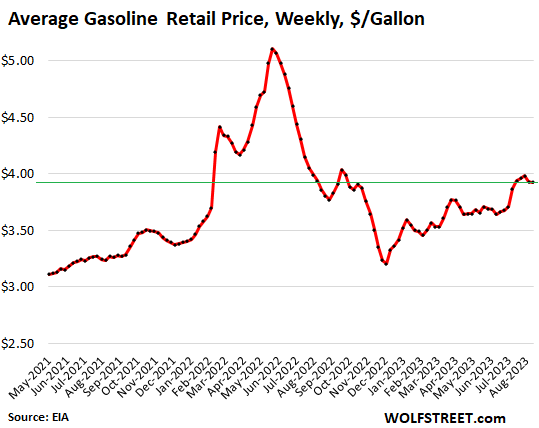 In July, the CPI reversed course and accelerated to +3.3% (from +3.0% in June), driven in part by the smaller year-over-year plunge of gasoline of -20% in July, compared to -26% in June.
For the August CPI, to be released next week, gasoline will still be down year-over-year, but only a little. And CPI will accelerate from July's 3.3%.
But the September CPI, to be released in October, will reflect the gasoline prices today and for the rest of September, compared to September last year. And it will be in the September CPI when gasoline will switch from a downward force on CPI, although a decreasing downward force, to an outright upward force on CPI.
And the infamous chart of overall CPI (green line) being lower than "core" CPI (red line) will reverse in the second half of this year, with overall CPI being higher than core CPI.
Core CPI itself will rise even if the usual inflation suspects (services) turn out to be benign – it will rise due the base effect (the base for the year-over-year comparison being last year's cooling), and due to the end of the odious massive adjustments to health insurance starting with the October CPI, to be released in November.
The year-over-year plunge in energy prices pushed the overall CPI increases below the increases of core CPI. I have pointed out for months that when energy prices stop plunging on a year-over-year basis and start rising again year-over-year, overall CPI will once again climb above core CPI, with core CPI itself accelerating as well this year.
CPI and core CPI through July give a feel of where this is going from here, with CPI already having reversed course, and core CPI to reverse course, just like the "core PCE price index" has already done. And it's not in the right direction: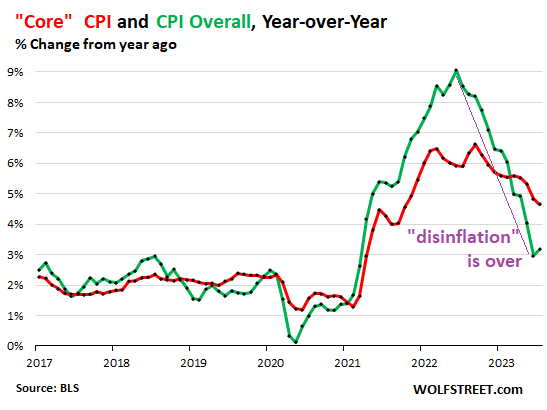 Enjoy reading WOLF STREET and want to support it? You can donate. I appreciate it immensely. Click on the beer and iced-tea mug to find out how:

Would you like to be notified via email when WOLF STREET publishes a new article? Sign up here.