It turned Medical Services CPI negative, pushed down core services CPI, core CPI, and overall CPI. But it will swing the other way in October.
I'm going to post my analysis of the CPI data in a little while – I'm working on it. But I need to get this odious ridiculous massive adjustment to CPI health insurance, and the perverse effects it creates, off my chest first (update, here is my discussion of CPI).
The odious ridiculous health insurance mega-adjustments started last October, and I've been pointing it out every month in my CPI reports.
By July, it caused the health insurance CPI to collapse back to January 2019 level, and turned Medical Services CPI negative year-over-year, pushed down core services CPI, core CPI, and overall CPI. And it will continue to wreak havoc through September. You will see the details in my discussion of CPI, which I will post soon.
And then in October, it will flip the other way, and will push up all measures of CPI, but particularly core services CPI and core CPI. So there's that to look forward to.
Every fall, the Bureau of Labor Statistics, which produces the CPI, undertakes annual adjustments in how it estimates the costs of health insurance. It then spreads those adjustments over the following 12 months. Last year, this adjustment cycle started in October, and it will go through September this year.
Inflation in health insurance is difficult to figure because numerous factors change, not just the premium but also co-pays, deductibles, out-of-pocket maximums, what is covered and what isn't covered, drug formularies, etc., and there are all kinds of insurance plans out there, and they all differ locally and by state.
So the BLS uses a different method to estimate price changes of health insurance, the "retained earnings method," which the BLS explains here. In the fall each year, it adjusts the index as more data become available. The entire index is an annual figure, divided into monthly increments, based on the annual "retained earnings" of insurance companies. So the month-to-month percent-changes of health insurance CPI are about the same every month for a 12-month period, and then it gets adjusted again, usually the other way.
Normally the annual adjustment isn't such a huge deal, but this time, the adjustment was ridiculously gigantic, with totally perverse effects.
For the prior 12 months through September 2022, CPI overstated health insurance inflation by some amount. By September 2022, the health insurance CPI had risen by 28% year-over-year, which contributed to the big increase in CPI at the time.
Then in October 2022, the adjustment kicked in. Every month since then, the CPI for health insurance, thanks to this odious adjustment, plunged month-to-month by a ridiculous 4%, give or take. In July, it plunged by 4.1% from June.
This 4% month-to-month plunge, as opposed to a 2% month-to-month rise in the prior year, represents a month-to-month swing of 6 percentage points!
This chart shows the month-to-month percentage changes of the health insurance CPI, including the last 10 months after the odious ridiculous massive adjustments: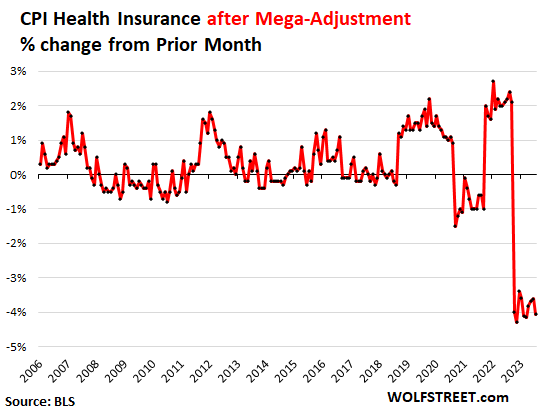 Year-over-year, the CPI for health insurance has now collapsed by 29.5%!
The plunge will continue in August and September, which will cause the health insurance CPI to collapse by around 38% year-over-year!
The price index itself (not percent change) in July collapsed to the price level of January 2019. Which is totally ridiculous as health insurance costs have risen substantially, not just this year, but in prior years, and the four-year cumulative increases have been big.
By September 2023, the index value will have collapsed to the level of early 2018!
Here is the health insurance CPI, as index value, not percent change: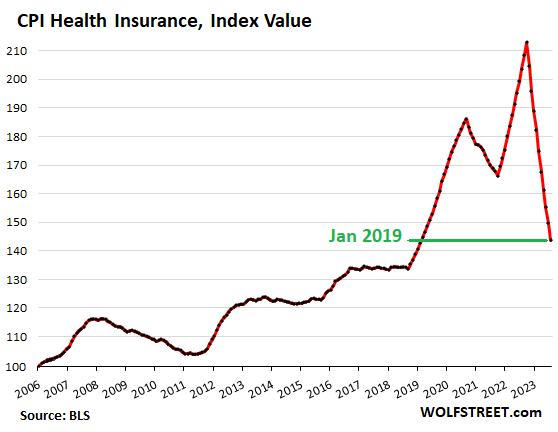 But it's going to swing the other way in October.
In October, there will be a new adjustment that will be applied to health insurance CPI for 12 months through September 2024. In the past, those adjustments tended to swing in the opposite direction, as you can see in the chart above.
The ridiculousness of this odious adjustment in this cycle, and the base effect that it creates going forward, could cause the health insurance CPI to swing wildly the other way starting in October 2023. This will push up core services CPI, core CPI, and overall CPI later this year and into next year.
The Fed's favored inflation measure, the core PCE price index, collects health insurance inflation via a different method and doesn't suffer these odious ridiculous adjustments.
Enjoy reading WOLF STREET and want to support it? You can donate. I appreciate it immensely. Click on the beer and iced-tea mug to find out how:

Would you like to be notified via email when WOLF STREET publishes a new article? Sign up here.