Mortgage applications to purchase a home: -40% from 2022 and 2019, 3rd worst week since 1995, behind only two weeks in February.
The 7%+ mortgages are doing their magic on the housing market as they keep buyers out of the market, and home sales sagged further in late July and August, from already dismal levels, as indicated by weekly applications for mortgages to purchase a home.
The average interest rate on 30-year fixed-rate mortgages with conforming balances jumped to 7.09%, from 6.93% in the prior reporting week, the third highest since January 2002, with only two weeks last November having been marginally higher than this reporting week, according to data from the Mortgage Bankers Association today.
FHA mortgage rates rose to 7.02%, highest rate since 2002. Rates on jumbo mortgages (greater than $726,200) rose to 7.04%.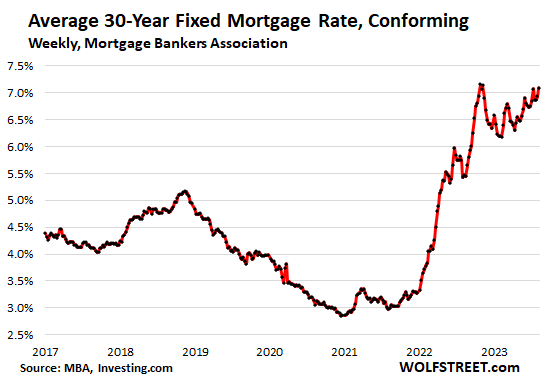 "Treasury yields rates rose last week and mortgage rates followed suit due to a combination of the Treasury's funding announcement and the downgrading of the U.S. government debt rating," the MBA said.
Yup, the Treasury Department's announcement a week ago of a tsunami of issuance of longer-term Treasury notes and bonds to fund the ballooning government deficits was followed the next day by Fitch's downgrade of the US credit rating from 'AAA' to 'AA+'. And they're now getting blamed for the jump in mortgage rates.
In other words, the government's reckless deficits and borrowing going back many years are now getting blamed for our holy-moly mortgage rates. It surely plays a part; inflation and the Fed's reaction to tamp down on inflation play another part, as do a bunch of other interrelated things. The whole thing is a mess, and the result is that mortgage rates are over 7%.
And amid these holy-moly mortgage rates, home buyers have vanished, we have seen that for a while, and it got worse.
Applications for mortgages to purchase a home dropped for the fourth week in a row, from the already low levels that had prevailed for months, to the third-lowest volume since 1995, the two lowest volume-weeks having been in late February this year, according to the MBA today.
Purchase mortgage applications, compared to the same week in:
2022 which was already in the middle of the downturn: -27%
2021: -41%
2019: -40%.
These are very big drops. Mortgage applications to purchase a home are a forward-looking indicator of where home sales as measured by closed deals are headed in a month or two, so for July and August. They show that demand for homes to be funded with a mortgage is at dismal levels compared to the period before the pandemic.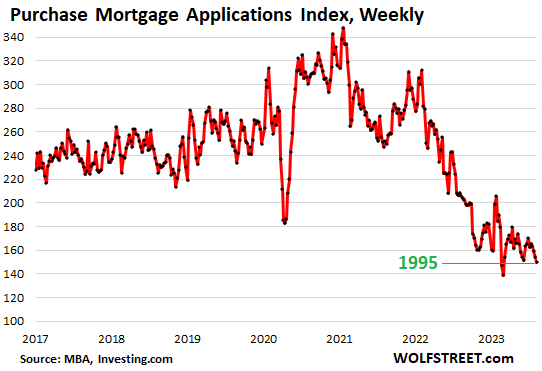 Applications to refinance existing mortgages dropped this week, according to the data by the MBA, and remain in the same low range since refi applications collapsed in early 2022.
The collapse in mortgage refis has crushed mortgage lenders and mortgage brokers, which responded with mass layoffs in late 2021 and into 2022. Refis were a big part of their revenues, and they vanished.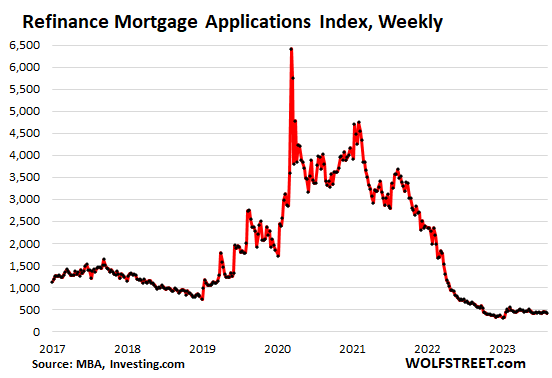 No one who can avoid it is going to refi a 3% mortgage with a 7% mortgage. The only logical reason in this environment to refi a 3% mortgage is for cash-out purposes. And that's what is happening.
Non-cash-out refis have collapsed by 97% from 2019, according to the AEI Housing Center.
There are some reasons for trying to pull cash out of the home with a cash-out refi, with the expectations that either mortgage rates will be back at 3% next year, LOL, to allow the homeowner to refi the home back into a 3% mortgage; or that the home will be sold within a fairly short time, and maybe some cash was needed to spruce it up, or whatever. And some people have been forced by a major medical or other emergency to pull cash out of the home.
So cash-out refis have also plunged, but not quite as much:
by 56% from 2022
by 86% from 2021
by 80% from 2019
by 60% from 2018
Chart by the AEI Housing Center, in thousand rate locks per week. Note how in 2018 (green line) cash-out refis also collapsed as mortgage rates headed to 5%, and in November 2018 briefly exceeded 5%. This is a very cyclical and mortgage-rate-dependent industry.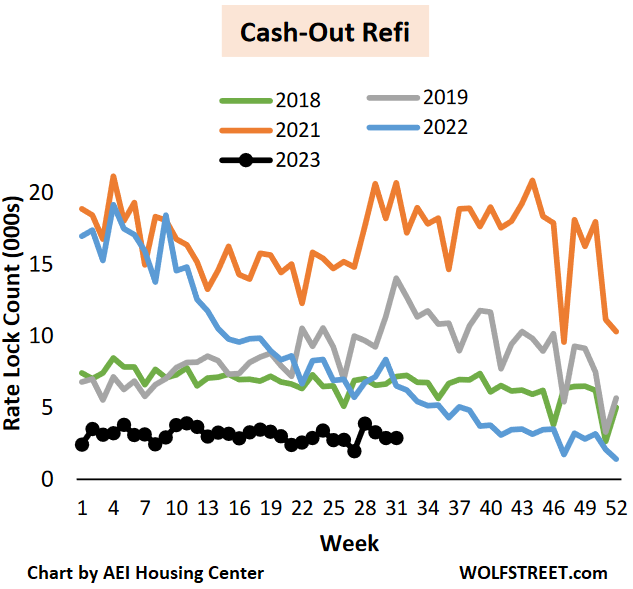 Enjoy reading WOLF STREET and want to support it? You can donate. I appreciate it immensely. Click on the beer and iced-tea mug to find out how:

Would you like to be notified via email when WOLF STREET publishes a new article? Sign up here.