The SPAC boom will surely go down in history as one of the biggest stock-market heists ever, made possible by Consensual Hallucination. 
EV maker Proterra, which makes mostly a few electric buses a year – when giant competitors make many thousands – filed for Chapter 11 bankruptcy today, 25 months after having gone public via merger with a SPAC. It once had a market cap of nearly $4 billion.
It was by no means a record in terms of how long it took for an EV SPAC to go bankrupt; that record is held by Electric Last Mile Solutions, which took only 12 months to get it over with. EV maker Lordstown made the trip from SPAC merger to bankruptcy in a little over two-and-a-half years. The shares of other EV SPACS have totally collapsed, and most of them are headed for bankruptcy.
Proterra's shares, or rather the SPAC's shares before the merger, spiked after the merger was announced in January 2021 from around $10 to $31.06 and then began to collapse. Five days ago it was still at $2. Today, it plunged to 17 cents, down by 99.4% from the peak.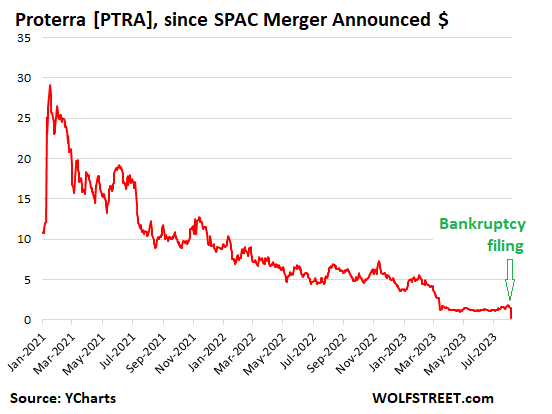 We'll get to a bunch more charts like this in moment, with lots of scandals around them. The SPAC boom in 2020 and 2021 will surely go down in history as one of the biggest stock market heists ever. It has left behind a trail of investigations and settlements and scandals. Short sellers had a big party.
But it left no victims behind, just a bunch of eager players that tried to weasel out some money from other eager players, and some succeeded, and others got cleaned out. It was the era of consensual hallucination, when the Fed's free money reigned. These creatures have long been populating my pantheon of Imploded Stocks.
Tesla is not part of this list. It is kicking the ICE vehicle makers in the nuts and is taking massive share from their ICE vehicles! And it's very profitable, after a decade of losing tons of money. Tesla put EVs on the map. And legacy automakers gave it a decade to build its position, and now they can't get their ducks lined up in a row to even defend their turf.
Rivian is not part of this list either because it went public via classic IPO. It's actually ramping up mass-production and is on track to make 50,000 trucks in 2023. It raised its production target today to 52,000. But it's losing so much money and burning so much cash ramping up production that it's breath-taking. Today, it reported a quarterly loss of $1.2 billion. Its shares got crushed, down 86% from the peak just after the IPO. So it gets its own place right here: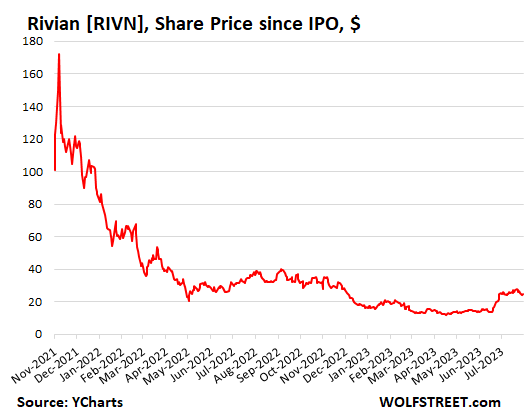 Our EV SPAC heroes.
Lordstown and Electric Last Mile, since they filed for bankruptcy, no longer qualify for a chart here. Electric Last Mile has been sold in pieces, and Lordstown's shares are still ping-ponged around over the counter, but forget it.
Nikola [NKLA], at $2.20 today, has collapsed by 97% from its high in June 2020 when the merger with a SPAC was approved. The outfit embodies the scandalous nature of these things that went to such heights during the era of consensual hallucination and then thankfully collapsed.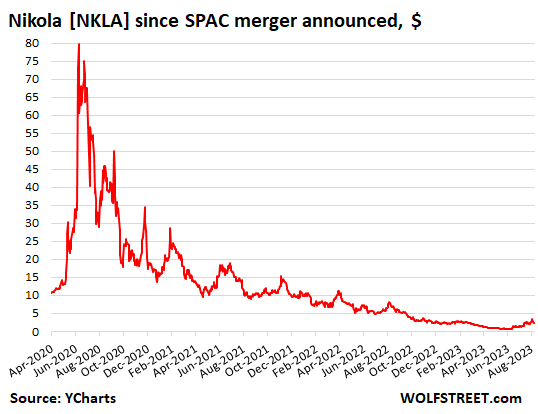 Canoo [GOEV], SPAC merger completed in December 2020. $0.56 now. From peak: -97.5%.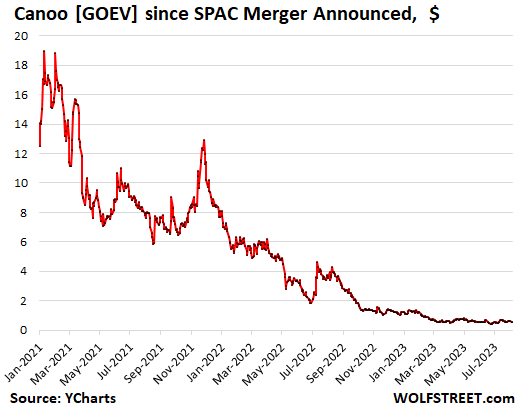 Fisker [FSR], SPAC merger October 2020, preceded by Fisker Automotive which made the Fisker Karma. Now $5.93. From peak: -81%.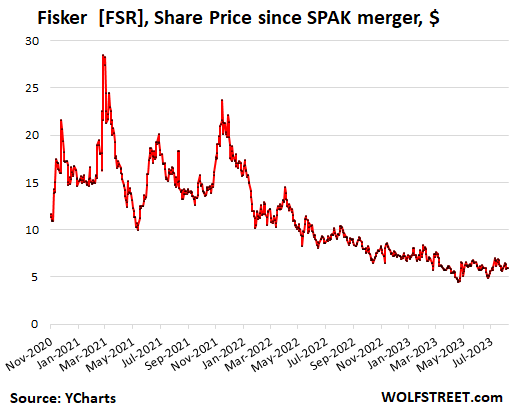 Lucid Motors [LCID], SPAC merger announced in February 2021. Now $7.19. From peak: -89%.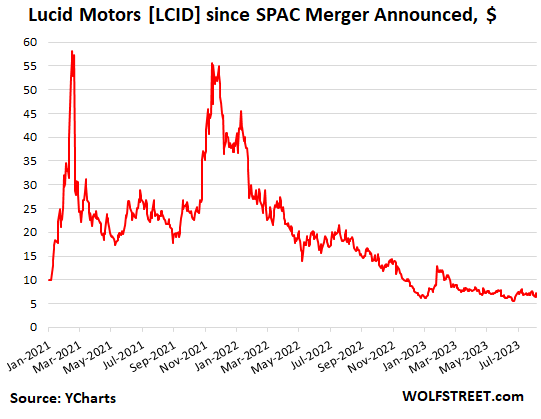 Workhorse [WKHS], Now $1.10. From peak: 97%.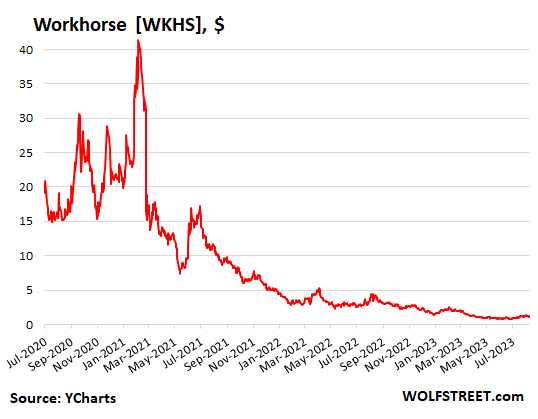 Faraday Future [FFIE] SPAC merger in July 22, 2021. Tuesday special, $0.27. From peak -99%.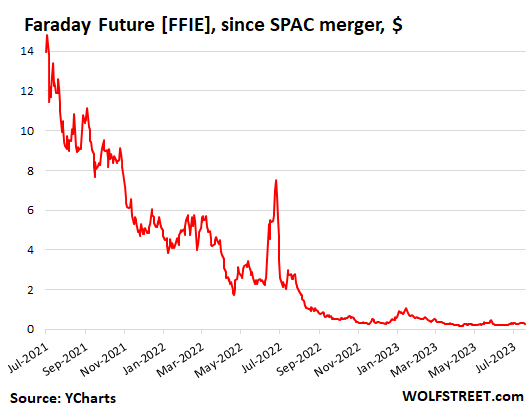 Lion Electric [LEV], a Canadian company, SPAC merger November 2020, now $2.32, from peak: -93%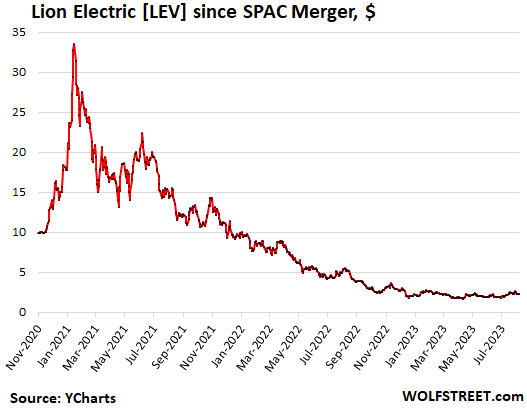 Polestar [PSNY] SPAC merger completed in November, 2022; started trading in June 2022, at $11, giving it a market cap of $23 billion. Now at $4.25, down 74% from the peak. The company is majority owned by Chinese giant Geely, which had bought Volvo, which had bought a startup that became Polestar. The vehicles are made in China, and they're ramping up production. Given its big corporate backing, and part-ownership, this one might be among the survivors: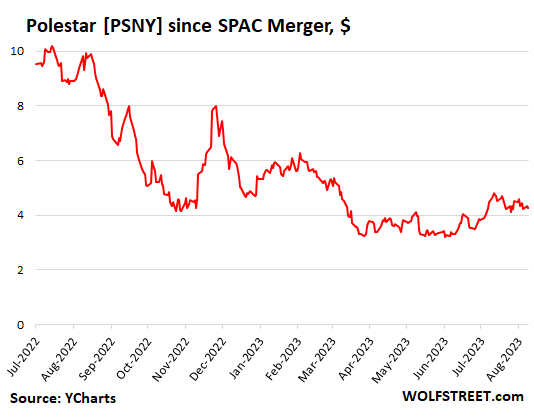 Enjoy reading WOLF STREET and want to support it? You can donate. I appreciate it immensely. Click on the beer and iced-tea mug to find out how:

Would you like to be notified via email when WOLF STREET publishes a new article? Sign up here.