Keeping an eye on them because some day enough of them will get in trouble to move the needle. But not yet.
The most important thing about credit card balances is that they're largely a measure of spending – rather than borrowing. Credit cards are the dominant consumer payments method in the US. About $5 trillion in spending was paid for by credit cards in 2021, according to the Federal Reserve's most recent payments study. The amount would be much higher in 2023 because prices have gone up, spending overall has increased, and people have gone on a travelling binge, and nearly all travel expenses are run through credit cards.
Most of these balances get paid off the next month and never accrue interest. Only a small portion gets stuck as interest-bearing debt. But the data doesn't split out interest-accruing credit-card balances from balances that are paid off in full on due date and never accrue interest.
Credit card balances in Q2 rose by $45 billion from Q1, to $1.03 trillion, after having been flat in the prior quarter, according to the New York Fed's Household Debt and Credit report today.
Year-over-year, credit card balances rose 16.2% on higher prices and increased spending particularly on services such as travels, restaurants, and entertainment (red in the chart below).
"Other" consumer loans, such as personal loans, payday loans, and Buy-Now-Pay-Later (BNPL) loans, ticked up by $15 billion in Q2 from Q1, to $527 billion. Unlike credit card balances, most of these "other" balances are interest bearing, but not all. BNPL loans are interest-free for the consumer and are subsidized by participating retailers (typically the customer pays 25% down and makes four weekly installments).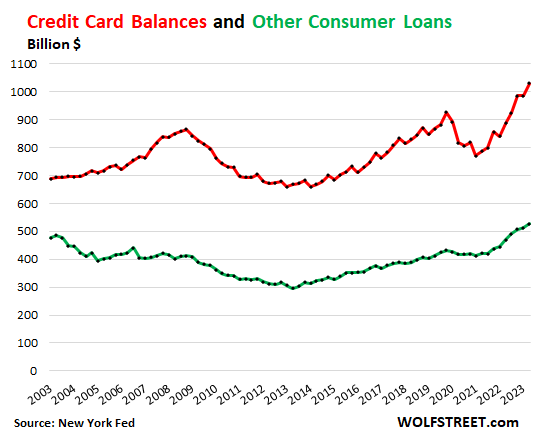 The burden of credit-card balances is low.
Credit card balances and "other" consumer debt combined in Q2 of $1.56 trillion amounted to 7.8% of disposable income, right back in the Good Times range before the pandemic. The spike in disposable income during the stimulus era caused the ratio to plunge to record lows (disposable income = income from all sources except capital gains, minus taxes and social insurance payments).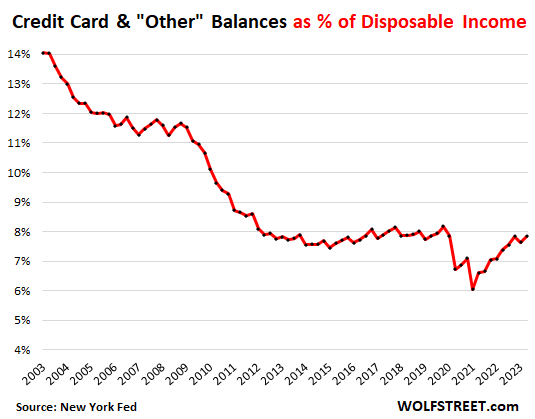 $3.57 trillion in available unused credit.
Consumers with subprime credit ratings might encounter tightening credit. But overall, there are no signs that consumers with halfway decent credit are running into a "credit crunch."
Banks have raised the aggregate credit limits on credit cards to a record $4.6 trillion. With only $1.03 trillion in credit card balances outstanding, the total available unused credit rose to a record $3.57 trillion.
Note how much faster the aggregate credit limit rose in dollar terms: +$379 billion year-over-year; compared to credit card balances: +$144 billion year-over-year (the-sky-is-the-limit-blue = credit card limits; red = credit card balances).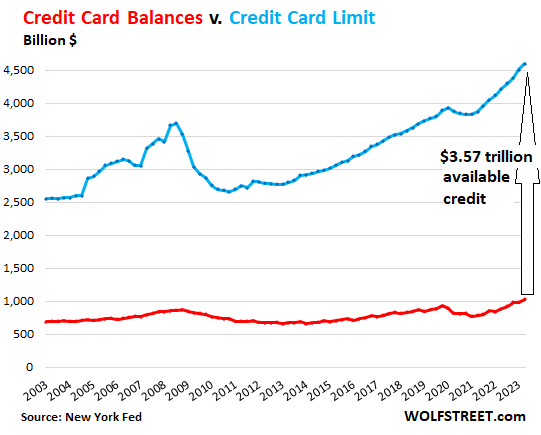 Delinquencies normalize.
The gamut of stimulus monies, forbearance of all kinds, and eviction bans during the pandemic allowed consumers that were behind to get caught up, and it had a big impact on delinquencies. But that era has passed, and consumers are going back to normal.
Serious delinquencies for credit cards ticked down to 8.0% of total balances in Q2, below where they'd been in 2019 and level with 2018 (red). For "other" loans, they ticked down to 7.6%. These are balances that are 90 days or more past due.
You can see the strain on cardholders in 2020, with serious delinquencies surging, that were then getting cured in 2021.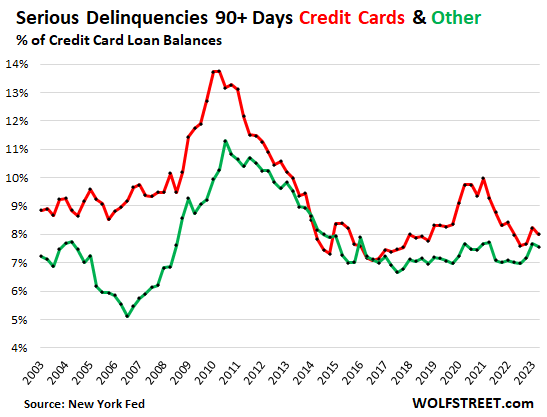 Transition into delinquency – balances that just went 30 days past due – shows that people are falling behind at a level about equal to before the pandemic, with newly delinquent balances for credit cards rising to 7.2% and for "other" to 7.1%. These newly delinquent credit card balances fell to record lows during the stimulus-money era. They have now normalized. If they continue rising, it would indicate added strain. And we'll watch that.
But as the 90-day delinquency chart shows, they're mostly still able to cure the delinquency and get caught up before it's 90 days past due.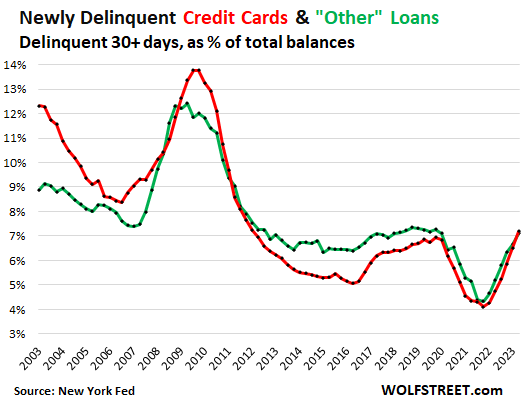 But wait, it didn't really go up.
The New York Fed in a blog post disaggregated the transitions into delinquency by the credit score at issuance. And it says, "Note that these rates differ from the transition rate calculated in our Quarterly Report because they are unsmoothed and use more detailed data."
Based on this more detailed data, the transition into delinquencies actually dipped, and dipped particularly for subprime borrowers (below 620 credit score), near-subprime borrowers (620-659 credit score), and middle-of-the-roaders (660-719 credit score). Disaggregated, the chart from the New York Fed also shows that the vast majority of the delinquent balances are in the subprime category.
Transition into delinquency (30 days+) by credit score. Chart by New York Fed. Source: New York Fed Consumer Credit Panel / Equifax (Philadelphia Fed Credit Card Detail); Credit scores are Equifax Risk Score 3.0.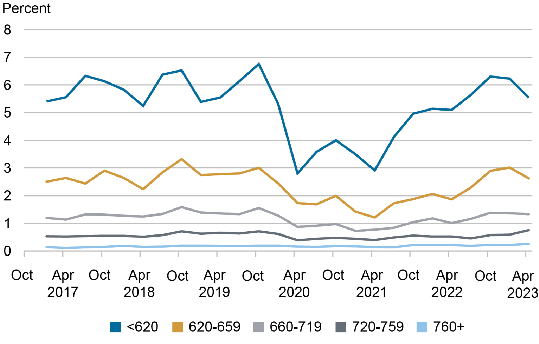 A word about banks and credit cards. 
Banks incentivize the use of cards as payment method by offering 1% or 2% cash-back on card spending, frequent flier miles, and other benefits. Banks collect percentage-fees from merchants for every dollar paid for with a card, and these fees have become big profit centers for banks. So banks are aggressively marketing these cash-back cards to people that may never borrow and incur interest with these cards, but will run large amounts through them, and pay them off every month, and collect 1% or 2% cash-back, and the bank cashes in on the fees it charges the merchant.
Banks, by charging huge interest rates, are essentially discouraging the use of cards as a borrowing method. And a majority of people don't use their cards to borrow, but pay off their credit cards every month to avoid interest charges, or they borrow only briefly to finance a major purchase, such as some furniture, and then they hustle to pay off the balance quickly. But the people that don't pay off their credit cards monthly, and who carry a balance every month, pay huge amounts in interest, and they're the ones that show up in the delinquency data when they fall behind.
Enjoy reading WOLF STREET and want to support it? You can donate. I appreciate it immensely. Click on the beer and iced-tea mug to find out how:

Would you like to be notified via email when WOLF STREET publishes a new article? Sign up here.