They have to set residual values for three-year leases. And it's risk off.
Used vehicle wholesale prices at auction fell by 1.6% in July from June, seasonally adjusted, and by 3.8% not seasonally adjusted, and by 10.7% year-over-year, to an index value of $19,546, just about exactly where it had been in April 2021, according to the Used Vehicle Value Index by Manheim, the largest auto auction house in the US and a unit of Cox Automotive. The index is adjusted for changes in mix and mileage.
During the crazy bubble spike from February 2020 through May 2022, the index had jumped by 63%, or by $8,842. The index has now worked off $3,336, or a little over one-third, of that bubble spike. The question on everyone's mind is this: How much more will used vehicle prices drop before the price increases start all over again? And when will those price increases start all over again?
This question is crucial to the financing arms of automakers when they calculate lease payments for new vehicles. They have to predict what used-vehicle wholesale values will be in two to three years to determine the residual values in their leases. They don't want to be $10,000 on the wrong side of reality three years from now on a gazillion vehicles when their leases end. And they're now confronted with the worst turmoil in used-vehicle wholesale pricing ever, and they had to place their bets.  More in a moment.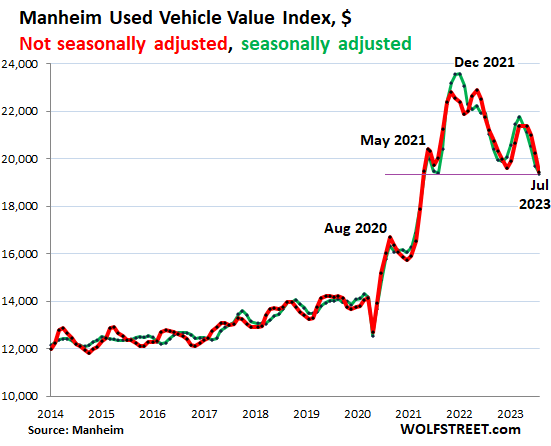 Prices have dropped despite tight inventory.
Used retail inventory has been rising off the lows in February and March. But at the beginning of July, at 2.22 million units, it was still about 500,000 units below the inventory during the same period in 2019, according to data from Cox Automotive.
Retail sales were up 6% in July from June, and nearly flat with a year ago. And days' supply, which expresses inventory in relationship to retail unit sales, dropped to 46 days at the end of July, from 49 days in the prior month, and from 54 days at the end of July 2022, according to Manheim.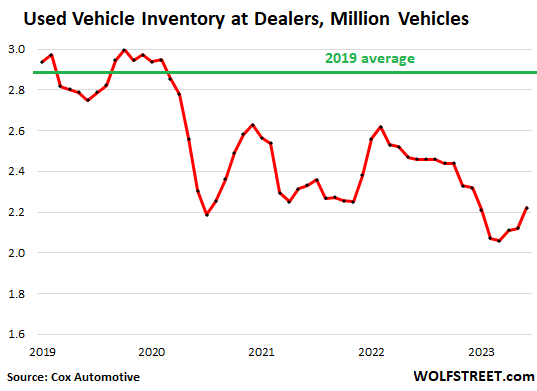 Where will wholesale prices be in 3 years? That's the bet leasing companies have to make.
With used-vehicle retail sales "showing some summer strength, we do not foresee wholesale price declines of serious import through December," Manheim said.
The automakers' captive finance companies have to think beyond this year; they have to think about what will happen when the leases terminate in two or three years.
Amid this pricing turmoil that started in 2020, they began de-emphasizing leases, and essentially ended leasing incentives. Increasing the residual value by an incentive amount brings down the lease payment and makes leases appealing, and they stopped doing that, and they're still not doing it, and leasing activity plunged every year from the prior year since 2019, unlike new vehicle sales which have been bouncing back. Captive finance companies have focused on loans, rather than leases.
Leasing activity, each year from the prior year:
2020: -31%
2021: -19%
2022: -38%
2023: -13% projected.
Cumulative, over those four years (2023 projected), leasing activity in 2023 has plunged by 65% from 2019! This data has been provided by a WOLF STREET reader who comments here as "fullbellyemptymind," and in real life serves in a senior data science role in auto finance risk management and insurance.
Where will wholesale prices be in three years? That's the bet automakers' finance companies have to make when they determine residual values for today's leases.
And they're now betting that wholesale values will not increase, according to data on contract residual values, provided by "fullbellyemptymind." The industry sample represents captive finance companies that write a large majority of the new-vehicle leases.
The average contract residual value for pickup trucks so far in 2023, at $32,300, was below the calendar-year average in 2021 ($32,600). So today's three-year truck leases that will terminate in 2026 have residual values on average of $32,300, meaning these finance companies expect wholesale prices of pickups to be in this range, and that's below those that will terminate in 2024!
This also shows the absence of incentive spending on residual values.
But in the chart below of the index of residual values, note the 23% spike in average residual values of pickups in the calendar year 2021 from the 2020 average. In other words, the leasing industry is betting that the surge in wholesale prices of used trucks is over (red in the chart below)
In terms of leases for SUVs, contract residual values are roughly flat compared to leases those written two years ago (green).
The chart shows the calendar year average residual value in bold, and the monthly residual values for pickup trucks (red) and SUVs (green).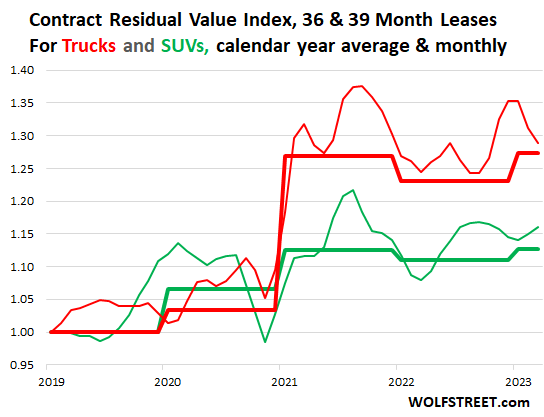 Exiting a chaotic pricing mess.
The huge price spike from 2020 through 2021 has caught everyone by surprise, including the finance companies; their residual values, which were set two or three years earlier, lagged far behind. This produced the peculiar situation where leases that terminated in 2021 had residual values far below wholesale prices. So instead of returning vehicles, a large number of customers chose to buy out their leases at the residual value. Some then turned around and sold the vehicle for big profit.
During the crazy price spike in 2020 through 2021, residuals rose much more slowly than the spike in wholesale prices, which produced relatively higher payments for leases, and made them less attractive for customers – hence the plunge in lease volume.
But then in 2022, when wholesale prices plunged, residual values barely dipped.
And in 2023 so far, as wholesale prices plunged again, average residuals even increased a little. This shows that the captive finance companies are betting that wholesale prices over the next three years will settle down well below where they'd been at the peak in 2021, but well above where they'd been in 2019.
It also shows that the captives are uncertain about where these price gyrations might still go, and that they're not incentivizing leases by raising residuals, but that they are taking risk off by reducing their lease business, and are instead promoting loans with low interest rates and other incentives.
Enjoy reading WOLF STREET and want to support it? You can donate. I appreciate it immensely. Click on the beer and iced-tea mug to find out how:

Would you like to be notified via email when WOLF STREET publishes a new article? Sign up here.