Americans got battered for years by huge price hikes, especially on trucks, amid oligopolistic pricing behavior by legacy automakers.
Pickup trucks are a huge business in the US with obscene profit margins for automakers that, amid oligopolistic behavior, hiked prices every year in a similar manner, making sure that competition didn't come down to price, but to marketing blitzes, power, luxury, etc. Ford is disproportionately dependent on its business of full-size pickup trucks, after having killed most of its sedan business. Any threat to Ford's pickup business is an existential threat.
After Tesla announced on Sunday via Twitter that its first Cybertruck had finally been "built" at its plant in Texas after years of delays and over-promises, with mass-production of salable trucks still months away, Ford came out on Monday to announce that it cut prices of its electric F-150 Lightning, depending on model by 6.1% to 16.1%.
Ford's price cuts range from $6,079 to $9,979, depending on model. The MSRP of the base model, the F-150 Lightning Pro, got cut by the most, by $9,979, or by 16.1%, with an "updated" MSRP, including destination and delivery charges, now of $51,990.
The base Pro is a four-wheel drive, four-door crew cab with 462 hp and a huge 775 lb-ft of torque. That's the low end of the line! A step up, the extended-range Pro has 580 hp.
At the high end, Ford cut the price of the Platinum Extended Range by $6,079, or by 6.1%, to $93,990, including destination and delivery charges. By comparison, a number of Ford's high-end ICE trucks come with MSRPs well above the $100,000 mark.
All of the Lightnings are big four-door, four-wheel-drive crew cabs with ridiculous amounts of horsepower and torque. But hey, that's the American way. We like big powerful equipment. And electric motors make that easily possible.
Tesla instigated the price-cut waves. "I Love How Tesla Wreaks Havoc among Automakers with Massive Price Cuts, Huge Sales Growth, Even Huger Production Growth, and Overcapacity," I said in April. And with Ford's price cuts, the havoc continues. It started last year when Tesla cut prices on its car and SUV models that then triggered price cuts across other EV makers, including by Ford of its Mustang Mach-E.
After Ford's three big bad price hikes. The irony here is that back in May 2021, Ford originally priced the base version of the Lightning at around $41,000, including destination and delivery charges. Then came three price hikes that pushed the MSRP to about $62,000. With today's price cut, the Pro is back at around $52,000, so only about halfway back, and still up by 27% from the original price.
Price cuts are great for consumers, after having been battered by decades of price hikes – particularly for pickup trucks, and particularly since 2020 – amid oligopolistic pricing behavior by legacy automakers, to the point where purchasing a new truck has become a luxury that fewer and fewer Americans can afford. Which is why price cuts are so crucial for consumers.
And price cuts are great for unit sales (deliveries), if the automaker can build enough of them, as serial-price-cutter Tesla has shown. Ultimately, these price cuts are good for the industry because they widen the customer base.
But price cuts pose challenges on revenues and profit margins, though the equation gets complicated. If a manufacturer can get unit sales and production volumes up, revenues will outgrow the price cuts and the per-vehicle costs go down. And it might all work out. That's the hope.
Price cuts are despised on Wall Street. Ford's shares tanked by 5.9% today upon the announcement. Tesla's stock too got hammered with price-cut announcements.
It's not a lack of demand: Ford says it has 200,000 reservations for Lightning trucks. It has been mass-producing them since April 2022, but in relatively small numbers compared to its huge F-Series business.
Sales have been hampered by Ford's inability to ramp up production and get the supply chains built. All of this has been slow and fraught with costs, problems, and production halts, including now, as Ford noted today: its plant in Michigan, where the Lightning is made, "is temporarily closed to complete final plant upgrades to triple the plant's annual run rate to a targeted 150,000 F-150 Lightning trucks beginning this fall."
In support of the price cuts, Ford cited this soon-to-be increased plant capacity, "continued work on scaling production and cost, and improving battery raw material costs."
The money-suck. Building the production capacity and then ramping up production of a new model with a new powertrain technology and new supply chain – new for Ford – is a gigantic money-suck. And it remains a money-suck until production and sales volumes reach higher levels.
Rivian – a startup that Ford helped fund – is the only other company that has mass-produced electric pickup trucks out on the road, and its efforts to ramp up production are also fraught with issues. Rivian is burning ungodly amounts of cash to ramp up mass-production.
GM has been mostly mass-producing announcements about electric trucks and is just dabbling in small-scale actual production. Stellantis is only producing announcements about electric trucks. Toyota isn't even producing announcements.
All electric pickups now on the road are big four-door, four-wheel-drive crew cabs with ridiculous amounts of horsepower and torque and a long list of luxury equipment, even the base versions. But as the production capacity ramps up and competition heats up, will we will see two-door two-wheel-drive pickups at lower price points? I hope so. That's the classic pickup.
For perspective, how truck prices spiked. Here is the WOLF STREET price index of the two-door two-wheel-drive base F-150 XLT and the base Camry LE, with no add-ons and without destination and delivery charges, which I release in the fall every year when the new model-year MSRPs are out.
F-150 XLT in red, left scale; Camry LE in purple, left scale; Consumer Price Index for New Vehicles in green, right scale: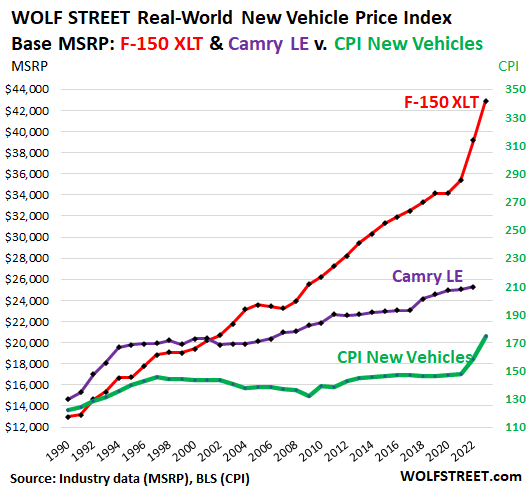 Enjoy reading WOLF STREET and want to support it? You can donate. I appreciate it immensely. Click on the beer and iced-tea mug to find out how:

Would you like to be notified via email when WOLF STREET publishes a new article? Sign up here.