Shareholders hate it. It's bitter medicine for the industry that pushed upscale and jacked up prices so average Americans can no longer buy new vehicles.
What Tesla has been doing is fascinating, and it's wreaking havoc among the legacy automakers. Tesla shareholders hate it, and shares have sold off, though they are still ridiculously overpriced. And other automakers' shares have sold off too.
Tesla's deliveries continue to surge. In Q1, global deliveries jumped by 36% year-over-year, which is a huge increase. Its overall market share has exploded. In the US, its market share reached nearly 4%, having tripled since 2020. This came out of the hide of other automakers. In Q1, it delivered a record 422,875 vehicles globally.
But it has ramped up production and production capacity even faster. Production in Q1 jumped by 44% to 440,808 vehicles. It has been ramping up production and investing in production capacity so relentlessly that for two quarters in a row it produced significantly more vehicles than it sold.
Over those two quarters combined, it built 880,509 vehicles, and delivered 828,153 vehicles. In other words, sales have soared, but production and production capacity has out-soared sales growth.
And now it needs to sell those 50,000 or so vehicles it hasn't sold, on top of the vehicles it's cranking out in Q2, and instead of cutting production, it's cutting prices to boost sales.
And it can afford to do so because it had the fattest profit margins of any major automaker to begin with. For the legacy automakers, with their relentless price increases on internal-combustion-engine vehicles, and their dropping sales, Tesla's price cuts and the threat of overcapacity are a huge threat.
Tesla continues building capacity with new factories. It now has a slew of vehicle assembly plants, auto component factories, battery factories, manufacturing equipment factories where it builds some of its own manufacturing equipment, etc. in the US, Europe, and China. It's building an assembly plant in Mexico. There are rumors that it is nearing a deal to build an assembly plant and component plants in Indonesia.
Unlike certain other automakers – such as General Motors and Ford – it doesn't incinerate cash by buying back its own shares, it doesn't pay dividends, and it doesn't have to take on debt to fund this capacity buildout or its product development; it funds them with its operating cash flow. And it sat on $22 billion in cash in Q1, up from $18 billion a year ago.
Overcapacity and price cuts. These two words are the bane of the legacy automakers. They're horror words for the legacy automakers.
What Tesla is doing is the best medicine for the auto industry ever, and it's bitter medicine for shareholders of Tesla, GM, Ford et al., and they hate it because they're now sitting on this overhyped stuff that dropped in price. But so what.
What matters is to salvage the industry through new competition that will push it to produce cars that the average American can once again afford.
The industry has spent the last 20-plus years going upscale and jacking up prices to where the average American can no longer buy a new vehicle. US brands have killed their entry-level ICE cars over the past few years because they had small price tags and lower profit margins than the big equipment.
Going upscale in their models, and jacking up prices has inflated the average transaction price of new vehicles by nearly 50% since 2014, to $46,000 now (J.D. Power), which is just nuts: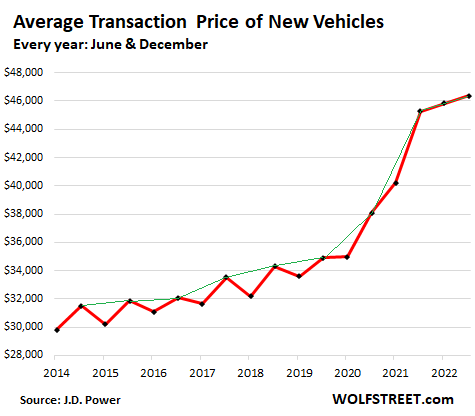 What has gone horribly wrong with the auto industry is that they all – even Kia and Hyundai – went upscale because that's where the big-fat profit margins are, and on top of it, they jacked up prices. And they've done it in unison. And over the years, new vehicles have become a luxury many Americans can no longer afford.
I've been screaming about this for years – because with this strategy, automakers are running out of customers in the US. And because sales stalled and then plunged, they've gone even more upscale to make up with dollars what they were losing with unit sales. That's a huge problem for the industry – and for Americans who can't afford those vehicles.
In 2022, total new vehicles delivered to end users fell by 8% from the already terrible 2021, to 13.7 million vehicles, below where deliveries had been in 1977. Over the past 25 years, the sound barrier for the auto industry has been to deliver 17.5 million vehicles a year, and they came close to it a few times, but never broke it. As a consequence of prices running away from customers, new-vehicle unit sales have stagnated for decades, with steep plunges in between: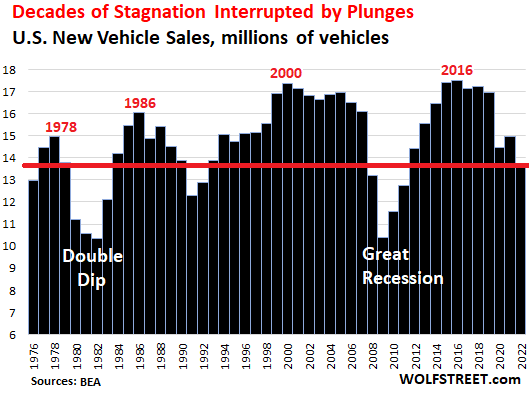 And what this chart also tells you is that the booming EV sales come at the expense of ICE vehicle sales.  EVs sales have been the only segment that has been growing in leaps and bounds.
They're now all chasing after Tesla – after letting Tesla eat their lunch for years. There are now about 40 EV models on the US market. And following Tesla's price cuts, big price cuts have rippled through those models.
Total EV sales shot up by 45% in Q1 compared to a year ago, to a record 258,882 EVs, according to Cox Automotive. There will be over 1 million EVs sold in the US this year. In Q1, EV market share jumped to 7.2% of total sales.
So now Tesla is mucking up the oligopolistic playground of the legacy automakers where everyone agreed to go upscale and keep raising prices. Tesla barged into this playground, and it's taking names, and kicking butt, and cutting prices.
Tesla still has the fattest profit margins among major automakers, and it can afford to cut prices to get volume.
Since last year, it has cut prices multiple times across the board. And it's constantly tweaking its prices, not being encumbered by a franchised dealer system. It just raised its prices of its high-end low-volume toys-for-the-rich models by 2% or 3%, even as it massively cut prices of its highest-volume lower-end models.
Now a base Model 3 in the US – classified as near-luxury – lists for $39,990 on Tesla's website, not including rebates. That's about 13% below the average transaction price of all new vehicles.
The vehicle also qualifies for the new $3,750 federal tax credit and for some state incentives, such as the $2,000 in California. I hate EV incentives, EVs would do just fine without them, but that's what we've got. So the Model 3 now costs $34,240 in California – about 25% cheaper than the average transaction price of all new vehicles in the US.
GM cut the price of its Bolt into the $26,000 range before rebates; 43% cheaper than the average transaction price for all vehicles. Ford cut prices on its Mustang Mach-E SUV. Other EV makers have cut prices as well.
But they haven't been able to scale up their production capacity and supply chains, and they cannot yet produce at scale like Tesla can, and so their costs are higher. Ford, which is years behind Tesla in building its EV supply chain and production capacity, has said that it will be losing a ton of money on its EVs for years to come until production can reach sufficient scale.
Tesla has changed this dynamic of the auto industry. The promise of EVs was all along that eventually they would be cheaper because they're vastly simpler to manufacture than ICE vehicles. And at scale, they're now cheaper to produce than ICE vehicles, as demonstrated by Tesla's profit margins and price cuts.
And EVs are so easy to build that a whole new generation of startups has piled in, promising to muck up the oligopolistic playground and at the same time create a beautiful shakeout amongst each other – and lower prices.
That's how it's supposed to be – that price competition breaks out, and prices get cut until profit margins vanish, and those that cannot become the low-cost producers get washed out. Consumers benefit.
But Teslas are not competing just with EVs. From day one, they competed with ICE vehicles. And other EVs are competing with ICE vehicles. And legacy automakers are going to have to deal with this threat, and their strategy of going upscale and jacking up prices on their ICE vehicles is going to fail in face of the surging competition from EVs. Over the longer term, they have to price their ICE vehicles to be competitive with EVs.
But obviously, for stockholders, that kind of competition is tough. Tesla is still a hugely overpriced stock, though it has come down a lot. GM, Ford, and other automakers are going to blow a lot of money trying to catch up with Tesla; and their ICE vehicles are going to face margin pressures and volume declines from this intense new lower-cost competition. And the EV startups in the US, those that will even survive, will be burning cash for years to come trying to develop models, scale up production, and grow their sales to where they can break even. For stockholders this will be rough. But I'm loving the fact that Tesla has barged in on the legacy automakers and is shaking up their game.
Enjoy reading WOLF STREET and want to support it? You can donate. I appreciate it immensely. Click on the beer and iced-tea mug to find out how:

Would you like to be notified via email when WOLF STREET publishes a new article? Sign up here.