Brick-and-Mortar Meltdown Continues. Revenues Collapsed by 55% since 2017: Share buybacks and Ecommerce killed it.
Bed Bath and Beyond finally filed for Chapter 11 bankruptcy on Sunday and said it will liquidate its assets, and close its remaining stores, unless it can find a bidder for the Bed Bath and Beyond stores and for the buybuy BABY stores, in which case it would keep the stores open to retain value for the bidder. If it cannot find a buyer, that'll be it. It said the liquidation sale of its assets has begun.
A year ago, the bond market started seeing a bankruptcy filing and prices of the bonds began to collapse. By August 2022, suppliers got cold feet and halted shipments due to unpaid bills. When this came out, its 30-year bonds, issued in 2014, plunged to 16 cents on the dollar (by Friday, they were at about 5 cents on the dollar).
While this was going on in 2022, the company promoted its latest turnaround plan and closed hundreds of stores. But you can't turn around a failing brick-and-mortar retailer. On January 5th this year, the company issued a "going concern" warning.
On January 26, it disclosed that it had defaulted on its credit line with JPMorgan, and reiterated that it may have to file for bankruptcy. On February 1, the company failed to make an interest payment on $1 billion in bonds. A few days later came the company's last-ditch share-sale scheme with Hudson Bay Capital, which effectively finished off its shares though it was able to raise some cash, which delayed the bankruptcy filing.
Nothing had worked, not even the wild pump-and-dump schemes among the meme-stock jockeys that caused shares [BBBY] to spike by fantastical percentages in no time, only to totally collapse in hours or days. On Friday, before the bankruptcy filing, shares closed at 23 cents. When a retailer goes bankrupt, there are few assets and lots of debt, and it's over for the shares, they'll vanish.
Bed Bath and Beyond was inducted into my pantheon of Imploded Stocks in June 2022. Here's the wild-ride meme-stock chart. We'll look at a long-term chart in a moment (data via YCharts):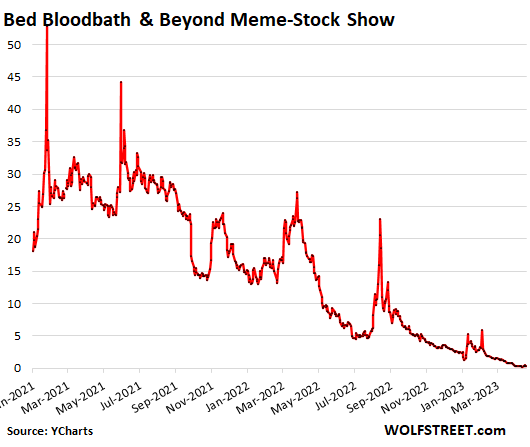 To make it through the bankruptcy process while operating, the company obtained a $240-million debtor-in-possession (DIP) loan from Sixth Street Specialty Lending. DIP financing has priority over other debt and equity in the bankruptcy and will be paid back first.
It said that, while it's in the process of shutting down, it "intends to uphold its commitments to customers, employees, and partners, including continued payment of employee wages and benefits, maintaining customer programs, and honoring obligations to critical vendors." Until stores close, they and the website will remain open for business.
The company said that it will try to sell the Bed Bath Beyond stores and buybuy BABY stores. If it succeeds in finding a buyer during the bankruptcy proceedings, it "will pivot away from any store closings needed to implement a transaction," it said in the announcement.
$11.6 billion in share buybacks killed Bed Bath & Beyond.
In 2021, as the company was already teetering with revenues in free-fall, and just a year before it defaulted on its bonds, it wasted and incinerated $1 billion on share buybacks, a mindbogglingly idiotic decision that ended up killing the company. Everyone that had anything to do with it should be sued.
In 2014, it wasted and incinerated $2 billion on share buybacks, instead of investing this cash in its ecommerce operation and trying to get out of the brick-and-mortar stores gracefully, while it still could.
Since 2010, the company wasted an incinerated $9.6 billion on share buybacks. Since 2005, it wasted and incinerated $11.6 billion on share buybacks.
These are the cumulative share buybacks – the $11.6 billion that the company incinerated to "return value to shareholders." Shareholders and Wall Street demand that the company do this, and they got it. There are no victims here (data via YCharts).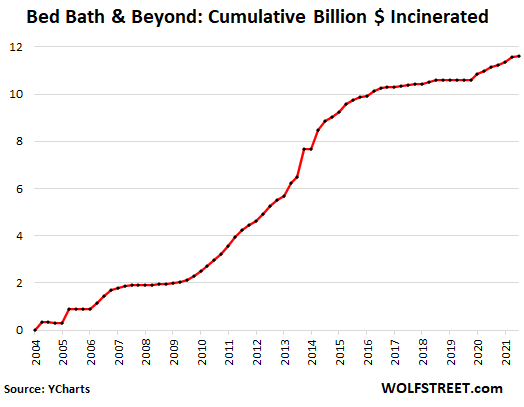 Ecommerce killed it.
Bed Bath and Beyond is the latest in a very long list of big retailers – from Sears on down – that were felled by ecommerce, as Americans changed the way they buy, and these retailers couldn't adapt fast enough. This is structural, and it continues, and no one is going to be able to persuade Americans to go back to their old ways. Back in 2017, when that process took on momentum, I started calling it Brick-and-Mortar Meltdown.
Revenue growth of Bed Bath and Beyond began to flatten in 2012, despite inflation, and began to fall in 2018.
The company has not yet reported its revenues for its fourth fiscal quarter, which ended at the end of February. But it said that it had another fiasco over the holidays due to inventory shortages and other issues, and projected revenues would be down 32% year-over-year. With this, we can estimate its fiscal year revenues to come in at about $5.6 billion, a plunge of 55% from 2017. You cannot restructure something like this. This company has destroyed its business: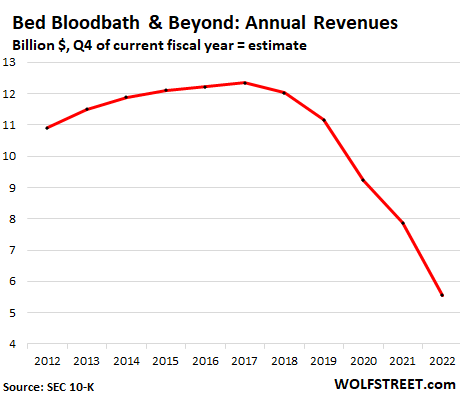 The meme-stock ridiculousness.
Bed Bath and Beyond was already in the $5-range in April 2020, and that was a good place to be. But then the meme-stock jockeys played their organized pump-and-dump scheme, during which the shares spiked by something like 1,000% to 53.90 intraday in January 2021, only to collapse, and spike, and collapse, and spike…. This stuff is really nuts. Again there are no victims here.
But take a look at 2010 through 2015: this was a period of huge share buybacks, and they drove up the shares, and beyond that, they began to drive the company into liquidation to release shareholder value, as it's called. Shareholders and Wall Street demanded it, and they got it alright (data via YCharts).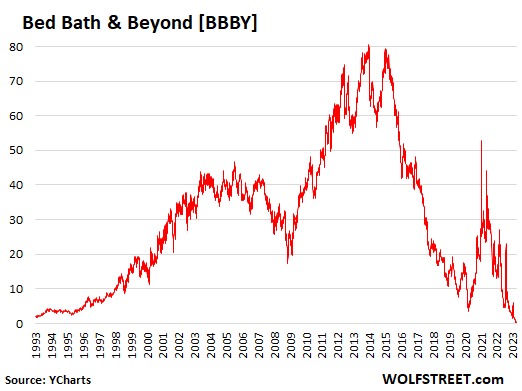 Enjoy reading WOLF STREET and want to support it? You can donate. I appreciate it immensely. Click on the beer and iced-tea mug to find out how:

Would you like to be notified via email when WOLF STREET publishes a new article? Sign up here.