In Chicago, rents are getting crushed.
An inconvenient math for housing is beginning to dog Chicago: The third largest city in the US has been losing population for years. Not huge numbers, but it adds up… In 2016, according to the Census estimate, the population dropped by about 9,000 people. Since 2014, the population has dropped by about 14,000 people. Chicago's fiscal woes, junk credit rating, and the threat of bankruptcy hanging over it don't help.
Since 2012, nearly 26,000 multifamily rental units have been completed in the city, according to Fannie Mae, which for 2017 sees "elevated volume of new supply, particularly in the Loop/River North/Gold Coast submarkets." This does not include condos and single-family homes that were bought by investors and have reappeared on the rental market. Over the same five-year period, Chicago's population has dropped by 9,000 people.
This has some effects on rents.
According to Zumper's National Rent Report for August, the median asking rent in Chicago dropped by 13.7% year-over-year to $1,510 for a one-bedroom apartment, and by 15.7% to $2,200 for a two-bedroom. From their peaks in late 2015, asking rents have plunged 26% and 17% respectively.
These are asking rents in multifamily apartment buildings. Single-family houses or condos for rent are not included. And they do not include incentives, such as "one month free" or "two months free," which effectively slash the rent for the first year by another 8% or 17%.
In January this year, Chicago was still in 8th place on the list of the 12 most expensive major rental markets. It has since been pushed down relentlessly – though other markets too have declined. And in August, Chicago was effectively pushed off the list into 13th place (so now my list of the top 12 has 13 entries).
This offers some relief for renters – though Chicago remains immensely expensive. But it's not such a great thing for landlords whose costs are rising due to various fees and taxes the City has recently imposed to avoid falling into its fiscal sinkhole.
Other high-dollar luminaries where rents fell.
In San Francisco, the most expensive major rental market in the US, the median asking rent for a one-bedroom apartment dropped 1.5% year-over-year to $3,390 and is down 7.6% from the peak in October 2015. For a two-bedroom, the median asking rent dropped 5.0% year-over-year to $4,560 and is down 8.8% from the peak.
The last period of year-over-year declines in San Francisco ended in April 2010 after the Financial Crisis. This time, there is only a "Housing Crisis," where the middle class can no longer afford to move into a modest apartment.
In New York City, the median asking rent for a one-bedroom dropped 8.9% year-over-year to $2,850. For two-bedrooms, it dropped 8.3%. Measured from the peak in March 2016, asking rents — not including incentives — have plunged 15% and 20%.
Given that plunge, New York City's median asking rent for a two-bedroom has dropped below Washington DC to an ignominious third/fourth place, shared with Los Angeles, which also tells you how expensive DC and LA are becoming.
This table of the 12, well 13 now, most expensive major rental markets in the US shows median asking rents, their year-over-year changes, and (in the shaded areas) the prior record and the change since then: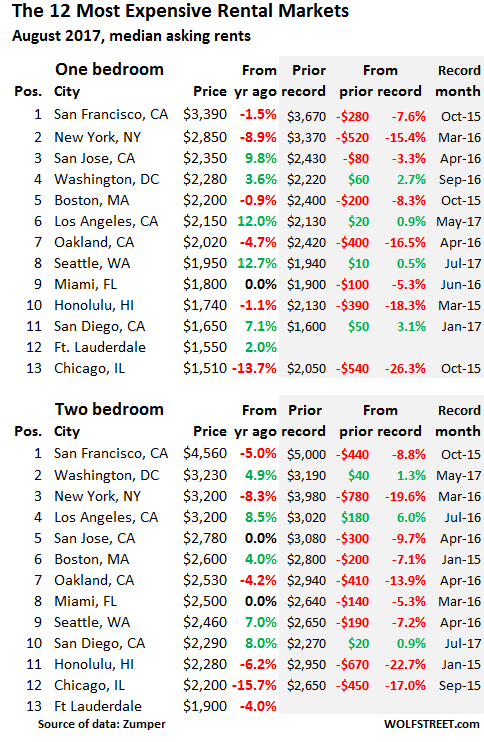 The other double-digit losers were:
In formerly red-hot Oakland, which received the San Francisco housing refugees, median one-bedroom and two-bedroom rents plunged 16% and 14% from their peak.
And Honolulu, with an 18% and 23% plunge from the peak, nearly rivaling Chicago.
But nationwide, asking rents for both one and two-bedroom apartments were up 3.2% year-over-year, according to Zumper. How can this be, given the kind of red ink in the top 13 markets?
The boom in "mid-tier" rental markets.
Asking rents are soaring in the high single digits and even in the double digits in many "mid-tier" markets – "mid-tier" in terms of the magnitude of the rent. Here are some of the mid-tier markets with double-digit year-over-year rent increases (one-bedroom and two-bedroom apartments):
Long Beach, CA (+15.1% and +12.1%)
Dallas, TX (+11.5% and 13.9%)
Irving, TX (+10.2% and 13.1%)
Sacramento, CA (+15.3% and +15.2%)
Charlotte, NC (+15.3% and +11.2%)
Durham, NC (+15.9% and +10.0%)
Richmond VA (13.5% and +13.2%)
Fort Worth, TX (13.5% and 11.7%)
Note the three cities in North Texas (Dallas, Irving, Fort Worth) on the list. Plano, north of Dallas, didn't quite make the double-digit list with rent increases of 7.5% and 10.7% year-over-year. The North Texas housing market is hopping.
However, asking rents in some formerly hot mid-tier markets are now declining year-over-year, including Portland, OR (-3.6% and -4.2%) and Austin TX (-2.7% and – 2.8%).
Below is Zumper's list of the top 100 most expensive rental markets and price movements. Check out your city (click on table to enlarge).
In terms of homebuyers? Read…  The US Cities with the Biggest Housing Bubbles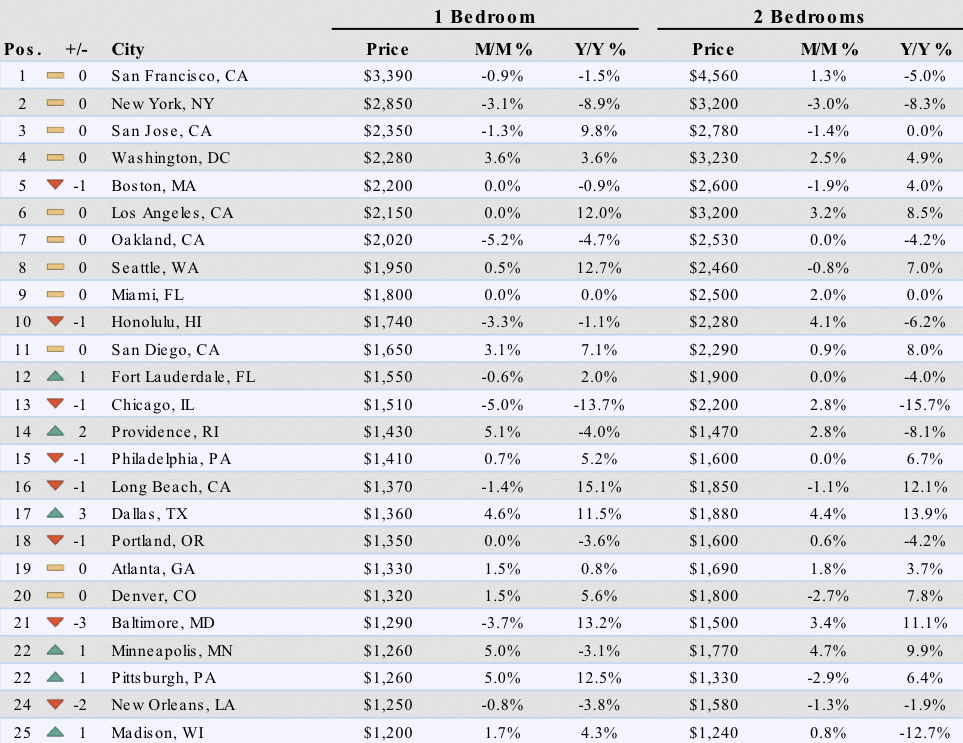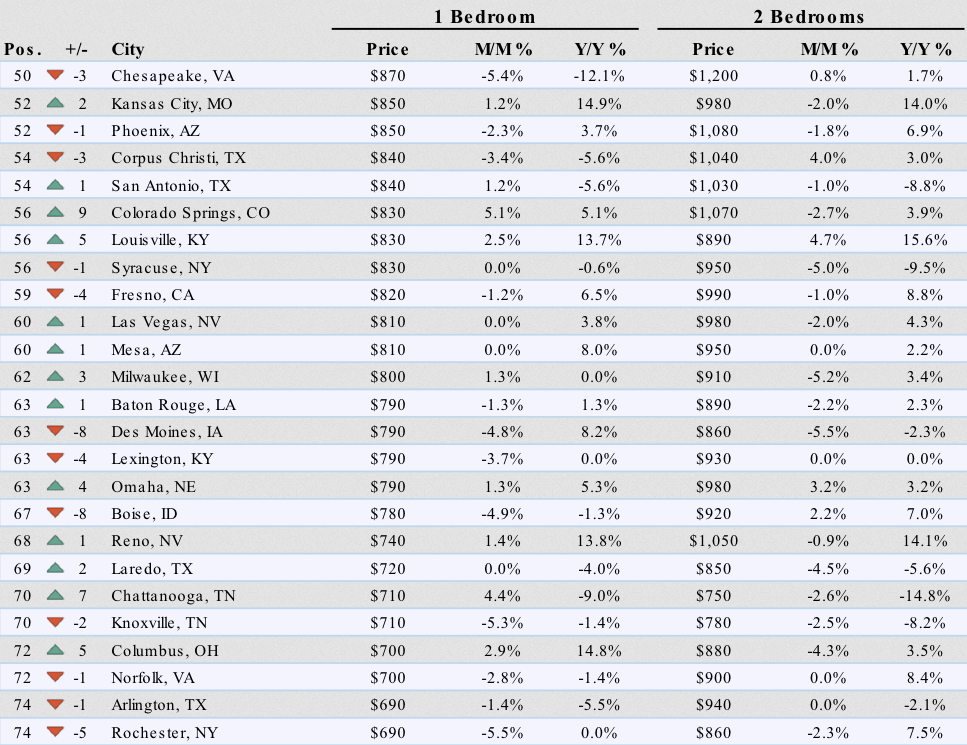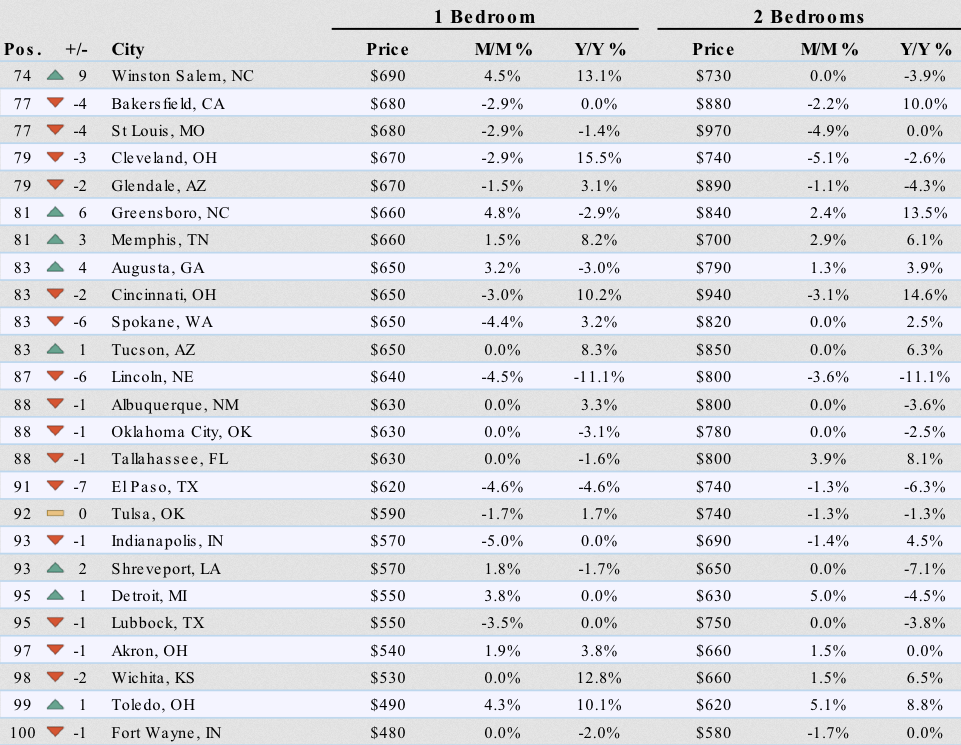 Enjoy reading WOLF STREET and want to support it? You can donate. I appreciate it immensely. Click on the beer and iced-tea mug to find out how:

Would you like to be notified via email when WOLF STREET publishes a new article? Sign up here.