The number of jobs created was even upwardly revised, for a change.
As you'd expect from an economy that is plugging along just fine, the number of jobs created in the prior two months was revised up by 198,000, for a change, after a long series of downward revisions. And in September 336,000 jobs were created, per the survey of employers by the Bureau of Labor Statistics today.
It beat some economists' expectations, and stock futures tanked instantly when AI-powered trading bots saw the headline and the upward revisions because Wall Street wants a big fat recession that would "force" the Fed to cut rates and end this horrible record QT and start QE all over again in their dreams because QE is now the only thing that works for stocks.
And over the past three months, 799,000 jobs were created, including the upward revisions for July and August, and that was fine.
Growth in overall employment, which includes the self-employed, per the separate survey of households, was fine too, rising by 576,000 over the past three months. The labor force continued to rise, and that was fine. The number of unemployed rose a tad but remained near historic lows. The prime-age labor participation rate – people between 24 and 54 – remained at the two-decade high, and that was fine. And the narrowest measure of the unemployment rate was unchanged near historic lows, and that was fine, etc., etc.
Folks can quibble with some of the details, but overall it was fine – it has been fine every month all year, exactly what you'd expect from an economy that's just plugging right along.
So one of those details, the multiple jobholders.
They always come up in some gruesome way, like Americans are so poor that they have to hold down two to four jobs to even be able to live from paycheck-to-paycheck or whatever, and that these multiple job holders inflate the employment numbers, etc., etc., though for lots of people, a side-gig is a great thing – working from homers have become infamous for it.
The number of multiple jobholders rose in September to 8.15 million.
But the total number of workers has grown over the months, years, and decades. For example, over the past four decades, the number of workers has grown by about 40 million, along with the total population.
And so the number of multiple job holders as a percent of total jobholders was 5.0% in September and has been around 5.0% all year, in the middle of the range before the pandemic. In September 2019, before the pandemic, it was 5.3%. Those rates are historically relatively low. In the 1990s it was over 6%, and has trended lower since then. The chart shows the three-month-moving average, which was also 5.0% for September: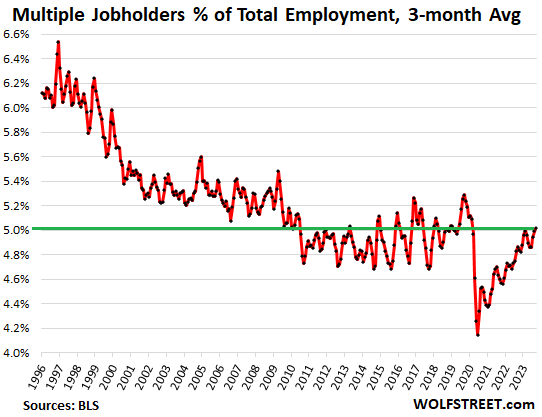 So that didn't inflate the job numbers, what a bummer. And it's right within the range with the Good Times before the pandemic, and it's historically low. In March through June 2020, the number of multiple jobholders had collapsed, as had total employment, but since then, it recovered and is now back to pre-pandemic levels, and there is really nothing to get excited about, except maybe that people who want a side gig have a better chance of finding one in this tight labor market.
Enjoy reading WOLF STREET and want to support it? You can donate. I appreciate it immensely. Click on the beer and iced-tea mug to find out how:

Would you like to be notified via email when WOLF STREET publishes a new article? Sign up here.