In tech & social media, the labor market got shot. In the rest of the economy, it remains very tight.
The announcements of global layoffs by tech and social media companies and by startups make all the news. But these are announcements, not actual layoffs, and they're global, with only part of them in the US. Tech and social media are a relatively small part of the US economy, while companies in much larger other sectors are trying to hire. Boeing, which added 14,000 employees in 2022, said it wants to hire an additional 10,000 people in 2023, most of them in its business units, engineering, and manufacturing. Chipotle said it will hire 15,000 people in 2023. Other companies are trying to hire as well, in a labor market that remains tight.
But job openings in the "Information" sector collapsed by half in December, the biggest drop since the Dotcom Bust. The sector includes web search portals, data processing, data transmission, Information services, software publishing, motion picture and sound recording, broadcasting including over the Internet, and telecommunications. Many tech and social media companies are categorized in it (others are in the "Professional and Business Services" sector, that we'll get to in a moment).
In Information, job openings collapsed to 109,000 in December from 204,000 in November and 229,000 in October, according to today's Job Openings and Labor Turnover Survey (JOLTS) by the Bureau of Labor Statistics. That brought job openings back down to the middle of the pre-pandemic range.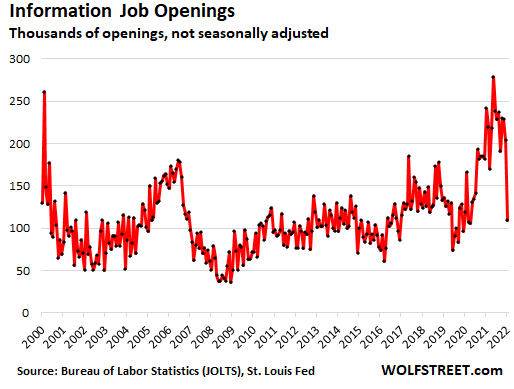 But "Information" a small sector with only 3 million employees, in the vast US economy, and it didn't move the overall needle of job openings, as we'll see in a moment, as companies in other sectors are going on a hiring binge.
It's in the relatively small tech and social media space — some of which is in the "Information category" — where companies, drunk with Easy Money, were hogging workers and office space for a future that did not come, and now they're unwinding some of this, which I discussed: What's Behind the Tech & Social Media Layoffs?
Job openings overall jumped by 572,000 in December, to just over 11 million openings, seasonally adjusted, a number not seen since July last year. Not seasonally adjusted, job openings jumped by 230,000.
Job openings were up by 64% from December 2019, and remain solidly in the astronomical zone, indicating an overall labor market that remains very tight – amid massive hiring binges in some sectors that we'll get to in a moment.
This data is not based on online job postings, but on surveys of 21,000 businesses and what they said about the job openings they actually have, the number of people they actually hired, the number of people they laid off, the number of people who quit, etc.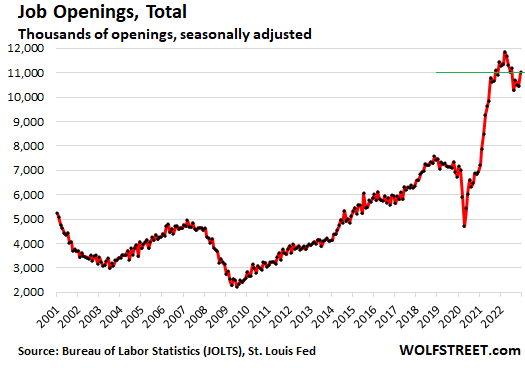 Actual layoffs & discharges – not announcements – rose by 50,000 in December, to 1.48 million, which remains historically low, down 24% from December 2019 and down 18% from the four-year average of 2016 through 2019 (1.8 million).
Every day, lots of companies lay off or fire people for a variety of reasons. This is part of the regular churn as employers tweak their operations. Those layoffs and discharges have ticked up from the record lows a year ago, but remain near record lows, indicating that overall – despite the job shedding in Information – companies are still clinging to their workers, after having had so much trouble hiring them: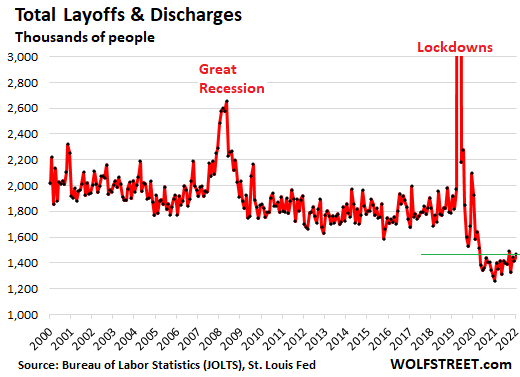 The number of workers hired rose to 6.16 million in December, and has been in the same range for months, up 4% from December 2019, and remains at high levels: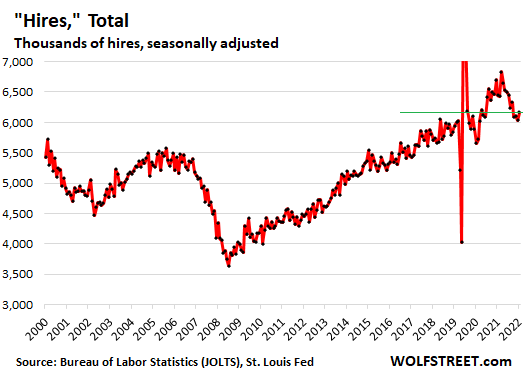 People are still quitting jobs in large numbers to find better jobs, for higher wages, driving employers nuts. In total, employers reported that 4.09 million people quit their jobs, roughly in the same range for the past four months, and up 16% from the already high levels in December 2019, though down from peak-quitting in early 2022.
This still speaks of a massive churn in the labor force, as confirmed by employers hiring 6.16 million people, in part to fill the jobs left behind by the 4.09 million people who quit to be hired by another company. And it's another sign that the labor market is still hot overall but not quite at the frenzied levels a year ago: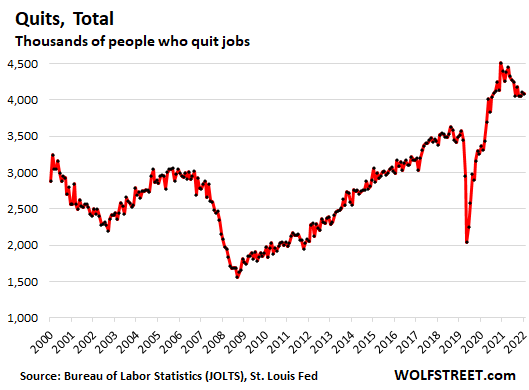 Job openings in major industry categories.
We've already seen the collapse in job openings in the Information sector. But that was the standout. Here are the major sectors and their job openings.
Professional and business services, a big category with 22.4 million employees in Professional, Scientific, and Technical Services; Management of Companies and Enterprises; Administrative and Support, and Waste Management and Remediation Services.
This is where other tech jobs are that are not in the Information category, but they're combined with a bunch of other professions, and it's where tech job openings got slashed by hiring freezes, but they were overpowered by job openings elsewhere in this vast sector.
Job openings: +4,000 to 1.96 million, highest since July 2022
From 3 years ago: +57%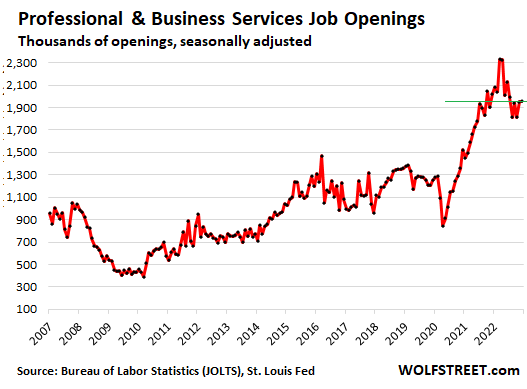 Leisure and hospitality, with about 16 million employees, a big sector still struggling with staff shortages:
Job openings: +430,000 in December to 1.94 million, nearly matching the record of December 2021.
From three years ago: +106%!!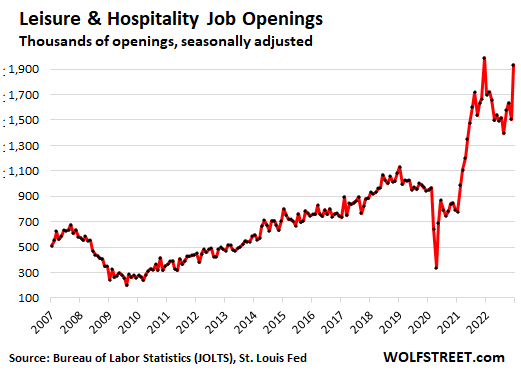 Healthcare and social assistance, with about 21 million employees: job openings dipped for the third month in a row, from the record in September, but remain near that record high.
Job openings: -6,000 from prior month, to 1.93 million.
From three years ago: +70.1%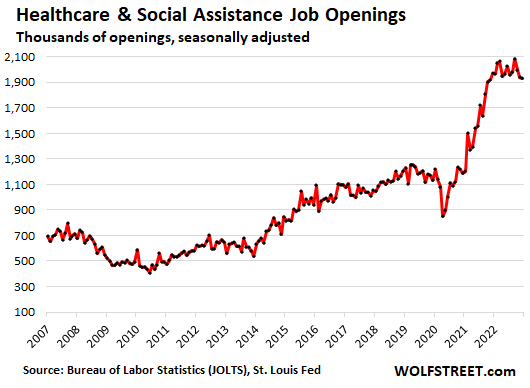 Retail trade, with about 16 million employees.
Job openings: +134,000 to 1.02 million, highest since May 2022
From three years ago: +43%.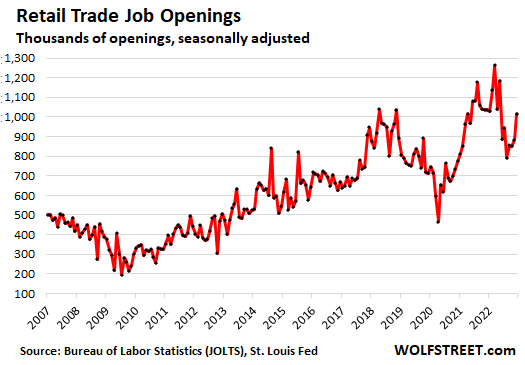 Education – as indicated by state & local government job openings, most of which are in education. The teacher shortage…
Job openings: +5,000, to 928,000 openings, the highest since July 2022
From three years ago: +41%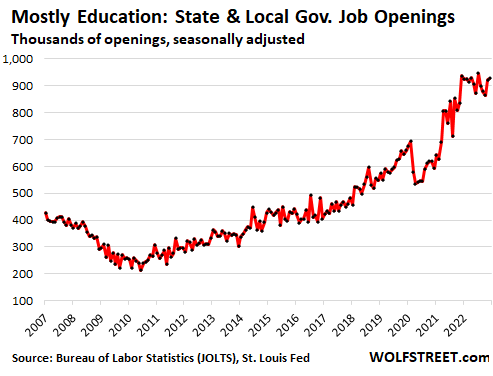 Manufacturing, with about 13 million employees:
Job openings: -39,000, to 764,000, still very high.
From three years ago: +105%!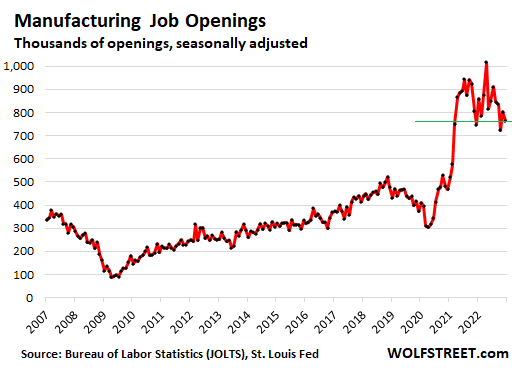 Construction, with about 8 million employees, in all types of construction:
Job openings: +82,000 to 413,000, the highest since September, and near record highs.
From three years ago: +56%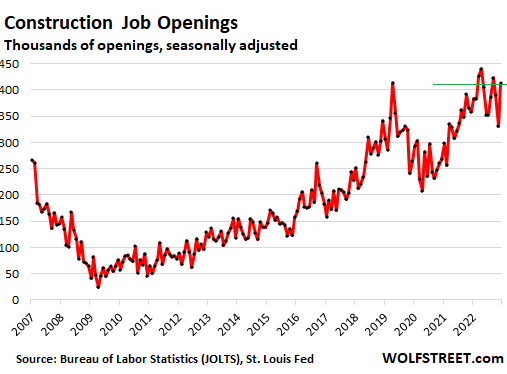 Enjoy reading WOLF STREET and want to support it? You can donate. I appreciate it immensely. Click on the beer and iced-tea mug to find out how:

Would you like to be notified via email when WOLF STREET publishes a new article? Sign up here.