It unwound 46% of all assets it had added during the pandemic. Far more aggressive QT than the Fed's.
The Bank of Canada, which has paused its rate hikes for the second meeting in a row at 4.5%, isn't pausing at all its Quantitative Tightening. Au contraire. It seems to follow the policy of faster QT instead of rate hikes.
Total assets on the balance sheet today fell to C$365 billion, down by C$210 billion, or by 36%, from the peak in March 2021 (C$575 billion).
During its crazed QE starting in March 2020 through March 2021, it piled on an additional C$455 billion in assets. It has now shed 46% of these pandemic QE assets. Nearly half!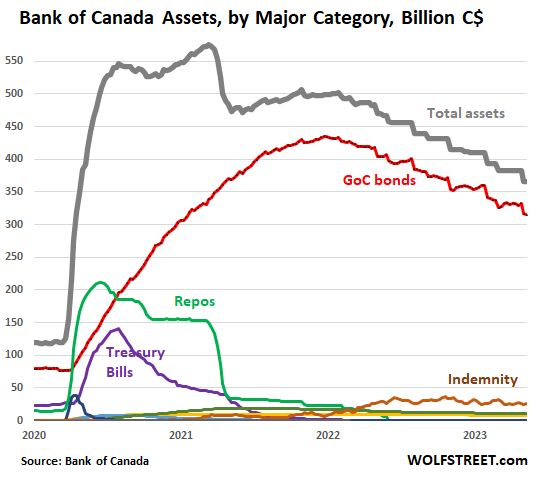 Largest holdings and percent change from peak:
Government of Canada (GoC) bonds: C$315 billion; -27% (red)
Repos, once its second largest holdings: zero; -100% (green)
Short-term Treasury bills, once its third-largest holdings: zero; -100% (purple)
"Indemnity": unrealized losses on its bond holdings: C$26 billion; -29% (brown)
Mortgage-backed securities: C$8 billion; -16% (yellow)
Provincial bonds: C$11 billion; -40% (olive)
Real return bonds (inflation protected government bonds): C$4 billion, -18%.
QT started unofficially in March 2021.
The BoC's Quantitative Tightening (QT) unofficially started in March 2021, when its assets peaked at C$575, and began to decline, though the BoC denied at the time that it was QT.
That month, the BoC announced that it would unwind its "liquidity facilities" – Its repos and what remained of its Treasury bills – citing "moral hazard" as reason. So it started to exit its repos, which began reducing its overall assets. It was still buying GoC bonds, but at a slower pace than other stuff was rolling off, which is how the overall balance sheet began to decline.
Short-term Treasury bills had already been rolling off since the summer of 2020, and continued to roll off until they were gone.
The BoC never bought a lot of mortgage-backed securities to begin with, and ended the practice in November 2020 when it held C$10 billion. They're now down to C$8 billion.
The BoC bought provincial bonds starting in May 2020. Its holdings peaked at C$19 billion in May 2021 and then started to decline. Today, they're down to C$11 billion.
Unlimited roll-off of GoC bonds.
In October 2021, after its balance sheet had already dropped by 13% from the peak in March 2021, the BoC stopped increasing its holdings of GoC bonds, and a few months later started letting them roll off whenever they matured, without cap – meaning that it lets roll off whatever matures. So the roll-off varies widely from period to period.
The Fed was concerned that unlimited roll-off would spook the markets during months when a big pile of bonds would mature. But that doesn't seem to be a problem in Canada; markets can deal with it just fine. And it allows those GoC bonds to roll off much faster (-27% from peak), compared to the Fed's holdings of Treasury securities (-9.5% from peak).
"Indemnity": unrealized losses.
Unrealized losses on the BoC's securities holdings are tracked in the account, "Indemnity" (brown line in the chart above). This is the estimated value of the indemnity agreements between the federal government and the BoC and represents the unrealized losses on the bond holdings, if the BoC sold them today at market prices.
Those unrealized losses are a result of higher interest rates that have caused market prices of bonds to drop. Those losses will automatically reverse, no matter what interest rates do, as the bonds get closer to their maturity date because at maturity date the holder gets paid face value.
The BoC and the government have a deal that requires the government to reimburse (indemnify) the BoC for those losses on the GoC bonds, if the BoC actually sells those bonds and thereby realizes the losses. But if the BoC holds them to maturity, it will get paid face value, and those losses vanish.
The BoC's unrealized losses on its GoC bond holdings began rising when the BoC started unwinding its balance sheet in 2021 and bond market yields started going up. "Indemnity" peaked in October 2022 and has since then dropped 29% to C$25.7 billion.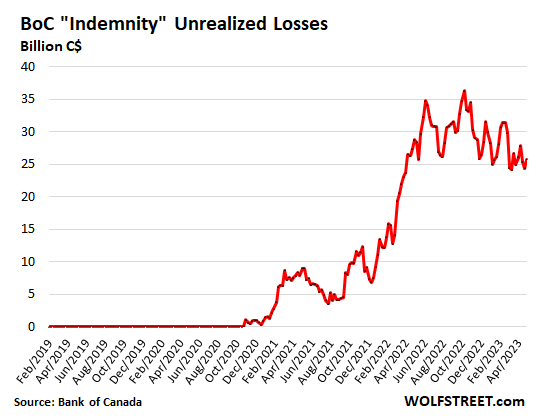 Enjoy reading WOLF STREET and want to support it? You can donate. I appreciate it immensely. Click on the beer and iced-tea mug to find out how:

Would you like to be notified via email when WOLF STREET publishes a new article? Sign up here.