A hugely important concept: "There is no trade-off between price stability and financial stability."
The ECB hiked its policy rates by 50 basis points today, defying predictions and fervent hopes out there that it would end its rate hikes. Yesterday, traders saw just a 20% chance of a 50-basis-point hike. They'd all been hoping that the ECB's rate hikes would be shut down by the banking turmoil.
Since the rate-hike cycle started in July 2022, the ECB has hiked by 350 basis points, raising the deposit rate from -0.5% to +3.0%, the biggest rate-hike cycle in its history, to fight the worst inflation in four decades. With this 50-basis-point hike, the ECB stuck to the rate-hike indications it gave at its last meeting.
"Inflation is projected to remain too high for too long," is how the ECB started out its press release today to point out where its emphasis was.
"We are not waning on our commitment to fight inflation, and we are determined to return inflation back to 2% in the medium term – that should not be doubted. The determination is intact. The pace that we take will be entirely data-dependent," ECB president Christine Lagarde said at the press conference.
"There is no trade-off between price stability and financial stability. And I think that if anything, with this decision [hiking by 50 basis points when markets were expecting no hike], we are demonstrating this," she said.
ECB staff "have demonstrated in the past that they can also exercise creativity in very short order in case it is needed to respond to what would be a liquidity crisis if there was such a thing. But this is not what we are seeing," she said.
Calming a financial panic while tightening to fight inflation.
The Bank of England showed the way. It had been hiking rates when soaring long-term yields of gilts caused UK pension funds to get into trouble last fall. They faced margin calls from the investment banks that had sold them the infamous LDI (liability-driven investment) funds. When pension funds were forced to unload their gilt holdings to deal with the margin calls, yields spiked further and prices dropped further, forcing the pension funds to sell even more gilts, which pushed their prices down further, thereby setting the gilts market up for a "death spiral."
The BOE stepped in with big rhetoric about massive buying of gilts, but in fact bought only small amounts. It calmed down the gilts market and gave pension funds time to clean up. In November, it started selling those bonds it had bought in September and October. And by January, it had sold all of them. With the panic settled down, the BOE's rate hikes and QT continued.
Today, the ECB – while "monitoring" the banking turmoil – said that it had different tools in its "policy tool kit": One set of tools to fight inflation (rate hikes and QT) and another set of tools to deal with financial panics (liquidity support for banks), and that it was not one or the other, but that both could be used, and there was no "tradeoff" between them.
The ECB "stands ready to respond as necessary to preserve price stability and financial stability in the euro area," it said.
"Our policy toolkit is fully equipped to provide liquidity support to the euro area financial system if needed and to preserve the smooth transmission of monetary policy," Lagarde said – so it could provide emergency liquidity to a teetering bank, while continuing the inflation fight via monetary policy.
She said if underlying inflation persists, more tightening would be needed. But the ECB refrained from giving specific forward guidance.
The Eurozone banking sector is "resilient, with strong capital and liquidity positions," the ECB said (Credit Suisse is not a Eurozone bank).
This is an incredibly important concept, that central banks acknowledge they can deal with a bank liquidity problem without backing off their inflation fight. There have been some papers by Fed researchers to the same effect.
Inflation fight isn't over, ECB says.
Energy prices in the euro area have been declining, but inflation has shifted to services, with the Eurozone CPI without energy spiking 7.7%, core CPI without food and energy spiking 5.6%, and services CPI spiking 4.8%, all of them records.
Lagarde said that "underlying price pressures remain strong" and that "wage pressures have strengthened on the back of robust labour markets and employees aiming to recoup some of the purchasing power lost owing to high inflation." As a result, the ECB raised its projection for "core CPI" (without food and energy) to an average of 4.6% in 2023.
The ECB also raised its projections for economic growth in 2023 to an average of 1.0% "as a result of both the decline in energy prices and the economy's greater resilience to the challenging international environment." It projected growth to pick up some in 2024 and 2025, "underpinned by a robust labour market, improving confidence and a recovery in real incomes."
The financial turmoil added greater uncertainty to the baseline projections, and risks to economic projections are "tilted to the downside," Lagarde said.
QT Continues.
The ECB had performed QE in two ways: initially, highly incentivized loans (without collateral) to banks for them to spread the money around in the markets; and later bond purchases.
As part of its QT kick-off last fall, the ECB changed the terms of the loans and made them less attractive, and opened more windows for banks to repay those loans. And they did – massively. In addition, the unwinding of the bond portfolio has started and will continue at the current rate (€15 billion per month) through June, the ECB confirmed today, at which point the new pace will be set.
As a result of this two-part QT, the ECB's assets on its balance sheet have plunged by over €1 trillion from the peak: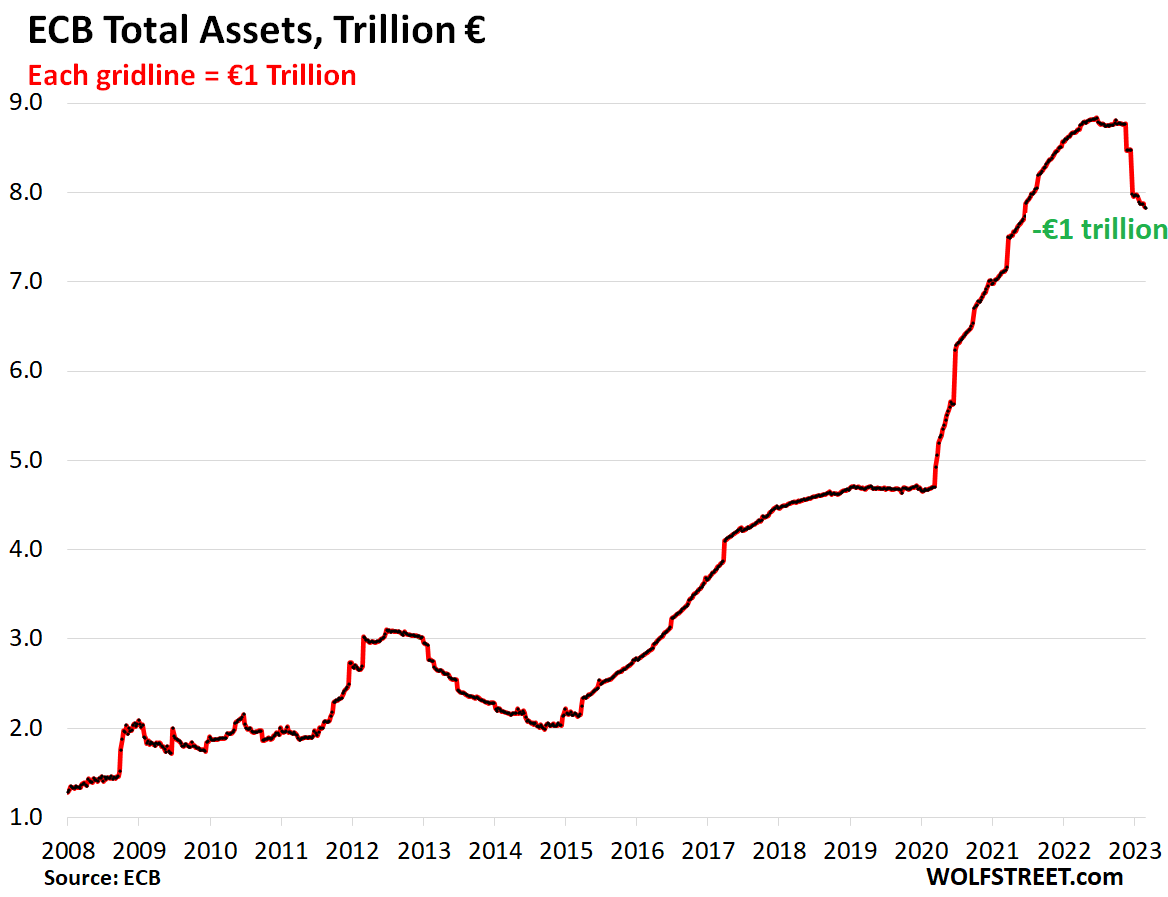 Enjoy reading WOLF STREET and want to support it? You can donate. I appreciate it immensely. Click on the beer and iced-tea mug to find out how:

Would you like to be notified via email when WOLF STREET publishes a new article? Sign up here.