"We are looking at all options."
In an interview about the trade sanctions that President Trump is throwing at China and at Corporate America – whose supply chains go through China in search of cheap labor and other cost savings – Ambassador Cui Tiankai defended the perennial innocence of China, as is to be expected, and trotted out the standard Chinese fig leafs and state-scripted rhetoric that confirmed in essence that Trump's decision is on the right track.
Speaking on Bloomberg TV, he also trotted out all kinds of more or less vague and veiled threats – such as, "We will take all measures necessary," or "We'll see what we're doing next" – perhaps having forgotten that China and Hong Kong combined export three times as much to the US as the other way around, and the pain of a trade war would be magnified by three on the Chinese side.
When asked about the possibility of China's cutting back on purchases of US Treasuries – the ultimate threat, it seems, these days as Congress is piling on record deficits leading to a ballooning mounting of debt that requires a constant flow of new buyers – Ambassador Cui Tiankai said:
"We are looking at all options. That's why we believe any unilateral and protectionist move would hurt everybody, including the United States itself. It would certainly hurt the daily life of American middle-class people, and the American companies, and the financial markets."
So let's dig into this threat.
China held $1.17 trillion in Treasuries as of January. That's about 5.5% of the $21 trillion in total Treasury debt. So it's not like they have a monopoly on it. These holdings have varied over the years and are down nearly $100 billion from November 2015: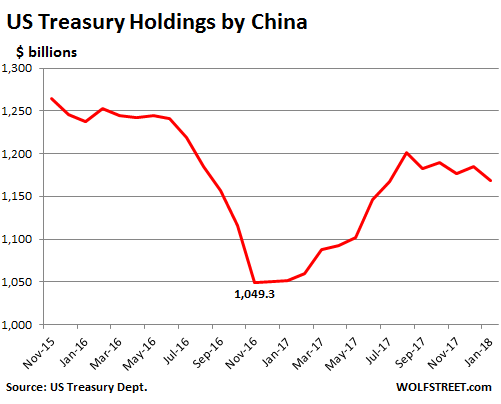 So over the years, the Chinese haven't been adding Treasuries anyway. Instead, they've been shedding some. At the moment, they're replacing securities that are maturing and nothing more. So they could decide not to replace any maturing Treasuries or they could decide to sell Treasuries. How much impact would that have?
If China dumped its Treasury holdings, in theory, new buyers would have to emerge to buy them, and these new buyers would have to be induced by higher yields. Hence long-term Treasury yields would have to rise.
The vast majority of Treasury debt is held by pension funds of the US government and of state and local governments, and by Americans, either directly or via bond funds, or via stocks in companies like Apple and Microsoft, whose "offshore" cash is invested in all kinds of US securities, including large amounts of US Treasuries, and shareholders of those companies own those securities.
Then there's the Fed. It holds $2.42 trillion in US Treasuries, or $1.64 trillion more than before the Financial Crisis as a result of QE. If push comes to shove, the Fed could easily mop up a trillion of Treasuries, as it has done before.
In addition, everyone is now fretting about an "inverted yield curve," which is the phenomenon when long-term yields, such as the 10-year yield, fall below short-term yields, such as the three-month yield or the two-year yield.The last time this happened was before the Financial Crisis.
The Fed's rate hikes, which started in December 2015, have pushed up short-term yields. For example, the three-month yield went from 0% in late 2015 to 1.74% today. But the 10-year yield, at around 2.2% in December 2015, then declined to a historic low. It has since risen, but only to 2.82% today. In other words, since December 2015, it has gained 62 basis points, while the three-month yield has gained 174 basis points.
What the Fed wants to accomplish with its rate hikes is push up long-term rates. But markets have been fighting the Fed so far. So a sort of a monetary shock, administered from China's dumping US Treasuries and thus pushing up US long-term yields, would solve that problem. And the Fed can go about its path of raising short-term yields, confident that the Chinese authorities will do their part to push up long-term yields faster than the Fed is pushing up short-term yields. This would steepen the yield curve.
For people who dread and want to avoid a flat or an inverted yield curve, China's dumping of US Treasuries would be a godsend. So China's threats of this type of retaliation make good media soundbites but are ultimately vacuous.
One-third of the voting positions at the Fed are still vacant, and no one knows what the "New Fed" will do, but it's unlikely to be dovish. Read…  What the Fed's "Dot Plot" Said About 4 Rate Hikes in 2018
Enjoy reading WOLF STREET and want to support it? You can donate. I appreciate it immensely. Click on the beer and iced-tea mug to find out how:

Would you like to be notified via email when WOLF STREET publishes a new article? Sign up here.