Bull markets climb a wall of worry. What the heck happened?
OK, it was an ugly week. Facebook (FB) dropped 14% and lost $75 billion in market cap. It's down 10% year-to-date. It's currently trying to dig itself deeper into its self-inflicted debacle. It wasn't just Facebook. Alphabet (GOOG) dropped 10% in the week and is down 2.4% year-to-date. This was a broad selloff.
The S&P 500 index dropped nearly 6% for the week and 9.9% from the peak on January 26. It's down 3.2% year-to-date. At 2,588, it's just 7 points above the low point on February 8, which is begging to be taken out on Monday. This drop is big enough to show up on a long-term chart, but given the nine-year 320% rally, why would anyone be surprised?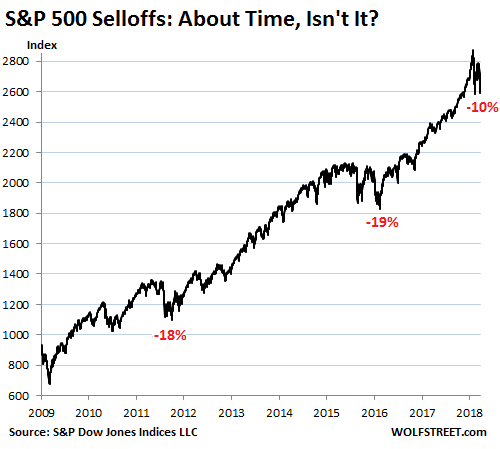 The Dow dropped 5.7% for the week. It's down 11.6% from the peak on January 26, and down nearly 5% year-to-date. It carved out a new low in this down-cycle.
The Nasdaq dropped 6.5% for the week, and 7.8% from its peak on March 12, but is still up 1.3% for the year.
When stocks soared no matter what, it was because they were "climbing a wall of worry," which is, as it was ceaselessly pointed out, what bull markets do. Bad news was good news. It didn't matter what happened. The worse the news was, the more stocks would climb. Falling earnings and revenues no problem. Geopolitical nightmare scenarios no problem. Trump's promises during the campaign and after the election to fix the trade imbalances in the US were just as well communicated as his promises to cut taxes. From the day Trump was elected until its peak on January 26, the S&P 500 soared 30%.
And yet, suddenly, according to Wall Street analysts and the media, the universally declared culprit for the sell-off this week was the decision by the White House to do what Trump had been promising to do since the campaign.
"A Horror Week for the Dow Has Investors Begging for Trump Respite," Bloomberg said. Of course, these investors are always whining when their investment theories fall on their nose, no matter what the perceived cause. Perma-bulls on Wall Street always beg for "respite." Usually, their begging is directed at the Fed, but now it's directed at Trump.
"Wall Street nosedives as investors flee on trade war fears," Reuters reported.
"Trade Fears Jolt Global Asset Prices," The Wall Street Journal said. "Looming trade conflict between U.S. and China is weighing on stocks, currencies and commodities."
Though everyone saw the tax cuts coming and priced them into stocks, thus driving up the S&P 500 30% since Trump's election, no one saw the trade policies coming? I mean, come on!
Everyone knew Trump would crack down on the trade imbalances. The NAFTA renegotiation has been going on for months. China's gigantic trade imbalance with the US has been on Trump's verbal target list since 2016.
But the fact is simple: during a bull market, this type of "bad news" would have caused stocks to jump 6% at a minimum in the week. A bull market climbs a wall of worry, analysts would have said. Nothing would have mattered.
When markets head south, the media and analysts are trying to find a reason, other than reality. This time, the excuse du jour was the risk of a "trade war." Next time, it's some other excuse du jour.
Reality is a little harder to stomach for these folks. The stock market is horribly overpriced, with many individual stocks at absolutely ludicrous levels. This is a flaming stock market bubble. Every indicator has been pointing it out for years. At some point, bubbles reach their maximum and begin to deflate.
In addition, the Fed has been tightening, and the markets have been fighting the Fed. This always ends the same way. Eventually, the markets will back off from fighting the Fed, and this leads to a long series of downward adjustments in the markets. The Fed has been pointing at the stock market as one of the asset classes where values are "elevated." It's worried about financial stability and doesn't want asset prices to inflate to such an extent that they'll take down the financial system when they implode. So this selloff has the Fed on its side.
The Fed has also been unwinding QE. This started in October with baby steps that are now accelerating. Just as ZIRP and QE caused the biggest bout of asset-price inflation the world has ever seen, rate hikes and the QE-Unwind will reverse some of this. It's not a secret. What are people thinking?
Investors around the globe had it historically good for nine years, with all asset classes experiencing sometimes hilariously sharp price surges that lasted year after year after year. The real reason for the selloff now is that enough players see that this cannot go on forever, and they're trying to unwind some leverage and take some risk off the table, and other players are losing their enthusiasm. These players could be algo-driven or human. Either way, at these rarefied levels of asset prices, any decline in blind enthusiasm causes prices to swoon. No trade war required. Just the reality of pandemic asset bubbles having reached their limits.
In an interview about the trade sanctions President Trump is throwing at China and at Corporate America, Ambassador Cui Tiankai trotted out all kinds of vague threats, including the possibility that China might cut back on its purchases of US Treasuries. Read… China's Empty Threat of Dumping its US Treasuries
Enjoy reading WOLF STREET and want to support it? You can donate. I appreciate it immensely. Click on the beer and iced-tea mug to find out how:

Would you like to be notified via email when WOLF STREET publishes a new article? Sign up here.