February was off the chart.
"We are seeing an unprecedented rise in logistics costs," General Mills CEO Jeff Harmening told the Wall Street Journal after the company reported earnings. Shares dropped 9% on Wednesday and another 2% on Thursday. They're down nearly 40% from their peak in July 2016.
The Maker of cereals, Yoplait, and other packaged food brands said that freight costs have surged to near 20-year highs in February. Other packaged food and snack makers, including Campbell, Hershey, Mondelez International (Oreos, Newtons, Premium and Ritz crackers), Sysco, Tyson Foods, Hormel Foods and others have all warned about rising transportation costs. And they said they'd try to pass these transportation cost increases on to their customers.
And this is what has been happening in the transportation sector in the US: Shipment volumes by all modes of transportation combined — truck, rail, air freight, and barge — surged 11.4% year-over-year in February according to the Cass Freight Index. The index, which is not seasonally adjusted, hit its highest level for any February since 2006: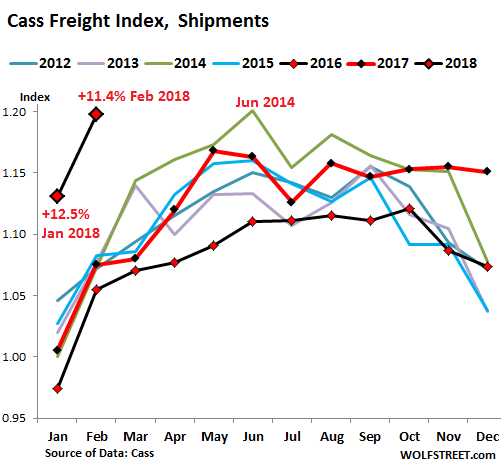 February is in the slow part of the year, and yet it was nearly on par with June 2014, at the seasonal peak, and the peak month since the Financial Crisis!
In the chart above, note how the red line (2017) outpaced the black line (2016) as the year went on. In December 2017, shipments had been up 7.2% year-over-year. In January 2018 (short black line), shipments dropped from December, as they always do at the end of shipping season; but year-over-year, shipments surged 12.5%, and in February 11.4%.
The report by Cass also pointed out the consequences of this type of shipment volume growth:
Volume has continued to grow at such a pace that capacity in most modes has become extraordinarily tight. Pricing power has erupted in those modes to levels that spark overall inflationary concerns in the broader economy.
The index, which is based on $25 billion in annual freight transactions, according to Cass Information Systems, covers all modes of transportation and is focused on consumer packaged goods, food, automotive, chemical, OEM, and heavy equipment. But it does not cover bulk commodities.
The chart below shows the year-over-year percentage changes in the index for shipment volumes. Note the transportation recession in 2015 and 2016, the surge since, and the spikes in January and February: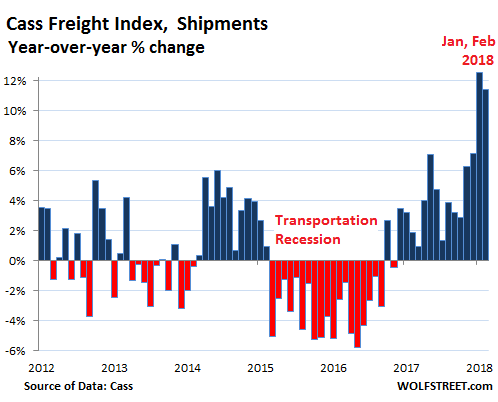 This surge in shipment volume of 11.4% year-over-year "is yet another data point confirming that the strength in the US economy continues to accelerate," Cass said.
With shipping volumes surging, capacity constraints appearing, and pricing power returning to transportation companies, freight rates have increased and the total amount spent on shipping has soared. In February, the Cass Expenditure Index – which tracks the amounts spent on freight for all modes of transportation and includes fuel surcharges – soared 14.3% year-over-year: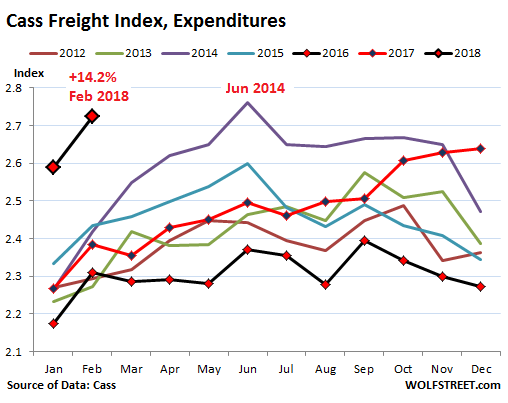 The red line (freight spending on all modes of transportation in 2017) shows the transportation recovery; it rose throughout the year and didn't even experience the normal season decline in December 2017. But the black line (2016) was bogged down in the transportation recession.
"Not only did the Shipments and Expenditures Indexes extend their run of positive YoY comparisons, but those comparisons have become increasingly positive, leading many to cite transportation costs as one of the many sources of potential inflation," the report said.
Where do these costs go from here?
They're not going to soar forever, not at these double-digit rates. The transportation sector is highly cyclical, as the above charts show, but for now they're being driven higher, so to speak. And transportation companies will continue to have "outsized pricing power" in the short to intermediate term, Cass said.
But the authors are "less concerned about long-term inflationary pressure," for two reasons:
The cyclicality of the industry. It is "asset intensive and beholden to the level of economic demand for its services." As the 2016 transportation recession has shown, prices can plunge when demand declines to where utilization rates of the equipment fall.
Creating over-capacity. In periods like these, when transportation companies benefit from strong pricing, they create capacity by investing in new equipment — and this has already been happening with large year-over-year increases in truck orders. "We observe, then, the industry's ability to use increased profitability to fund enough capacity to kill outsized pricing gains in the long term," Cass said.
What are zombie retail locations that got tangled up in the brick-and-mortar meltdown worth? Some of them "little or nothing." See Toys "R" Us and its commercial mortgage backed securities. Read… What Are Zombie Retail Stores Really Worth: Answers Emerge
Enjoy reading WOLF STREET and want to support it? You can donate. I appreciate it immensely. Click on the beer and iced-tea mug to find out how:

Would you like to be notified via email when WOLF STREET publishes a new article? Sign up here.