292 Union Pacific engines idled in Arizona Desert
Total US rail traffic in April plunged 11.8% from a year ago, the Association of American Railroads reported today. Carloads of bulk commodities such as coal, oil, grains, and chemicals plummeted 16.1% to 944,339 units.
The coal industry is in a horrible condition and cannot compete with US natural gas at current prices. Coal-fired power plants are being retired. Demand for steam coal is plunging. Major US coal miners – even the largest one – are now bankrupt. So in April, carloads of coal plummeted 40% from the already beaten-down levels a year ago. The AAR report:
Rail coal traffic continues to suffer due to low natural gas prices and high coal stockpiles at power plants. Coal accounted for just 26% of non-intermodal rail traffic for US railroads in April 2016, down from 36% in April 2015 and 45% as recently as late 2011.
Only five of the 20 commodity categories saw gains. Of the decliners, coal was the biggest. But petroleum products also plunged 25%, and grain mill products dropped 7%. Even without coal, carloads were down 3% year-over-year.
But it's not just coal. In April, loads of containers and trailers fell 7.5% year-over-year to 1,028,460 intermodal units. They transport goods for retailers and wholesalers. They haul parts, components, and assemblies for manufacturers. They haul imported goods from ports and borders to different destinations across the country, and they haul goods to be exported to the ports and borders. They're a measure of the real economy.
For the first 17 weeks of the year, total rail freight fell 7.8% from the same period a year ago, with carload traffic down 14.3% and intermodal down 0.8%.
But there's hope, because there's always hope. AAR Senior VP of Policy and Economics John Gray:
"We expect non-coal carloads to strengthen when the economy gets stronger, and we think intermodal weakness in April is probably at least partly a function of high business inventories that need to be drawn down before new orders, and thus new shipments, are made."
Ah yes, inventories. We've long bemoaned their ballooning to crisis levels.
It didn't get any better at the end of April: for the week ending April 30, carloads plunged 14.1% and intermodal traffic dropped 8.6% from the same week a year ago.
The impact on railroads is now very visible – and not just in the numbers on their income statements.
Here's how Union Pacific is dealing with this issue, via Google Earth, on May 3: 292 engines idled on a siding west of Benson, Arizona, along I-10, for a stretch of nearly 4 miles. Note how the line of locomotives curves and fades into the left edge of the photo – an once majestic and haunting sight, all these powerful machines idled on a track in the Arizona desert (click images to enlarge):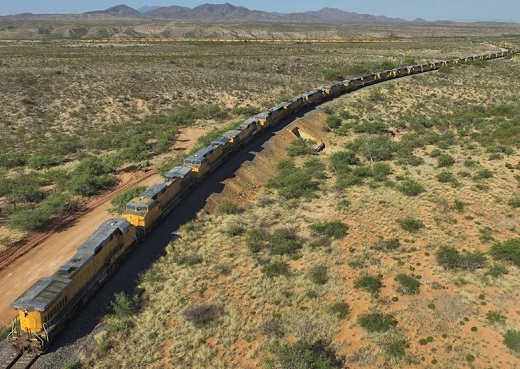 These engines are expensive pieces of equipment. When they just sit there, not pulling trains, they become "overcapacity," and they get very expensive. Then there are engineers and other personnel who suddenly become unproductive. Some of them have already been laid off or are getting laid off.

What you see parked there is a big drag on earnings. And a very sad sight. I added the red line for clarity:

The person who sent me these pictures lives and works in that neck of the woods. He said:
"I remember back in 2008-2009, hundreds if not thousands of rail cars stacked along I-10 in AZ-NM on side rails. I have not traveled east bound in a couple of years. I suspect rail cars may be piling up. They need to be parked somewhere. We may head over to Carlsbad Caverns in eastern NM soon, and I will keep an eye out…"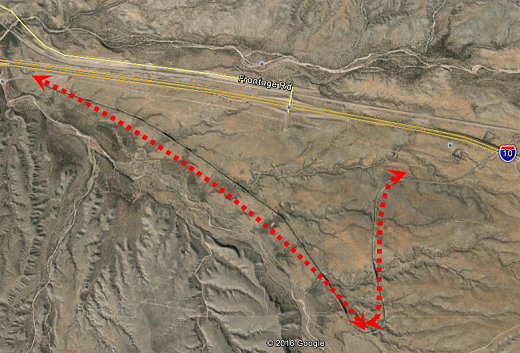 This scenario is playing out across the country, railroad by railroad, perhaps thousands of engines and hundreds of thousands of rail cars – an enormous capital investment – parked mostly out of sight somewhere, "overcapacity" that is now waiting for better days, and the end of the US transportation recession.
On paper, slow economic growth might look OK-ish, but in the US, where there's significant population growth, it's toxic. That's why the numbers are hushed up. Read…  Why this Economy Feels Even Lousier than the Lousy GDP Print
Enjoy reading WOLF STREET and want to support it? You can donate. I appreciate it immensely. Click on the beer and iced-tea mug to find out how:

Would you like to be notified via email when WOLF STREET publishes a new article? Sign up here.