Yield fixes all demand problems. You just have to hit the right number, and the right number today was 5%.
The spectacle that everyone has been sort of waiting for happened after the 10-year Treasury yield went over 5% briefly this morning for the first time since 2007: Huge global demand emerged at this yield.
As if someone had flicked a switch, human investors and algos that had apparently waited on the sidelines for just that moment jumped in, buying hand over fist at this signal, pushing up prices of those maturities, and thereby pushing down the 10-year yield by 19 basis points in a matter of hours, from 5.02% in early trading, to 4.83% currently, back where it had been on October 18 (hourly price chart by Investing.com):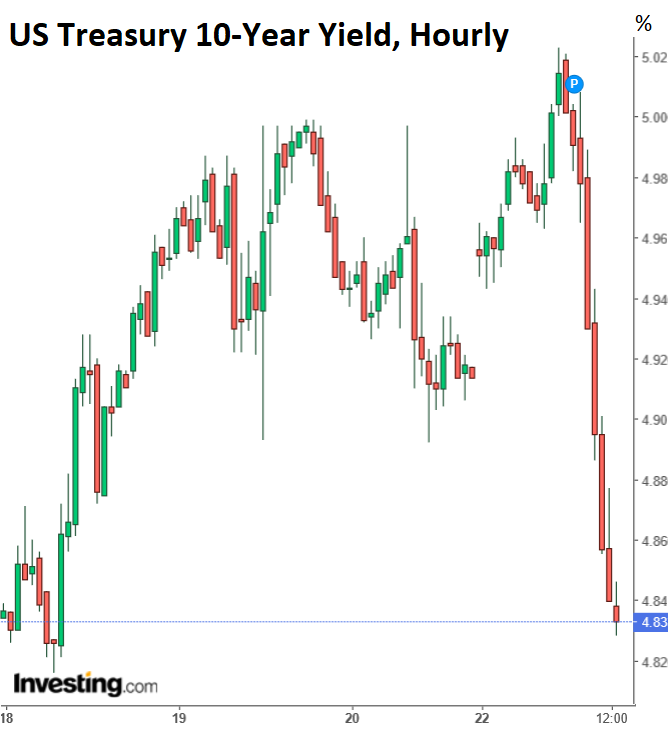 Obviously, there was no such sudden change in sentiment about the US debt; and Congress hadn't just voted this morning to drastically reduce the budget deficit in a bipartisan manner by cutting spending and increasing taxes in some equitable manner, LOL. It was a market reaction to one of the most anticipated key numbers: the 10-year Treasury yield hitting 5%.
Every time yields rise to meet demand, demand emerges, but a key figure like 5% for the 10-year yield triggers a special reaction – a veritable spectacle to amuse us?
This is what "resistance" is all about – lots of buying pressure emerges suddenly on a highly anticipated signal. And when that pent-up demand is sated, the 10-year yield starts rising again to where demand will be, and it will make another run for the 5%, and it may fail too as more demand emerges at this yield. But that demand may someday be sated too, and then yields would have to go higher to pull in more investors to absorb the tsunami of issuance of longer-term Treasury securities to fund the tsunami of deficits washing over the country in an inflationary environment.
The unloved 20-year Treasury yield went over 5%-line first on October 3, and today trades at 5.17%. And then the 30-year Treasury yield pierced the 5%-line on October 18, and amid the spectacle around the 10-year yield today, it fell 13 basis points, to below the 5%-line again, to 4.96% at the moment.
Getting the 10-year yield to trade over 5% for more than just a few moments will take some doing because there is a huge amount of global demand at this juicy yield, and it will have to be sated before the 10-year yield can go to the next level.
At the same time, a huge amount of demand will be required to absorb the tsunami of new issuance of longer-dated Treasury securities, and for now, there are no signs at all that Congress will do anything that might slow this tsunami of deficits, and therefore slow the tsunami of new issuance of longer-term debt to fund these deficits.
Enjoy reading WOLF STREET and want to support it? You can donate. I appreciate it immensely. Click on the beer and iced-tea mug to find out how:

Would you like to be notified via email when WOLF STREET publishes a new article? Sign up here.