"Fed hikes till something breaks." But honey, the biggest thing has already broken: price stability. The Fed is trying to fix it.
The unloved 20-year Treasury yield – "unloved" because it has been higher than the 30-year yield ever since the 20-year Treasury security was introduced in May 2020 – spiked 13 basis points today, after rising 8 basis points yesterday, to close at 5.13%, making it the first of the long-term yields to blow over the 5% line.
Over the past two weeks, the 20-year yield has spiked by 56 basis points. When bond yields rise, bond prices fall, and so this has been a bloodbath for existing bond holders. Future buyers are ogling the juicy 20-year yields and are licking their chops. But they don't want to get caught up in the next bloodbath either. Because it has been one bloodbath after another, interrupted by sucker rallies.
The 20-year yield has now nearly caught up with the two-year yield, which rose to 5.15%, putting this portion of the yield curve within a hair – within just 2 basis points – of uninverting.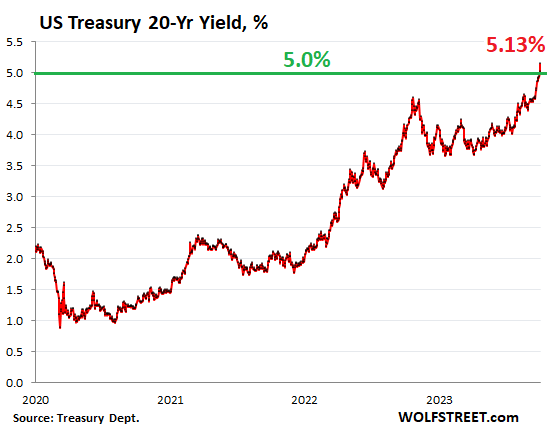 The 10-year Treasury yield jumped 12 basis points today to 4.81%, the highest since August 2007. Over the past two weeks, it has spiked by 49 basis points.
But wait… We're just not used to these yields anymore. Back in the more normal times before QE, the 5% range was pretty common and low-ish even. For most of the 1990s, the 10-year yield was above 5%. So here is the long-term view of the 10-year yield: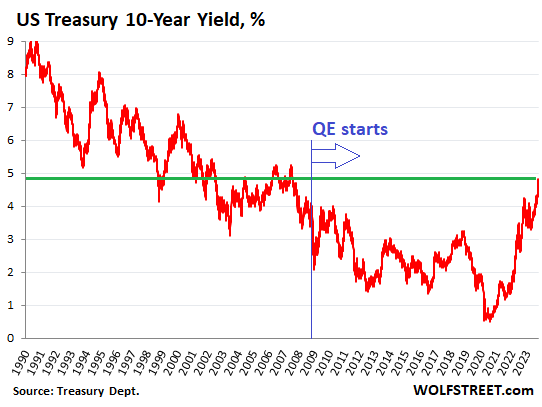 The spread between the two-year yield and the 10-year yield has now narrowed to 34 basis points, the narrowest since October 27, 2022. This portion of the yield curve had inverted in July 2022, when the Fed aggressively pushed up the short-term rates with 75-basis-point hikes, while the long-term bond market was in total denial amid widespread pivot-mongering.
The inversion of the yield curve back then was another item, one of many items, that put us here at WOLF STREET on intense recession watch, and we're still on recession watch, and there's still no recession, far from it, the economy seems to have accelerated in Q3.
Markets are finally reading the Fed's memo: higher for longer. That memo has been circulating for about a year, but folks have shuffled it around and buried it under stuff, and never got around to reading it. But the Fed governors, and Chair Powell himself, are now a constant ebb-and-flow of higher-for-longer.
And so markets dug up the memo and they're reading it, and it says, rates are going higher, and they're staying higher because inflation is turning out to be tricky and nasty, and it comes and goes, and moves between different categories of goods and services, and it dishes up head-fakes and drives people nuts.
And there is still all this QE liquidity sloshing around, doing all kinds of weird stuff to prices and fueling demand and inflation and the economy, despite the higher rates, and so the recession that should have come in late 2022 or at least in 2023 called in and canceled, and it said it might set a new date for later. Everyone is trying to figure this out.
"… Till something breaks." But honey, the biggest thing has already broken: price stability. On Wall Street, the meme is that the Fed will hike "until something breaks," but the biggest thing that the Fed is in charge of, price stability, has already broken into a million little pieces, and the Fed is now trying to glue it back together with rate hikes and by removing the QE liquidity from the markets. With its QT, it has already removed nearly $1 trillion in liquidity, but that's just drop in bucket, so to speak.
And it's not the economy that is sending stocks and bonds skidding – the economy is plugging right along and looks to have accelerated in Q3. What is sending stocks and bonds skidding is QT and these higher yields, but particularly QT. I discussed all this in my podcast on Sunday, THE WOLF STREET REPORT: Stocks, Bonds & CRE Face QT.
Fed heads talked, market listened: another rate hike this year. Amid the constant speeches by Fed governors, there are some disagreements about whether another hike, or even more rate hikes, plural, are needed now, or whether the Fed could wait a while, with more Fed heads making room for another hike. They're all singing from the same page that the Fed can "proceed carefully" and that rates are going to stay higher for longer.
So it could be that we might get a rate hike with a couple of dissenters, that preferred no hike, which might signal that 5.75% at the top of the range — or a mid-point of 5.625% — might be it for a while.
The three-month yield rose to 5.62% yesterday and stayed there today. At 5.62% the yield is now 29 basis points above the Effective Federal Funds Rate (5.33%), and is therefore now fully pricing in another 25-basis point rate hike by year-end.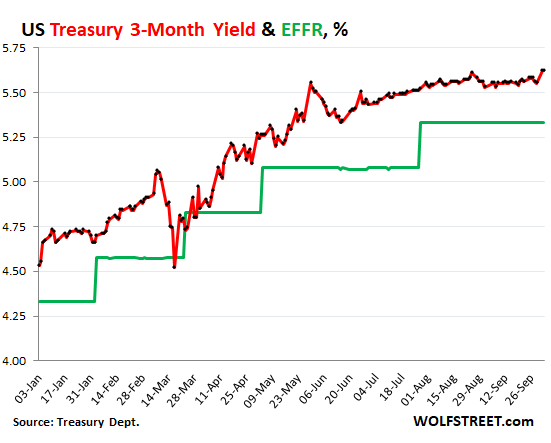 How big is the bloodbath at the long end of the curve? For example, the iShares 20+ Year Treasury Bond ETF [TLT], which focuses on Treasury bonds with a remaining maturity of 20 years or more, fell another 2.2% today. Over the past six months, it has plunged 20%. And from its high at the peak of the 40-year bond bubble in August 2020, it has now plunged by 50%, because in August 2020, the 20-year yield was 0.98%, and today, it's 5.13%, and those that chased yield at the time got crushed, and those that tried to catch that falling knife since then got their fingers cut off.
Long-term bond funds are not conservative investments; they're risky bets on the future direction of long-term yields. If you get it wrong, the losses can be catastrophic. Today, TLT closed at $85.06, the lowest since August 2007.
Future bond buyers are ogling this instrument. And they're ogling those among them who tried to catch it over the past year and got their fingers cut off. If the Fed hikes one more time, and if the yield curve gradually uninverts, long-term yields would be headed over 6%, and that would produce another bloodbath.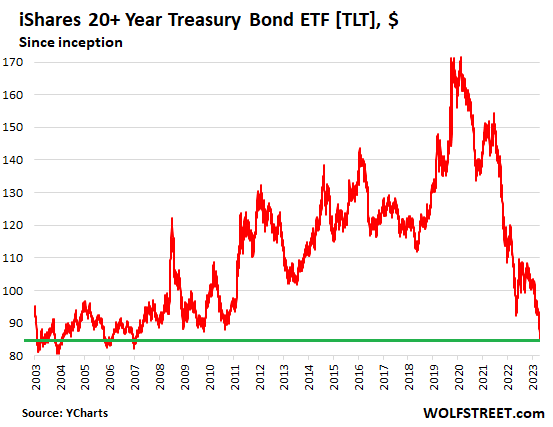 Enjoy reading WOLF STREET and want to support it? You can donate. I appreciate it immensely. Click on the beer and iced-tea mug to find out how:

Would you like to be notified via email when WOLF STREET publishes a new article? Sign up here.