Availability rate in Q3 spiked to 36% in San Francisco. Sublease space nearly doubled YoY in Silicon Valley. Leasing activity collapsed. More landlords default.
The office nightmare brought on by working from home and Corporate America's sudden epiphany that they will never need all this office space, keeps on giving: Despite all the hype and hoopla about AI, the office space on the market and available for lease in San Francisco in Q3 jumped to a stunning 36.3% of the total office space, another all-time record, up from 35.1% in Q2, according to Savills.
Including 9.4 million square feet (msf) of sublease space, 31.5 msf of office space is now on the market. Sublease space is where tenants have decided they don't need this space and attempt to find a tenant for the space until the lease terminates.
Asking rents have remained stubbornly enormous at $69.15 per square foot per year in Q3, despite the massive availability, though they have come down some from the highs in 2019 of over $80 per square foot per year. But asking rents are just that. Reality when leases are finally signed looks very different as landlords are desperate to make deals and are offering "record high concessions," according to Savills (chart via Savills, gray columns, left scale = rents; orange line = Class A availability, yellow line = total availability, right scale):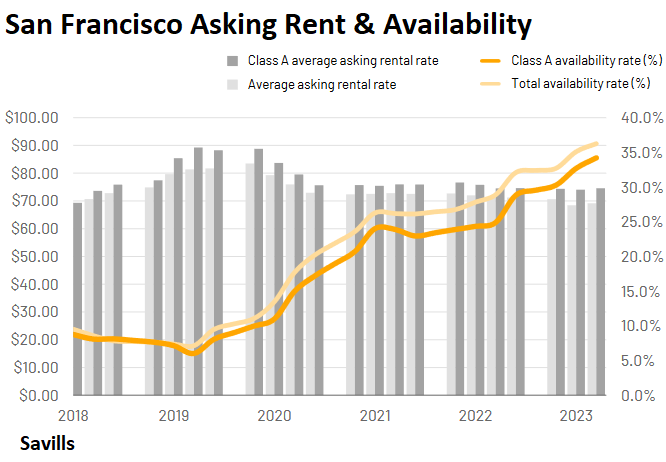 And if landlords cannot bring in or keep tenants at rents that are high enough to meet the loan costs and operating costs, they default on the loan. Defaults on office buildings is now a constant drumbeat. In August, another three were reported whose mortgages were sent to special servicing, according to the SF Chronicle, citing DBRS Morningstar. Assignment to a special servicer indicates that a default is either imminent or has already occurred:
The landlord of 222 Kearny Street (148,000 sf), GEM Realty Capital in Chicago, missed a payment on the $24 million loan in August. The building is 27% vacant. Part of the remainder is leased to WeWork, which is teetering on the edge of a bankruptcy filing.
The landlord of 995 Market Street (91,000 sf), Bridgeton Holdings in New York, defaulted on a $45 million loan. The building is now 92% vacant. WeWork, which had leased 75% of the building, opted to terminate the lease early in August 2021 and was outa there. "The borrower has stated they will not be making any more payments," the special servicer said in a note in August, cited by Morningstar, according to The Real Deal.
The $12.5-million mortgage on 1045 Bryant Street (35,000 sf) – a "high-end brick and timber building," as the 1916 building, renovated in 2014, is now being pitched – was sent to a to a special servicer, indicating default or imminent default by the landlord, PBV VI. The building is vacant.
CMBS, of course. The mortgages tied to these three buildings, like most of the mortgage defaults on office properties that have come across our desk, are not held by banks, but had been securitized into Commercial Mortgage-Backed Securities (CMBS) and sold to investors. When these mortgages get into trouble, they're sent to the special servicer that represents the CMBS holders.
Nationwide, defaults on office CMBS are now spiking at an astounding rate.
The market for sales of office building is beginning to unfreeze in San Francisco, but at discounts of 60% to 75% off from where they'd been valued a few years ago. We discussed the first two sales that took place in the new era here (75% off), and here (70% off), and there have been a few more sales since then in the 60% to 75% off range.
Office values massively repriced, office rents not yet. Part of the reason for rents remaining ridiculously high even for vacant space is that landlords must have a minimum amount of rent income or potential rent income to even have a chance to cover the interest expense and operating costs. They cannot cut their rents by a significant amount. Instead, they'll default, take their loss on their equity, and let the lenders have the building and take the remaining losses.
The lender can then sell the building at a huge discount from its previous valuation, and at a huge loss on the loan, attract a new developer that, now with a lower cost basis, can fix up the building, and market the space at lower rents, which would push down overall rents and revitalize the totally overpriced market. Price can solve all kinds of problems.
That's at least how it should happen – but that process is slow and hasn't happened yet. And rents are still too damn high.
By sub-market, the availability rates ranged from 27.7% in the Union Square/Civic Center area to a catastrophic 57.9% in the Yerba Buena area, according to Savills. The Financial District North had an availability rate of 32.1%; the Financial District South 34.6%, both below the city average.
Leasing activity fell to just 0.8 msf in Q3, from 1.1 msf in Q2 and from the 2.5-msf range before the pandemic. Of the 10 largest leases signed:
The top three were signed by, you guessed it, generative AI startups. But one of them, Hive AI, was just a relocation.
Three were relocations: company vacates one office, moves to another office, not helping the overall office market; and if the move, as is now often the case, involves downsizing, it worsens the office market.
One was a renewal.
Six were new leases.
In Silicon Valley, the office availability rate remained that the record high seen since last year of 26.6%, with Class A availability rates over 30%, according to Savills.
Availability rates topped out at 35.9% in Downtown San Jose, 33.5% in Mountain View/Los Altos, 34.4% in Campbell/Los Gatos, and 29.7% in Santa Clara.
About 24 msf of office space was available for lease, including sublease space, which nearly doubled year-over-year to a record 7.6 msf.
Leasing activity plunged 60% year-over-year to just 652,000 sf, and was down from the 1.5 million to 2.8 million range in 2018 and 2019.
And yet despite the huge availability and the plunge in demand – oh, you knew this was coming – asking rents in Q3 rose 3.0% year-over-year to $5.22 per square foot per month ($62.64 psf per year), in part on a shift in mix, as "higher priced space is now available on the market both directly and for sublease," according to Savills.
Of the top 10 leases signed:
The top two were just renewals.
One was a lease restructure.
Seven were new locations
(Chart via Savills, gray columns, left scale = rents; orange line = Class A availability, yellow line = total availability, right scale):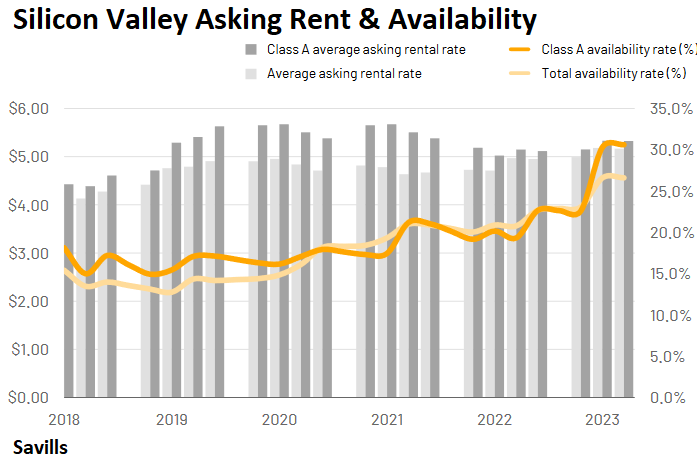 Enjoy reading WOLF STREET and want to support it? You can donate. I appreciate it immensely. Click on the beer and iced-tea mug to find out how:

Would you like to be notified via email when WOLF STREET publishes a new article? Sign up here.