Average listing price rose 2.2% to $47,417. The strikes, if they drag on, could squeeze inventories, which would pressure prices again.
Automakers have now reported US deliveries: New vehicle sales in Q3 jumped 20.6% year-over-year to 4.08 million vehicles, according to the Bureau of Economic Analysis today. These cars, SUVs, pickups, and vans were delivered by dealers or by automakers directly (Tesla et al.) to their end-users.
Compared to Q2, sales were roughly even, which is fairly common for Q2 and Q3, given the seasonality in auto sales that is so obvious in the quarterly not-seasonally-adjusted chart below.
Also clear from the chart is that new vehicle sales have been a no-growth business since the 1980s, and only price increases and more expensive fancier models kept revenues growing. This lousy environment, so dependent on constant price increases to obtain revenue increases, is now being made miserable for legacy automakers by Tesla, which has come along with massive price cuts.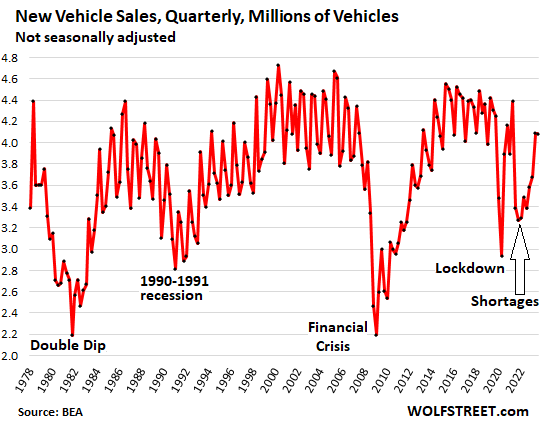 The inventory shortages of yore are largely gone, though some vehicles remain in short supply, while others are overstocked.
Automakers are again piling on incentives – incentive spending reached $1,806 on average per vehicle in September, or 3.7% of MSRP, up from 2.1% of MSRP a year ago, according to J.D. Power estimates.
Here are the major legacy automakers in the US, sales in Q3 for those automakers that report quarterly sales, or for September for those automakers that do not report quarterly sales, compared to the same period a year ago:
General Motors, Q3: +21%
Ford Motor Company, Q3: +8%
Toyota Motor North America, September: +14%
FCA (subsidiary of Stellantis), Q3: -1%
American Honda, Q3: +53%
Hyundai, Q3: +9%
Kia, September: +20%.
Tesla doesn't report US sales, only global sales, and its global sales surged by 27% year-over-year in Q3.
Not a recession scenario: Pent-up demand comes home to roost.
This 20.6% sales increase year-over-year is a big boost for the economy, and it's practically impossible to have a recession with this kind of increase in a high-volume big-ticket product and associated services that weigh so heavily all around the US economy.
New vehicle sales have been defying gravity, so to speak, fueled by pent-up demand that accumulated during the two years of shortages when neither consumers nor fleet customers, such as rental fleets, could buy the new vehicles they wanted to buy.
Now the industry is recovering from the inventory shortages in 2021 and 2022 that caused sales to plunge by 20% to 25% from their respective quarters before the pandemic.
Pent-up demand by fleets: In 2021 and 2022, automakers were prioritizing higher-grossing retail sales over fleet sales, and fleets responded by keeping their units in service longer, and not sell them to the used vehicle market, which squeezed used-vehicle inventories, which was in part responsible for the ridiculous spike in used vehicle prices. Fleet customers are now getting their orders built and are gradually able to turn over their ageing fleets. Sales to fleets surged by over 50% in September from the starved levels a year ago, according to estimates by J.D. Power.
Pent-up demand by retail customers: Retail sales surged by about 12% year-over-year in September, according to estimates by J.D. Power. Retail sales a year ago weren't all that bad because automakers had prioritized them.
New vehicle inventories begin to normalize.
Some models and brands are overstocked and others are in short supply, which is sort of the typical situation in auto inventories.
Inventories of new vehicles on dealer lots or in transit rose to 2.06 million vehicles at the end of August, up by 67% year-over-year, the highest since February 2021, and more than double the out-of-stock levels in mid and late 2021.
It remains well below the 2019 levels which averaged 3.66 million vehicles, but back then, dealers were overstocked (data via Cox Automotive).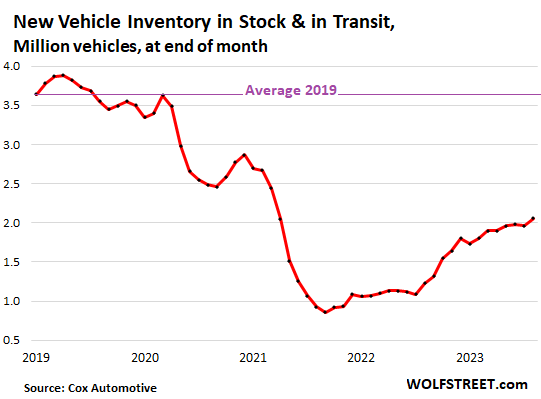 The average new vehicle listing price ticked up 2.2% year-over-year to $47,417 in August, the latest data available from Cox Automotive. The crazy price surges during the pandemic, along with their odious addendum stickers, are gone, but prices have not fallen despite expectations that they would.
The strikes at the three US legacy automakers, if they drag on, could increase pressures on inventories, and then prices could be climbing again, which is something to watch out for in terms of our inflation measures.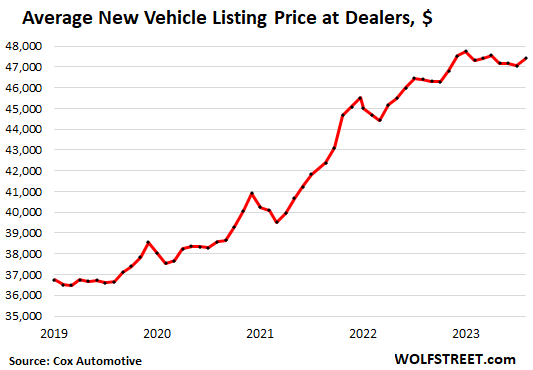 Enjoy reading WOLF STREET and want to support it? You can donate. I appreciate it immensely. Click on the beer and iced-tea mug to find out how:

Would you like to be notified via email when WOLF STREET publishes a new article? Sign up here.