More QT and fewer rate hikes?
Quantitative tightening (QT) powers along in the euro area. Total assets on the ECB's weekly balance sheet plunged by another €75 billion over the week, to €7.07 trillion, the lowest level since December 2020. The ECB has now shed €1.77 trillion ($1.86 trillion), or 20%, of its total assets since the peak in June 2022.
The ECB has now shed 42.7% of the €4.15 trillion in assets it had piled on during the pandemic.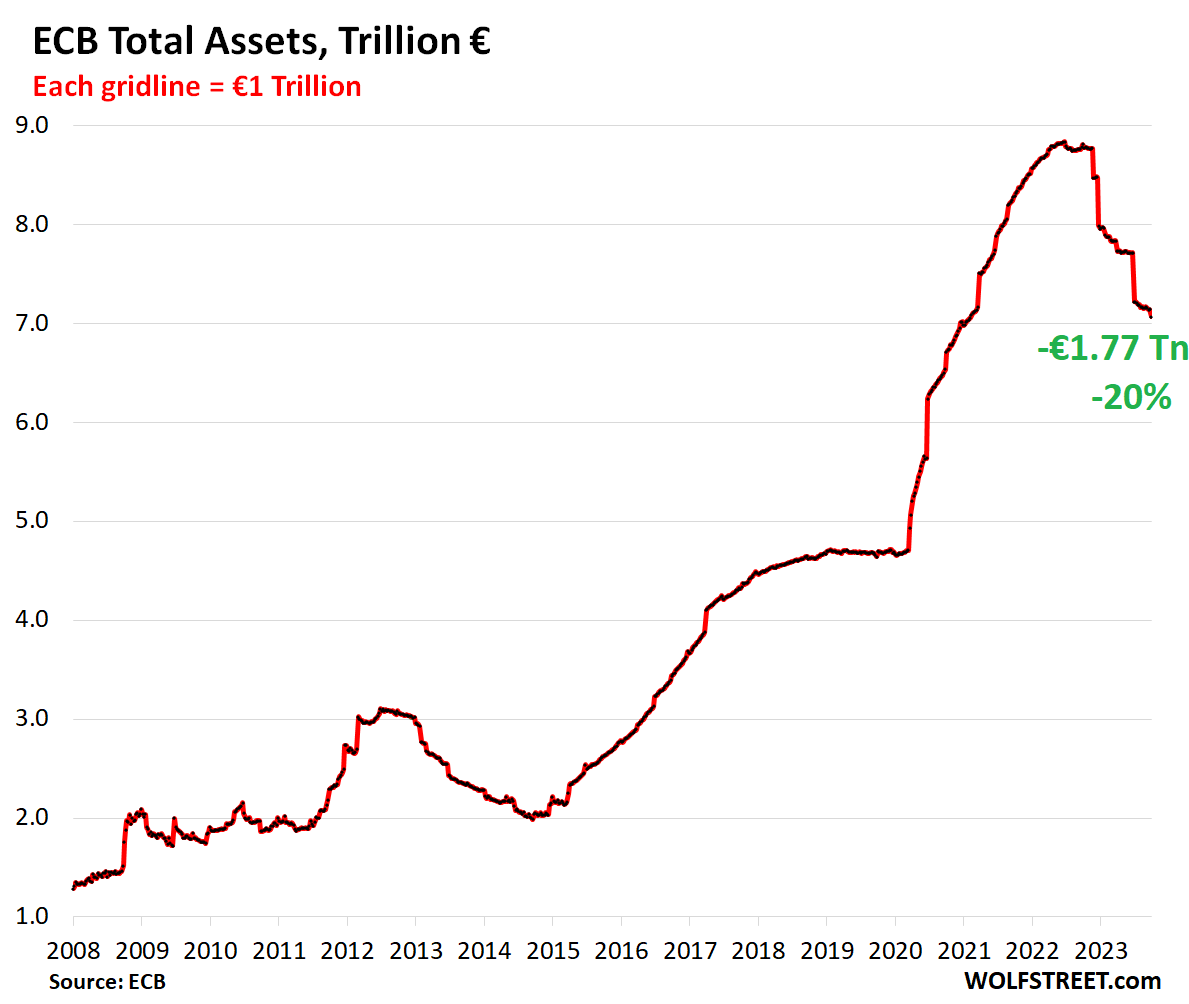 The ECB had two big categories of QE, that are now being reversed:
It offered loans under very favorable conditions to banks, ultimately handing banks €2.22 trillion in cash to deploy.
It purchased government bonds, corporate bonds, and asset-backed securities, ultimately handing the financial markets €4.96 trillion in cash.
This two-pronged approach to QE caused asset prices to spike across Europe, including home prices, and it caused bond prices to reach such high levels that many government and corporate bond yields dropped into the negative, which was a historic absurdity.
That was then, and this is now. Now, as the balance sheet plunges, this stuff is reversing. Have a look at my chart of German home prices versus the ECB's balance sheet: "QE Giveth, QT Taketh Away: German Home Prices vs. ECB Balance Sheet"
About a year ago, the ECB announced the first steps of QT, when it made the loan terms unattractive, and when it opened more windows for banks to pay back those loans, which caused the banks to pay back those loans in big waves, thereby removing liquidity via the banks and from whatever markets they'd placed this liquidity into.
In December last year, it announced the initial steps on unwinding its bond holdings, which started in March 2023 and has accelerated since then.
Entire pandemic loan QT unwound, plus some: -€1.69 trillion
The ECB has always handled QE via loans, its waves of Longer-Term Refinancing Operations (LTRO) and then Targeted Longer-Term Refinancing Operations (TLTRO) – including during the Financial Crisis, the Euro Debt Crisis that came afterwards, the no-crisis phase in 2017, and the pandemic.
During the pandemic, the ECB expanded these lending operations further and called them TLTRO III. These pandemic-era TLTRO III loans amounted to €1.6 trillion at the peak, on top of the still outstanding prior loans, to total at the peak €2.2 trillion in loans to the banks.
In the week of the current balance sheet through September 29, banks paid back another €96 billion in loans, bringing the total reduction of loans to €1.69 trillion so far, with only €510 billion in loans remaining, the lowest since November 2016. But dealing with the banks, that was the easy lifting: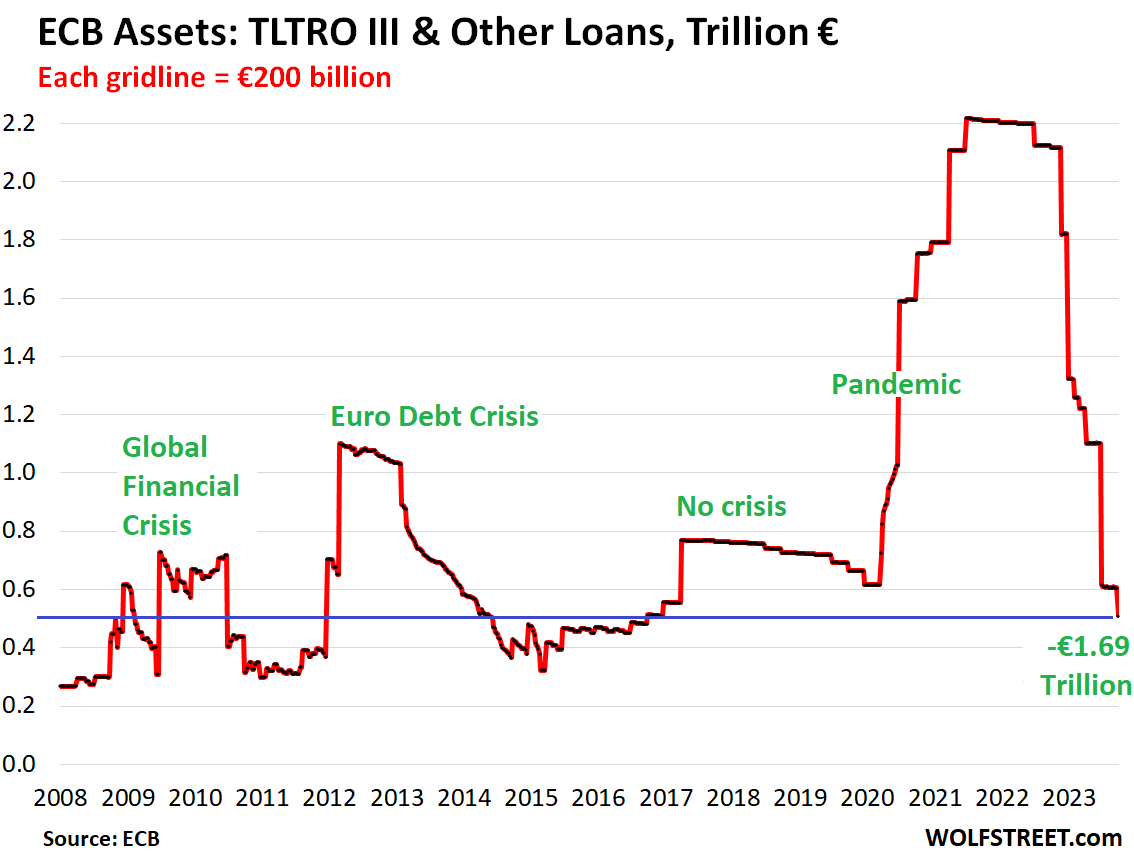 Bond QT speeds up: -€184 billion
The heavy and much trickier lifting are the bonds. The ECB had bought bonds under two programs: APP (asset purchase programme), starting in 2014; and PEPP (pandemic emergency purchase programme), which started in March 2020.
The current roll-off is limited to the APP bonds. But there have been public discussions by various ECB governors about starting to unwind the PEPP holdings as well.
The theory is that an accelerated bond QT should do some of the work instead of higher short-term interest rates, and that with an accelerated bond QT, it might not be necessary to hike policy rates much further.
The APP roll-off was initially capped at €15 billion a month when it started in March through June. In July, the cap was removed, and all APP bonds that mature roll off.
In September, €30 billion in bonds rolled off. Since the beginning of this bond QT in March, €163 billion in bonds rolled off. An additional €21 billion rolled off after the peak in June 2022, for a total of €184 billion since the peak: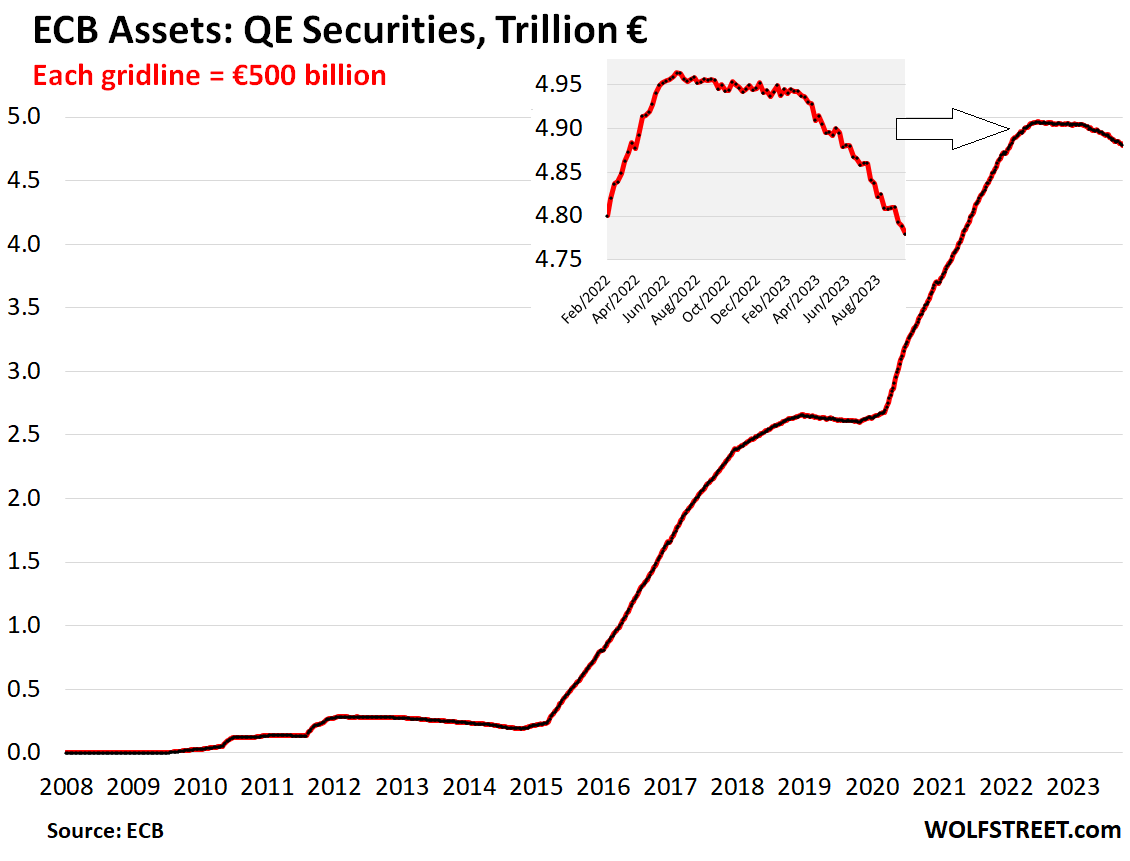 Enjoy reading WOLF STREET and want to support it? You can donate. I appreciate it immensely. Click on the beer and iced-tea mug to find out how:

Would you like to be notified via email when WOLF STREET publishes a new article? Sign up here.