Detroit automakers hugely overstocked, ready for a strike.
The average transaction price (ATP) for Tesla models in the US fell by 19.5% year over year in August, according to Cox Automotive. Most EV makers had been aiming for the higher end because that's where they thought the easy money would be. But under Tesla's attack on prices, the higher end is ratcheting down.
The ATP for all EVs fell nearly 18% year-over-year, from over $65,000 in August last year to $53,376 this August. These are massive price drops, and they're starting to have an impact on the overall market.
Other automakers have also implemented effective price cuts via increased incentive spending, and the ATP for all brands at $48,451, was roughly flat year-over-year, according to Cox Automotive today.
For first eight months of the year 2023, the ATP for all brands fell 2.4%, or by $1,212, the largest decrease in the data going back to 2012.
The table below shows the ATP by automaker. Four of them show year-over-year declines of the ATP. Chinese automaker Geely owns Volvo and controls Polestar. Indian automaker Tata owns Jaguar Land Rover. Volkswagen Group of America includes Volkswagen, Audi, Bentley, Bugatti, and Lamborghini.
Year-over-year % Change of ATP
Tesla
-19.5%
Nissan-Mitsubishi
-4.9%
Geely
-4.0%
Honda
-2.9%
Mazda
0.1%
Toyota
0.1%
GM
0.6%
Subaru
1.5%
Hyundai
2.9%
Ford
4.4%
Stellantis
4.7%
BMW Group
6.2%
Tata
7.8%
Mercedes-Benz
12.4%
Volkswagen Group
13.9%
Consumers are starved for price cuts, triggering a surge in sales.
Tesla only discloses global deliveries, which soared by 83% year-over-year in Q2. Guesstimates peg Tesla's year-over-year US-only increase at about 40%. In California, registrations of new Teslas jumped by 37% year-over-year in Q2, according to the CNCDA.
The share of EVs reached 21% of total registrations in California. Tesla's Model Y and Model 3 have become the #1 and #2 bestsellers last year, and this year, they widened their lead.
Tesla has become the #2 automaker in California thanks to the price cuts, with a share of 13.6%, behind Toyota with a share of 14.7%. The #3 automaker is Honda, with a share of 9.3%. At this pace, Tesla will be #1 in 2024.
Turns out, lower prices are just what the doctors ordered, a bitter medicine for the legacy automakers with their oligopolistic pricing methods. Consumers love lower prices.
Total auto deliveries by all brands in the US jumped by 17% year-over-year in August, according to data from the Bureau of Economic Analysis.
Another measure, the average listing price in August is down a hair so far in 2023.
But between the end of 2019 through 2022, in three years, the average listing price has spiked by 30%, after having already surged in prior years. These massive price increases are just toxic.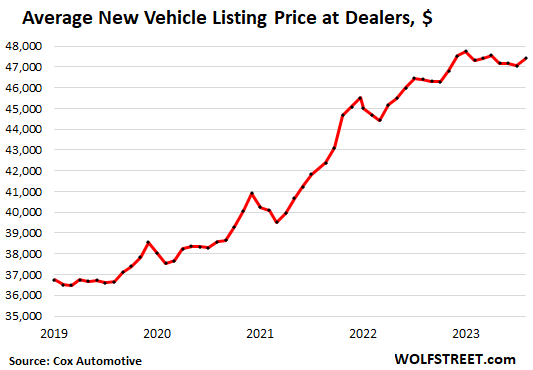 So here we go, after years of toxic price increases:
Below $20,000, hardly anything left. The lowest-priced vehicles in the US are the Mitsubishi Mirage and Kia Rio, both starting in the $17,000-range. Most other automakers have abandoned this segment.
Below $30,000 is thinning out. There were only three segments left with ATPs below $30,000 in August: compact cars, subcompact cars, and subcompact SUVs. The Bolt and the Bolt EUV, are in this category.
Lower-end models of other segments, such as Ford's compact pickup truck, the Maverick, start in the below $30,000 range. But in terms of the ATP for entire segments, only compact cars, subcompact cars, and subcompact SUVs remain below $30,000.
The ATP of non-luxury vehicles edged up 0.7% from a year ago to $44,827, according to Cox.
The three best-selling segments that accounted for 45% of total sales in August had much higher ATPs:
Compact SUVs: $35,688
Midsize SUVs: $46,381
Full-size pickups: $65,567.
The ATP of luxury vehicles fell 3.3% year-over-year to $64,107. Tesla's price cuts dominated. Other brands in this segment where ATPs fell included Buick, Infiniti, Jaguar, and Volvo. But the ATP for Audi and Mercedes-Benz jumped by 10% year-over-year, BMW by 6%, and ATPs also rose for Cadillac, Land Rover, Lexus, and Lincoln.
Tesla has been building factories, and it has been expanding production at existing factories, and it's pushing sales with brutal price cuts in an industry that loves price hikes.
Tesla can afford the price cuts because it had the fattest profit margins among major automakers before the price cuts. And its price cuts, which were followed by a number of other EV makers, is starting to have a cleansing effect on all automakers, whose oligopolistic pricing behavior has led to toxic price increases over many years.
These automakers set themselves up for a shakeup by newcomers, and they're now getting shaken up, and that's a good thing. New vehicle prices need to return to earth. And we're going to keep our eyes on it to see how that's going.
Putting a spark back into the below-$30,000 segment.
What the market now needs is a flood of non-luxury EV models to put pricing pressures on the lower end of ICE vehicles. Even the Model 3 is in the "near-luxury" segment, competing directly with the BMW 3 series, and not the Toyota Corolla.
GM's Bolt starts well below $30,000, but the model run ends by the end of this year. GM has teased a new Bolt based on GM's new Ultium platform, also in the below $30,000 range. Tesla is rumored to come out with a Mexico-built sub-$30,000 model. And other automakers will surely jump into the fray. So eventually, but not now, there's going to be some real action in this below $30,000 price category that ICE vehicles have been abandoning one after the other.
And maybe some Chinese EV makers can figure out how to instigate a battle in the US over the below-$20,000 segment?
Incentive spending by automakers is rising.
Domestic automakers, now overstocked in many of their models (more in a moment), have piled on incentives – their way of cutting prices without changing the MSRP during the model year. Incentive spending jumped to $2,365 per vehicle on average in August, or about 4.9% of the average transaction price (ATP). But incentive spending still has a long ways to go before it reaches the 10% of ATP that was needed in 2019 to move the inventory.
But incentives on some models are far higher, reaching over 10% of ATP in the high-end luxury car segment, 8% on luxury cars, 7.3% on entry level cars, and 6.1% on full-size pickup trucks.
Inventories recovered, Detroit brands overstocked, ready for a strike.
Inventories at dealers and in transit increased to 2.06 million vehicles, the highest since March 2021. Supply inched up to 58 days, with 60 days' supply being considered healthy. But it's very unevenly distributed with some brands having low inventories, and others being overstocked.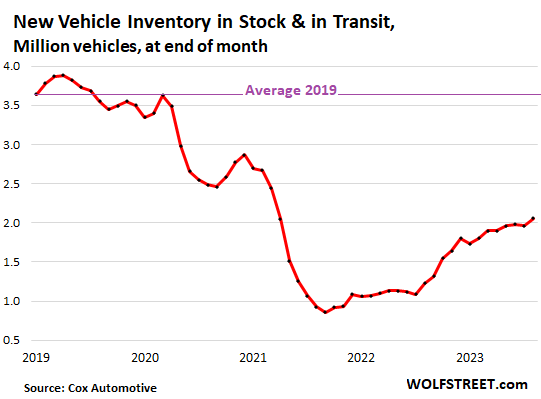 Inventory in 2019 was very high, above 3.5 million vehicles for most of the year, with supply being between 80 and 95 days.
But EV inventories of pure EV makers are not included. There has been a lot of confusion about EV inventories. The pure EV makers – Tesla, Rivian, Polestar, etc. – don't have dealers; they sell direct to consumers, and they don't disclose their own inventories. Cox Automotive does not know and does not include any of their inventory data in its metrics.
So if you read anything about EV inventories or supply of EVs, it's about the legacy automakers – Ford's EVs, GM's EVs, Kia's EVs, etc. – which are just a small-ish corner of the EV market that is still totally dominated by Tesla.
Of the EVs by legacy automakers, the Chevy Bolt – one of the non-Tesla bestsellers – had less than 30 days' supply, which means that many dealers are essentially out of stock.
Inventory by brand ranges across the spectrum from being nearly out of stock at Honda, Kia, and Toyota dealers, to being woefully overstocked at the brands of Stellantis (red).
The Stellantis brands, drowning in inventories, could handle a UAW strike for a while before a drawdown of inventories would eventually hit sales. At GM and Ford, the situation is more mixed, and a strike could hit sales of some models fairly quickly.
Tesla and other EV brands that don't have dealers are not included here: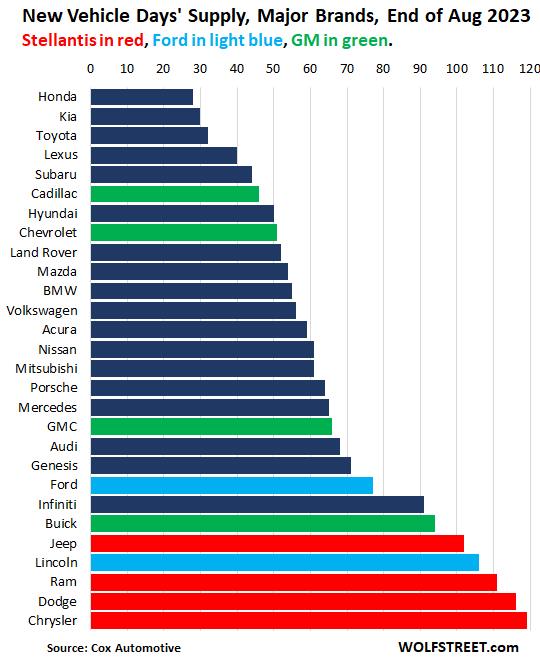 Enjoy reading WOLF STREET and want to support it? You can donate. I appreciate it immensely. Click on the beer and iced-tea mug to find out how:

Would you like to be notified via email when WOLF STREET publishes a new article? Sign up here.