And the offered wages that job seekers actually received also spiked massively as employers comply with a new reality.
Wages of job offers received by job seekers, and expectations for wages by job seekers surged in July, in another sign that this inflation is making its imprint on the labor market, and it's not backing off at all, on the contrary, and then the fretting starts that much higher wages will lead to still much higher inflation.
The wages that job seekers – not just the unemployed, but also the employed looking for another job – expect to get in their job offers spiked by $7,105, or by 11.8%, from a year ago to $67,400 on average, according to the New York Fed's Survey of Consumer Expectations (SCE) this morning. This portion of the SCE is conducted three times a year, in July, November, and March.
It was the biggest spike in job-offer wage expectations in the data of the SCE, which goes back to 2014.  Clearly, job seekers feel encouraged – and it's pedal to the metal for their wage expectations: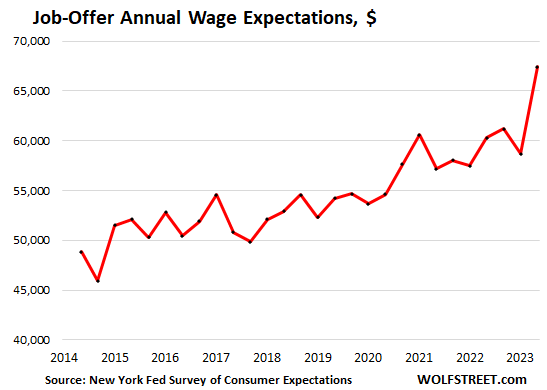 Employers, still struggling to find qualified employees, seem to play along in order to hire people. The average full-time wage of job offers that job seekers actually received spiked by $8,711 year over year, or by 14%, to a record $69,500 in July, according to the SCE.
The lowest wages that job seekers would be willing to accept to take a new job – the average reservation wage – jumped by 7.9% year-over-year, to $78,600.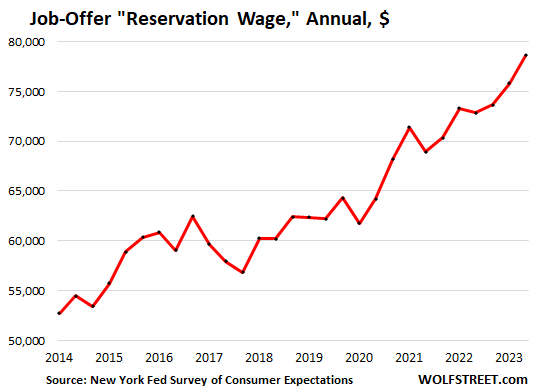 These are massive increases in what job seekers expect, and what they were offered. And it comes amid the still unfolding scenario of unions pushing for much higher wages, and not shying away from labor action to underscore their demands. Minimum wages in states, counties, and cities that have them have also been raised, in some cases substantially.
So in July, actual average hourly earnings by "production and non-supervisory employees" – the bulk of total employment – accelerated sharply, rising by 0.45% from June, the biggest month-to-month increase since November, amounting to a 5.5% increase annualized. This is based on surveys of employers by the Bureau of Labor Statistics that we discussed earlier in August.
Inflation has a variety of factors that push it forward – including those related to mass psychology, what I call the inflationary mindset by businesses and consumers that keeps propagating price increases. How these factors all interplay is still badly understood, amazingly, and because they're badly understood, we get these constant "surprises" dished up by inflation.
One aspect of these inflation drivers is a surge in wages without matching productivity increases. This makes inflation watchers nervous – they're fretting about another "wage-price spiral." In the past, wage-price spirals have turned out to be painful and difficult to get under control.
Powell, in his press conferences, keeps pointing at wage growth as a factor in services inflation, which is raging at 6.2%, as service providers pass on higher labor costs.
The other aspect of wages and inflation is more general: People who make more money can pay higher rents, which landlords figured out long ago. And then landlords can pay more for services they need. And workers with higher wages can pay more for other products and services. And when the inflationary mindset kicks in, they tolerate paying more because they figure they're going to make more too, or they already got a big increase, and now it's all just part of the flow. And so now suddenly, we're seeing these massively higher offer-wage expectations.
Enjoy reading WOLF STREET and want to support it? You can donate. I appreciate it immensely. Click on the beer and iced-tea mug to find out how:

Would you like to be notified via email when WOLF STREET publishes a new article? Sign up here.