Even Wage Growth for Nonsupervisory Workers Accelerated. Powell is scratching his head, after all the rate hikes.
What we see in today's jobs report: Some blowout numbers – job creation blew past expectations – and some other unexpected signs of heat, such as accelerating pay increases for nonsupervisory workers; along with signs of a little heat dissipating, such as the number of unemployed that ticked up but remained at historically low levels, and the unemployment rate that rose but remained at historically low levels.
For over a year now, we've been waiting for the labor market to show real signs of slowing down in a significant way, not just monthly ups and downs. We've been waiting for the landing, and the labor market has refused to land to this day, and employers keep hiring at a surprisingly strong clip, though the Fed has jacked up interest rates to over 5%. It seems businesses and consumers have gotten used to those rates. Wages, other costs, and prices have been rising at a hot pace, now centered around 5%, with inflation having shifted from fuel and food to services. And consumers are spending their wage increases, and they're still outspending inflation – the "drunken sailors" just won't slow down.
In May, 339,000 jobs were created by employers. Over the past three months, 850,000 jobs were created, pushing the number of payroll-type jobs to a record 156.1 million, based on surveys of establishments by the Bureau of Labor Statistics today. The three-month average, which irons out the month-to-month variability, is above the range during the hot labor market of the Good Times before the pandemic: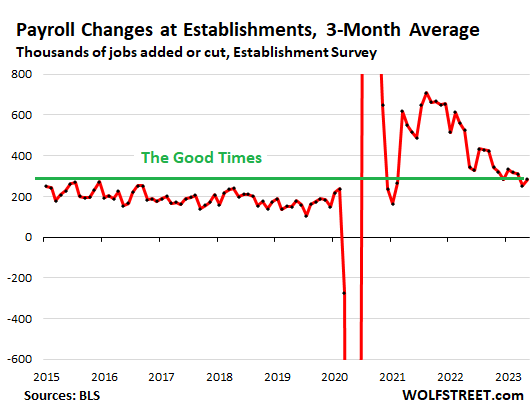 Average hourly earnings of production and non-supervisory employees rose by 0.45% in May from April, the fastest growth rate since November. Annualized, it comes in at 5.5%. The three-month average rose by 0.40%, also the fastest since November.
These workers are engineers, teachers, bartenders, technicians, drivers, retail workers, wait staff, office workers, construction workers, nurses, etc. in non-supervisory roles. They make up the bulk of total employment.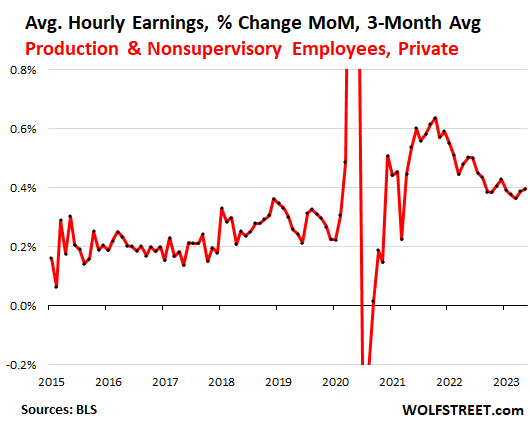 The month-to-month re-acceleration in nonsupervisory wage growth might be an indication that wage growth is now stabilizing somewhere around 5% year-over-year in that category, rather than cooling off further.
Year-over-year, wage growth remained at 5.0% for the second month in a row, for now ending the downward trajectory: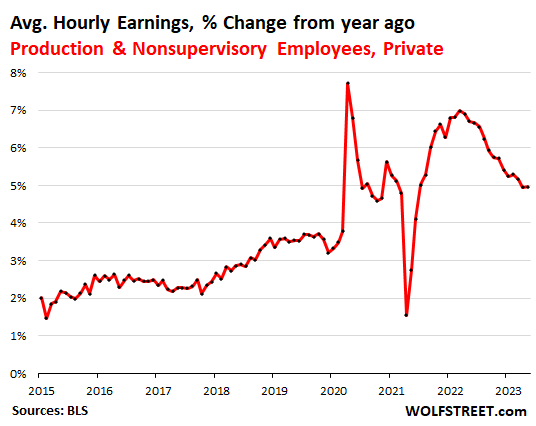 Average hourly earnings of all employees rose by 0.33% in May, the second largest increase all year, behind only April's increase. This includes supervisory roles.
The three-month average rose by 0.33%, the highest since January. Year-over-year, earnings increased by 4.3%, roughly in line with the past three months.
The higher wage growth in the nonsupervisory roles than in total employment indicates that there are bigger wage pressures and a tighter labor market below the management levels, which has been the case for months. Part of this difference in wage growth may also be due to higher minimum wages in many states and municipalities.
In the small Information sector (which covers some tech and social media companies, while others are in different sectors), the number of jobs peaked late last year, then tapered off earlier this year and has now flattened out just under 3.1 million jobs. This comes after a huge hiring boom of the past two years. Now companies are rebalancing their work force to trim off the excess in some corners and hire in others.
So here, in this small information sector, the heat has started to fade: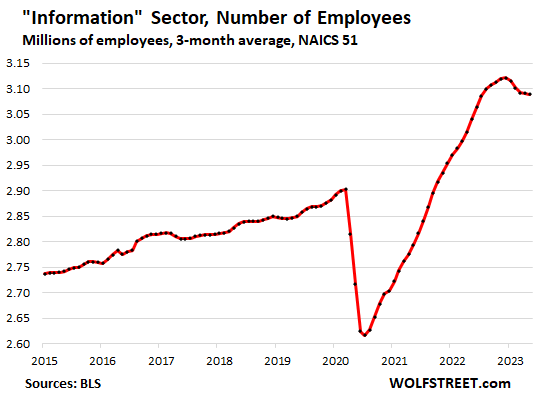 Total jobs, from payroll-type jobs to gig work, fell by 310,000 in May, after a huge jump in March and a smaller increase in April, according to the Household Survey by the BLS that tracks all types of work.
The data is very volatile from month to month, with some huge spikes, for example in January (+894,000) and March (+577,000) and some big drops, for example in May this year and in October and June last year.
For the three months combined, the number of jobs rose by 406,000, for a three-month average of 135,000. It shows a slowdown in growth from earlier this year, but it's far higher than a couple of periods last year with negative readings.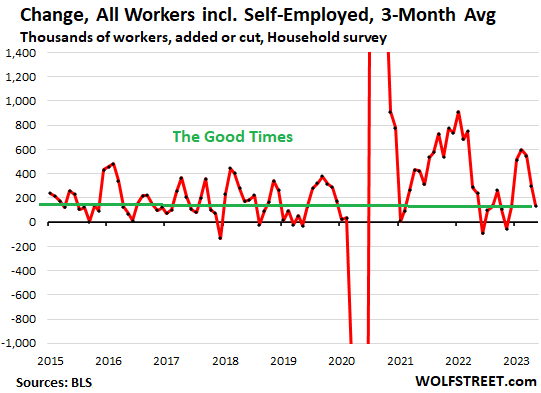 The total number of workers, from employees at companies to the self-employed, exceeded 160 million for the first time in January 2023.  This is the three-month average of total employment, which irons out some of the ups and downs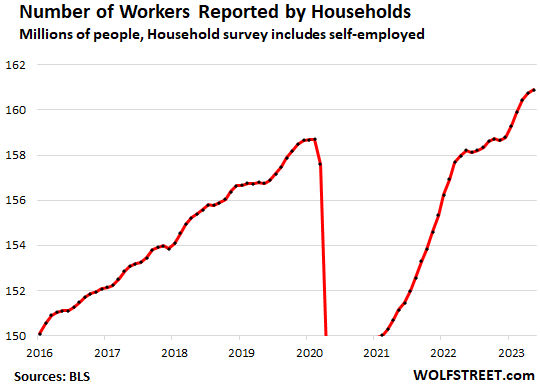 The number of unemployed people who are actively looking for a job rose in May from the 22-year low in April, to 6.1 million unemployed, according to the Household Survey.
The chart shows the three-month average, which irons out some of the monthly ups and downs to reveal the trends, which are still wobbling along historic lows: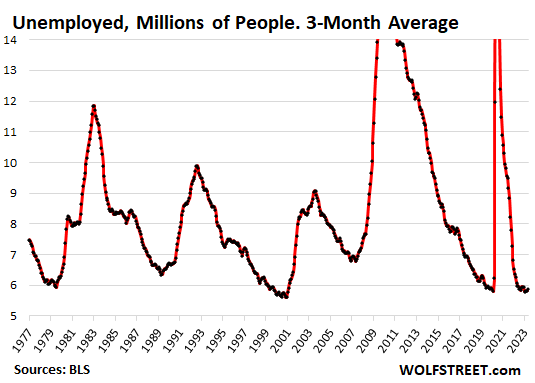 The labor force continues to grow. In May 130,000 people joined the labor force, which rose to 166.8 million people who are either working or actively looking for work.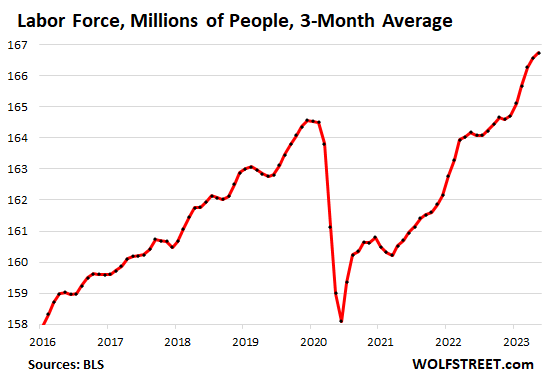 The prime-age labor participation rate – people aged 24 through 54 either working or actively looking for work – rose to 83.4% in May, the highest since 2006. The three-month average rose to 83.3%.
This means that people in their prime working age are now participating in the labor market at a rate not seen in 15 years. The prime-age data passes by the issue of the bulging ranks of retirees.
The unemployment rate rose to 3.7%, as tracked by the narrowest unemployment measure, from 3.4% in April, which had been a historic low. The rate rose due to the mix of a larger labor force and more unemployed. The rate has vacillated up and down in the range between 3.4% and 3.8% since February 2022.
The employment-to-population ratio ticked down to 60.3%, from 60.4% in March and April. All three are the highest since before the pandemic. It too points at the bulge of people who retired recently.
Other labor market data also confirm that that the labor market isn't landing, though some aspects may be cruising at a somewhat lower altitude, and there are the occasional bumps:
The private-sector ADP National Employment Report yesterday: 278,000 jobs created in May, wages up 6.5%.
The Job Openings and Labor Turnover Survey (JOLTS) by the BLS: Job openings rose and remain sky high, discharges and layoffs dipped and remain very low)
Initial claims for unemployment insurance: Dipped recently and remain in the historically low 230,000-range (350,000 might be the beginnings of recessionary levels).
Continued claims for unemployment insurance: Dipped recently to below 1.8 million after having edged up for a few months (recessionary levels might begin at around 2.7 million).
Here is Fed Chair Jerome Powell reacting to the jobs report after all the rate hikes (cartoon by Marco Ricolli for WOLF STREET):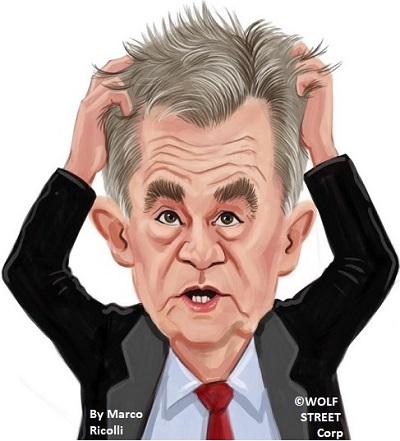 Enjoy reading WOLF STREET and want to support it? You can donate. I appreciate it immensely. Click on the beer and iced-tea mug to find out how:

Would you like to be notified via email when WOLF STREET publishes a new article? Sign up here.