Was it the Swiss National Bank that Borrowed $60 Billion via "Foreign Official" Repos for the Credit Suisse takeunder?
On the Fed's weekly balance sheet as of Wednesday, released this afternoon, we find some interesting stuff about the liquidity facilities that the Fed rolled out or dusted off after Silicon Valley Bank and Signature Bank collapsed, and when Credit Suisse was taken under by UBS with support of the Swiss government and the Swiss National Bank.
Here's the summary:
Discount window: -$43 billion, to $110 billion.
Central bank liquidity swaps: no activity, to $0 billion.
Repos with "foreign official" (SNB?): +$60 billion
Bank Term Funding program: +$42 billion to $54 billion
Credit extension to FDIC bridge banks: +$37 billion, to $179 billion.
Primary Credit ("Discount Window").
Fell by $43 billion in one week, to $110 billion.
After the spike on the prior balance sheet, I expected a decline, and said so a week ago. This is expensive money for banks. Following the rate hikes yesterday, the Fed charges banks 5.0% to borrow at the Discount Window, plus banks have to post collateral valued at "fair market value" (unlike under the Bank Term Funding Program, where collateral is valued at "par value").
So banks have every incentive to pay back this money as soon as they can – and they are paying it back rather quickly, and will continue to do so.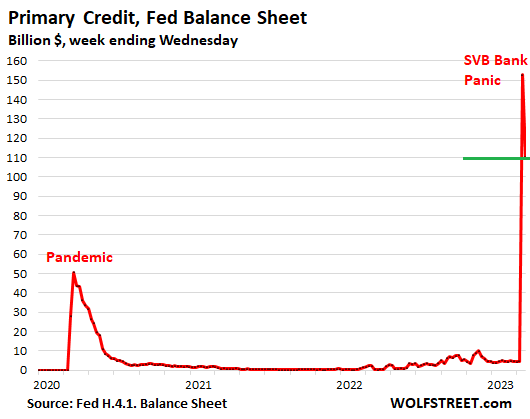 Central Bank Liquidity Swaps:
No activity, LOL.
A hilarious to-do was made when the Fed issued a press release on Sunday, March 19, evocatively titled: "Coordinated central bank action to enhance the provision of U.S. dollar liquidity." This would be some kind of mega-QE or whatever.
But those swap lines have been open for many years, and I have been reporting on them in my regular Fed balance sheet updates. Under these swap lines, a handful of foreign central banks can exchange their currency for US dollars, for a set term, such as seven days. When the swap matures, the Fed gets its dollars back, plus a little interest, and the other central bank gets its currency back.
With the announcement, all the Fed did was change the frequency of the 7-day swaps from once a week to every weekday, to "commence on Monday, March 20." This would be the day that the Swiss National Bank (SNB) might have needed lots of dollars to provide dollar-liquidity to support the Credit Suisse takeunder by UBS over the weekend. And it looks like this was why the frequency was changed, so that the swap could be done on Monday.
Alas, there has been no activity to speak of in recent days and weeks, and this facility was not used: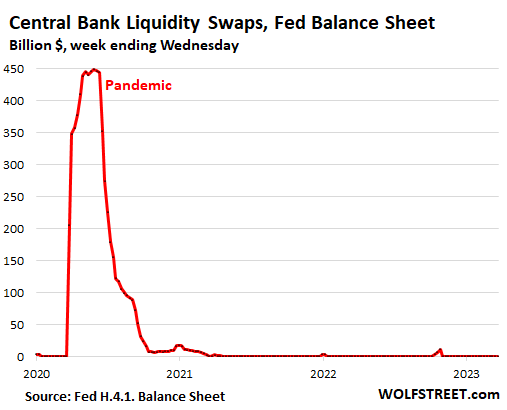 But… Repos with "foreign official" counterparties. The SNB?
Rose by $60 billion in one week, from $0.
The Fed has "standing repo facilities" to engage in the repo market, with repurchase agreements ("repos") and reverse repurchase agreements ("RRPs").
Here we're talking about "repos," an asset on the Fed's balance sheet. This is when the Fed essentially lends money to a counterparty against collateral consisting of Treasury securities or agency MBS. There has been no use since the summer of 2020 when the Fed raised the interest it charges on repos. Yesterday, as part of the rate hikes, it raised the interest to 5.0%.
And there has been no use by regular counterparties, such as banks or mortgage REITs, and the balance on today's balance sheet = $0.
But the "foreign official" repo account spiked from $0 a week ago to $60 billion today. This is likely where the SNB got $60 billion in dollar-liquidity to support the CS takeunder, and this maybe why it didn't use the central bank liquidity swap lines.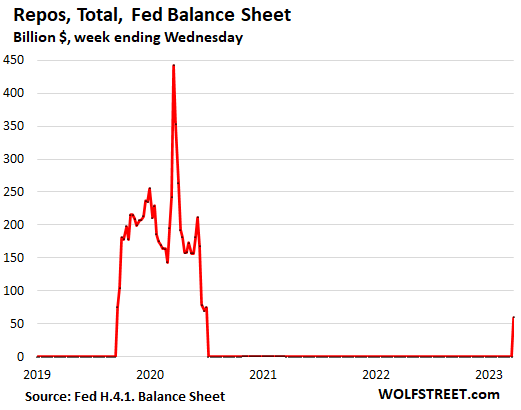 Bank Term Funding Program (BTFP):
Rose by $42 billion in one week, to $54 billion.
This is the new liquidity program that the Fed announced on Sunday, March 13. Under this program, the banks can borrow for up to one year, at a fixed rate for the term, pegged to the one-year overnight index swap rate plus 10 basis points. Banks have to post collateral, which is valued "at par."
To be eligible per term sheet, the collateral has to be "owned by the borrower as of March 12, 2023." So banks cannot buy securities at market price and post them as collateral at par.
For banks, this is still expensive money because they have to post collateral; when they borrow from depositors or unsecured bondholders, they don't have to post any collateral.
But it's less expensive for banks than borrowing at the Discount Window. And it seems the $42 billion increase might have been banks shifting borrowing to the BTFP from the Discount Window, which fell by $43 billion.
"Other credit extensions" to the two FDIC bridge banks:
Rose by $37 billion in one week, to $179 billion.
These are loans to the FDIC-owned bridge banks that hold the assets and liabilities of the collapsed Silicon Valley Bank and Signature Bank. This facility is part of what the Fed announced on Sunday, March 13.
The FDIC already lined up a buyer for a big part of the assets of Signature Bank. It estimated, after the deals it has made so far, that its loss from Signature Bank will only be about $2.5 billion. The rest will be covered by asset sales.
I expect the FDIC to announce a deal soon – lots of rumors out there now – to sell pieces or all of Silicon Valley Bank.
As the FDIC sells the assets of those banks, and as those sales close, it will use the proceeds to pay down the advances from the Fed, and this balance will decline sharply.
Enjoy reading WOLF STREET and want to support it? You can donate. I appreciate it immensely. Click on the beer and iced-tea mug to find out how:

Would you like to be notified via email when WOLF STREET publishes a new article? Sign up here.