But only 8% of Alphabet's and 13% of Meta's layoffs are in California: The tally based on California's WARN reports.
The layoff announcements by tech and social media companies keep piling up. But these are announcements of global layoffs, and they may not all take place in the US.
Many of the tech and social media companies that announced layoffs are either headquartered in California or have large offices in California. We can track the actual layoffs in California because companies with 75 employees or more are required to disclose those layoffs as part of the WARN (Worker Adjustment and Retraining Notification) reports. So we can see actual layoffs in California, rather than just breathless announcement of global layoffs.
How many layoffs in California since July 1?
So far, 65,964 layoffs notices were given to employees at companies with 75 employees or more in California since July 1, when the layoff announcements took on momentum, according to the WARN report released today. This was up by over 10,000 from a month ago (54,679).
The State of California has a population of over 39 million, so the number of layoffs in the WARN reports is still relatively small overall. But they're concentrated in a handful of counties – and in three of the San Francisco Bay Area counties, layoffs have turned into a major thing.
The WARN report includes a large variety of companies that are not tech and social media, and some laid off workers for their own reasons, for example:
Two hospitals that shut down due to long-running financial difficulties – a common trait of many rural hospitals in the US.
An ice-cream maker that shut down temporarily to install new equipment and then brought the workers back.
Autodesk which moved its headquarters from Marin County (north of the Golden Gate Bridge) to San Francisco. While it had some layoffs globally, those headquarter employees who were transferred to San Francisco made it into the WARN report because the facility in Marin County was closed.
The toll is becoming visible: Total non-farm employment in the state, while still up 1.6% from a year ago, has been roughly flat since June, when the layoffs started to take on momentum and when the hiring freezes started to pile up (Bureau of Labor Statistics data through January; February data not yet available). By comparison, in the 12 months through June 2022, employment grew by 5.3%.
This is the end of the era during which many employers in tech and social media had been outbidding each other for talent that they didn't need and couldn't use in what CEOs now admit was a frenzy of overhiring and overpaying, and a small part of it is now getting unwound.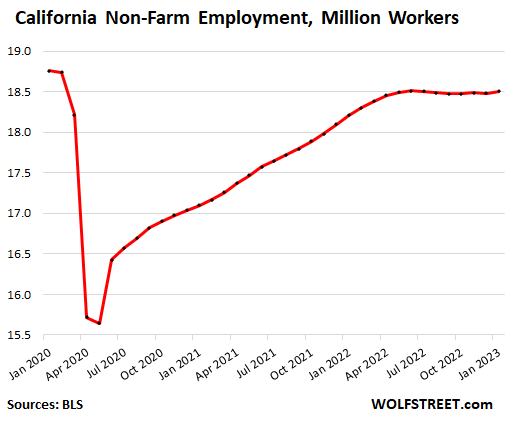 The 10 counties with the most layoffs since July 1.
County size matters: Los Angeles, the largest county with a population of nearly 10 million, is #1 on the list with 11,244 layoff notices in the WARN report, but this amounts to only 0.11% of the population.
By contrast, in San Francisco, with a population of 834,000, the 8,164 layoffs amount to nearly 1% of the population, the highest percentage in the lineup.
Also, the layoffs are by office location, not employee location. So people registered at Twitter's San Francisco office, but working at home in Nevada or Thailand count as layoffs in San Francisco County.
Note the three major counties with a significant number of layoffs as percent of their population, in bold: San Francisco, San Mateo (northern part of Silicon Valley), and Santa Clara (Southern part of Silicon Valley):
The right column shows the increase since February 20:
| | | | |
| --- | --- | --- | --- |
| County | Layoffs since July 1 | % of county pop. | MoM increase |
| Los Angeles | 11,371 | 0.1% | 1,992 |
| Santa Clara | 8,730 | 0.5% | 1,661 |
| San Francisco | 8,164 | 1.0% | 1,193 |
| San Diego | 6,640 | 0.2% | 1,107 |
| Alameda | 5,281 | 0.3% | 576 |
| San Mateo | 4,976 | 0.7% | 646 |
| Orange | 4,541 | 0.1% | 947 |
| San Bernardino | 2,283 | 0.1% | 730 |
| Sacramento | 2,214 | 0.1% | 128 |
| Riverside | 1,740 | 0.1% | 145 |
| Total | 55,940 | | 9,125 |
The WARN report also shows the effective date of the layoffs, and those stretch through the spring into the summer. So, these notices include layoffs that will happen but haven't happened yet, such as by Amazon, Microsoft, Google, Intel, and others.
The 20 Tech & Social Media Companies with 300+ layoffs in California since July 1.
This roster of what we loosely call tech and social media is larger unchanged from a month ago. Only four companies added layoffs over the past 30 days: Salesforce (+55), Intel (+112), Rivian (+479), and Thermo Fisher Scientific (+154).
Combined, those 20 companies account for 25% of the total layoffs in California since July 1.
Meta (headquartered in Menlo Part, San Mateo County) announced 21,000 layoffs so far, but only 13% are in California.
Alphabet (headquartered in Mountain View, Santa Clara County) announced 12,000 layoffs so far at its Google unit, but only 8% are in California.
"Tech and Social Media" Companies
Layoffs
1
Meta Platforms
2,726
2
Jabil
1,661
3
Salesforce
1,065
4
Twitter
997
5
Google
953
6
Cepheid
948
7
Amazon
890
8
Intel
833
9
Cisco
673
10
Snap Inc.
485
11
Sciolex Corporation
461
12
ABM Industry Groups, dba Meta
434
13
Lam Research
400
14
Doordash
386
15
PayPal
378
16
Infineon Technologies Americas Corp.
375
17
Rivian
830
18
Thermo Fisher Scientific
489
19
Tesla
298
20
Shift Technologies
296
Total
15,282
Enjoy reading WOLF STREET and want to support it? You can donate. I appreciate it immensely. Click on the beer and iced-tea mug to find out how:

Would you like to be notified via email when WOLF STREET publishes a new article? Sign up here.