We're not even getting peanuts? EU regulators came out today and said, no, no, no, that's just in Switzerland, not in the EU.
One of the elements in the takeunder by UBS of Credit Suisse was that CHF 16 billion (about $17.3 billion) in CoCo bonds got wiped out totally, while shareholders got wiped out only almost totally. Swiss regulator FINMA, when announcing the deal on Sunday, said that CoCo bonds would be written down to zero, in a sense subordinating bondholders to shareholders, which is like a total no-no very-bad-boy thing to do, because normally, shareholders would get totally wiped out first, and then bond holders would start taking their turn.
Turns out, there were some clauses in the documents of the CoCo bonds, issued in Switzerland, that allowed this under certain conditions and triggers. But no one ever reads any clauses, and so it came as a surprise, shaking up the $275 billion market for these creatures that came out of the swamp of the Financial Crisis.
What are Additional Tier 1 CoCo bonds?
CoCos – short for "contingent convertible capital instruments," also known as Additional Tier 1 (AT1) bonds – were created in Europe in response to the financial crisis as a way to boost bank capital without diluting existing shareholders. Before, a bank would have to sell shares to raise capital, thereby diluting existing shareholders. With this instrument, they could weasel their way around selling shares and still raise capital for regulatory purposes.
CoCos are perpetual bonds – they have no maturity date, and the bank doesn't have to ever redeem them, but it can redeem them at certain intervals, such as in five years. European banks offered them in major currencies to appeal to investors in those countries.
In general, CoCos are designed to be bailed in when the bank gets into trouble, either by converting them into nearly worthless shares or by writing them down to zero. They therefore provide a capital buffer; and for regulatory purposes are considered equity capital.
In return, CoCos offered a relatively high coupon interest. For example, more recent Credit Suisse CoCos came with a coupon interest of over 9%; Deutsche Bank issued CoCos with coupons over 6%. These were tempting coupons in a world of Negative Interest Rate Policy.
Banks in the US don't issue CoCo bonds. They issue preferred shares with similar features that allow banks to raise capital without diluting existing shareholders. When the bank gets in trouble, those preferred shares get bailed in after shareholders get bailed in. This happened when SVB Financial collapsed on March 10. The $3.7 billion in SVB preferred shares collapsed from around 70 cents on the dollar to near zero in one fell swoop, with the ultimate outcome still uncertain.
We're not even getting peanuts?
What tripped folks up was that shares of Credit Suisse didn't get totally wiped out first. The buyout offer by UBS was an exchange of one UBS share for 22.48 Credit Suisse shares, which valued Credit Suisse shares at roughly CHF 0.76 (down 99% from the peak in 2007) and down 60% from the close on Friday. Maybe this was a nod toward institutional investors in the Middle East that had poured so much money into Credit Suisse.
So shareholders are getting some peanuts. CoCo bondholders had been under the impression – not having read the clauses – that their CoCos would be senior to common shares, and that they'd get some peanuts, if shareholders get peanuts. But now, they aren't getting anything, not even a single peanut. And this hit CoCos all around Europe today.
For example, Deutsche Bank 6% CoCos plunged today from the already beaten down level of about 79 cents on the euro to 63 cents on the euro (chart via Börse Berlin):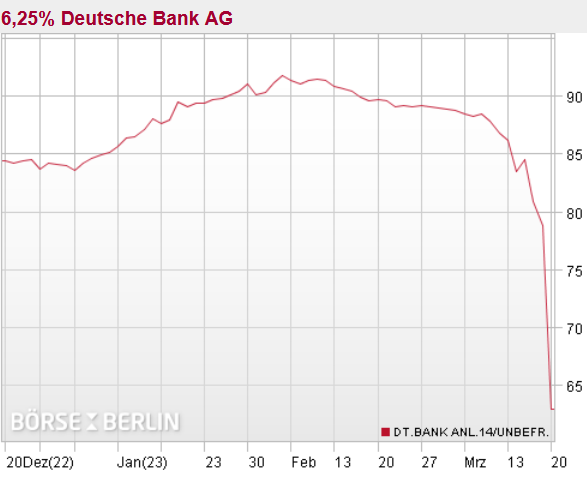 EU regulators try to soothe the CoCo market.
EU regulators – while happy that the Credit Suisse mess is getting sorted out "in order to ensure financial stability" – are not happy with this decision by regulators in Switzerland, which is not part of the EU. And they came out, as regulators do, with a joint statement today, emphasizing that in the EU, the capital structure will not be usurped, that common shares will be bailed in first and totally before any bonds are getting chewed up.
In the statement, the ECB's Banking Supervision office, the EU's Single Resolution Board (SRB), and the European Banking Authority (EBA) said:
"The resolution framework implementing in the European Union the reforms recommended by the Financial Stability Board after the Great Financial Crisis has established, among others, the order according to which shareholders and creditors of a troubled bank should bear losses.
"In particular, common equity instruments are the first ones to absorb losses, and only after their full use would Additional Tier 1 be required to be written down.
"This approach has been consistently applied in past cases and will continue to guide the actions of the SRB and ECB banking supervision in crisis interventions," the statement said.
The one that may have gotten away.
But, but, but… Credit Suisse issued $2.5 billion in CoCos that are similarly structured, but are counted as Tier 2 capital, rather than Tier 1 capital. And these CoCos have "an unusual structure," and "will presumably remain an obligation of the enlarged UBS, alongside CS's senior bonds," CreditSights said in a note, cited by Bloomberg.
When an analyst asked UBS CEO Ralph Hamers if this AT2 bond would also be written down, he said, "we'll have to come back to you."
While Credit Suisse's AT1 bonds have plunged to a couple of cents on the euro today, the AT2 recovered and traded at 75 cents on the euro, according to Bloomberg.
Finally over.
Credit Swiss has been teetering on the brink for years. It has been hobbling from scandal to scandal, each time losing billions of francs along the way, and each time, its shares got beaten to a new record low. And all along the way, new investors were bamboozled into investing billions of dollars in this thing to boost its capital and keep it alive. And the money just vanished. The culture of risk-taking and doing shady deals was something that could apparently not be changed by the CEOs that came and went. Or they didn't want to change it – despite rhetoric to the contrary – because they were focused on boosting the share price or whatever. The SNB wouldn't let it collapse, and regulators didn't force it to straighten out. But a lot of losses to the Swiss public and investors could have been avoided if this creature had been taken out the back and shot years ago.
Enjoy reading WOLF STREET and want to support it? You can donate. I appreciate it immensely. Click on the beer and iced-tea mug to find out how:

Would you like to be notified via email when WOLF STREET publishes a new article? Sign up here.