We laugh, but it's a start. SVB Financial collapsed with investment-grade ratings.
San Francisco-based First Republic – a bank catering to the billionaires and millionaires of the Free-Money startup scene – has been teetering near the cliff as said billionaires and millionaires have been yanking their money out amid big unrealized losses on its unhedged holdings of long-term bonds. Its shares have collapsed by 86% from peak consensual hallucination in November 2021. Its unsecured notes have plunged by 55% over the same period. And yet, it was rated a respectable confidence-inspiring-LOL "A-" by S&P Global Ratings, four notches into investment-grade, until this very morning.
And now, after investors already took huge losses, S&P Global downgraded First Republic by four notches to "BB+" – so into junk. But hilariously, this is still just one tiny notch into junk (my color-coded cheat sheet for corporate credit ratings by rating agency).
This comes after the fiasco of SVB Financial, which was rated comfortably inside investment grade by S&P Global and Moody's until March 10, the day it collapsed, when Moody's slashed its ratings by 13 notches in one fell-swoop to default, and S&P slashed its ratings by 10 notches to default. SVB's preferred stock, a form of unsecured bonds that had been rated investment grade, violated the WOLF STREET dictum that "nothing goes to heck in a straight line," and went to heck in a straight line.
Yesterday evening, S&P Global had put First Republic on review for a downgrade, a day after Moody's put the bank on review for downgrade. And now S&P Global reviewed the bank, and downgraded it four notches. Moody's is still reviewing the bank, with a downgrade coming soon. So that's a start. But it's way late for investors in its bonds that had relied on these ratings and have already taken massive losses.
"We believe the risk of deposit outflows is elevated at First Republic Bank despite the actions of federal banking regulators and the bank actively increasing its borrowing availability to mitigate risk associated with the bank failures over the last week," S&P Global said in the statement, cited by Morningstar.
"We believe that First Republic's deposit base is more concentrated than most large U.S. regional banks, which presents heightened funding risks in the current environment," it said.
Upon the news, the subordinated notes First Republic issued in 2017, with a coupon of 4.625% plunged to a new low, after the bounce over the past two days, to 58 cents on the dollar, down by 56% from 132 in August 2021. These bonds are in line to get bailed in, along with shareholders if the same fate befalls First Republic that had hit Silicon Valley Bank (chart by Finra/Morningstar).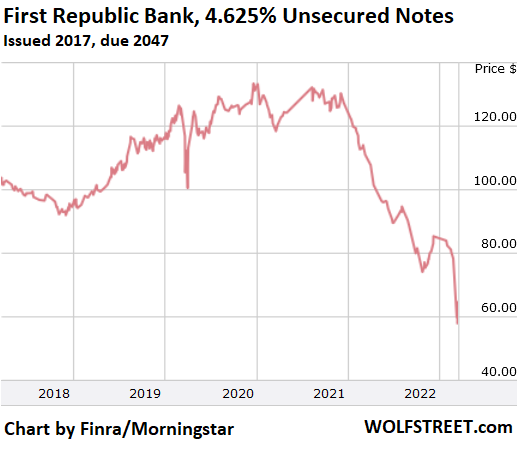 And upon the news, or for whatever reasons, shares of First Republic plunged 21% to $31.64 at the moment, giving up its huge dead-cat bounce yesterday, following the 61% collapse on Monday, whereupon the stock was anointed a hero in my pantheon of Imploded Stocks. Shares are down 86% from peak consensual hallucination in November 2021 (data via YCharts):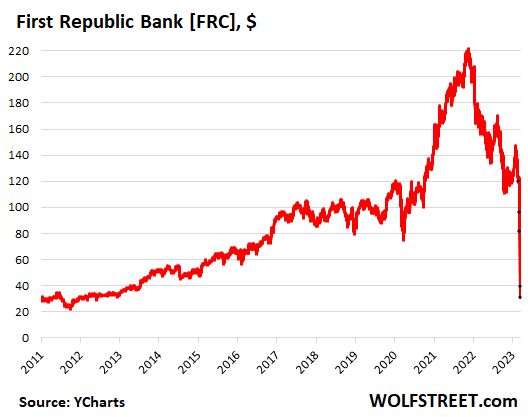 Enjoy reading WOLF STREET and want to support it? You can donate. I appreciate it immensely. Click on the beer and iced-tea mug to find out how:

Would you like to be notified via email when WOLF STREET publishes a new article? Sign up here.