China anguish is piling up.
Nvidia again cut its revenue guidance for the fourth quarter of its fiscal year 2019, which runs through January, this time by 18.5% from its previously cut guidance, down to $2.2 billion. Last time it had blamed the crypto collapse. This time it blamed weak demand for its gaming chips "particularly in China," and for its datacenter chips. The new forecast indicates a year-over-year plunge in revenues of 24%.
It also expects to write off $120 million for inventory adjustments due to "current market conditions." Shares dropped 15% intraday and are down 52% from the peak at the beginning of October (data via Investing.com):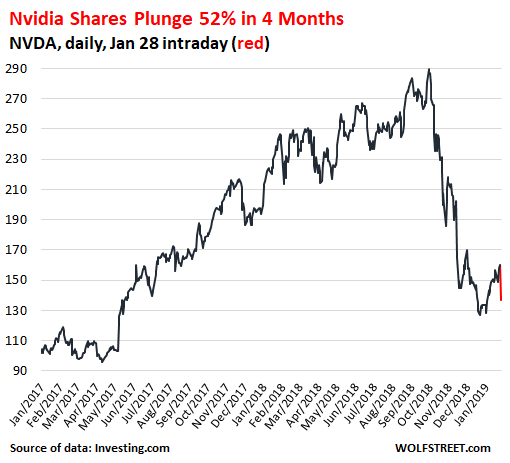 "It was a challenging quarter with several extraordinary dynamics," Nvidia said in its letter to shareholders. And then it spelled out some of those dynamics.
When Nvidia cut its guidance for Q4 last time (in November), it blamed the crypto collapse that entailed the collapse of demand for crypto-mining equipment, for which Nvidia makes specialized chips. OK, so that was a bubble, it was fun while it lasted, and it imploded.
But that was then, and this is now. And now the culprits are gaming, data centers, and China. These are some of the "extraordinary dynamics" Nvidia spelled out in its letter to shareholders and in its news release:
The crucial gaming Chips in crucial China:
In Q4, "the global economy decelerated sharply, particularly in China," and these "deteriorating macroeconomic conditions, particularly in China," hit "consumer demand" for its gaming GPUs, particularly "certain high-end GPUs" using its new Turing architecture. Sales of these chips were "lower than expected."
Alas, after the crypto collapse, these newest and greatest chips were supposed to be the saviors. Instead, Chinese consumers aren't buying them as hoped. Nvidia speculates that "some customers may have delayed their purchase…."
Datacenter customers "became increasingly cautious."
Datacenter customers are big, and the purchases "can be large and are not always periodic or predictable," it said. So, "As the quarter progressed, customers around the world became increasingly cautious due to economic uncertainties." And some of these large deals that were already baked into the forecast "did not close in the last month of the quarter."
"Q4 was an extraordinary, unusually turbulent, and disappointing quarter," Nvidia summed it up.
And a slew of others chimed in about China.
The datacenter and cloud computing concerns echo what Intel said on Thursday, when its forecast for 2019, citing a slowdown in spending by its large datacenter customers and weakness in China, sent its shares skidding.
These chipmakers are adding to a broad and increasingly loud chorus of warnings about the Chinese economy.
Chinese consumers have already sent global automakers for a spin. In the fourth quarter, sales of new vehicles in China – most of them manufactured in China – plunged by 13% from a year earlier. This deterioration had started in July and accelerated toward the end of the year. It dragged down new-vehicle sales for the whole year by 4%, the first annual decline in the data going back to 1990. China is GM's largest market, but sales dropped sharply at the end of the year. And Ford sales in China, already weak going into 2018, essentially collapsed in December.
Smartphone makers and their supplies have been singing the China consumer blues since late last year with a series of revenue warnings including from Apple suppliers.
On January 2, Apple finally confirmed these warnings, saying that revenues would be a lot worse in the quarter ended December 29 than its guidance two months ago, that iPhone revenues have dropped year-over-year, and that China's economic problems are deeper than expected.
In mid-January, there was a hail of warnings about demand from manufacturing companies in China. This included Nidec, a $14 billion Japanese company that makes a wide range of electric motors, supplying disk-drive makers, automakers, appliance makers, robotics makers, and industrial companies. The company is a key supplier of advanced parts to Chinese factories.
It said it had slashed production at the end of 2018 for Chinese automakers and appliance makers by over 30% because of weak demand. And it cut its revenue forecast for the quarter and now expects its first year-over-year revenue decline in nine years.
"I've been a manager for almost half a century, but this is the first time I've seen such a large single-month drop in orders for us," lamented Nidec CEO Shigenobu Nagamori. "What we witnessed in November and December was just extraordinary."
Yaskawa Electric Corp., a Japanese manufacturer of industrial robots, cut its earnings forecast for the second time in three months, blaming weak demand from China and the semiconductor industry.
Kuka Group, the German industrial robots manufacturer that was acquired by a Chinese company in a hostile takeover, issued its second profit warning two weeks ago, blaming "primarily" the "stronger slowdown in the automotive and electronic industry in the fourth quarter 2018" and "ongoing uncertainties in the Chinese automation market."
These companies are among the barometers of consumer and industrial demand in China, and they have issued some extraordinarily gloomy tidbits about what they're seeing in China – and it all started fairly suddenly late last year.
A painful moment of truth for banks and investors. "Uncertainty over the accuracy of the companies' books and disclosure of pertinent information," Fitch Ratings finds. Read… Record Defaults by Chinese Companies: Fake "Cash" & Fake Accounting
Enjoy reading WOLF STREET and want to support it? You can donate. I appreciate it immensely. Click on the beer and iced-tea mug to find out how:

Would you like to be notified via email when WOLF STREET publishes a new article? Sign up here.