Welcome to the Big Club of Saturation & Decline.
For the month of December, light new-vehicle sales in China plunged 13%, compared to a year ago, to 2.23 million vehicles, the China Association of Automobile Manufacturers (CAAM) announced on Monday. Sales through June had risen 6%, but then came July, and now there have been six months in a row of year-over-year declines – with the last four months dousing any remaining enthusiasm about China's consumers with double-digit declines:
July: -4.00%
August: -3.8%
September: -11.6%
October: -11.7%
November: -13.9%
December -13.0%
These declines pushed light new-vehicle sales down 4.1% for the year, to 23.7 million. This phenomenon of declining auto sales is new to China's managed and pump-primed growth-no-matter-what economy. Data going back to 1990 show relentless annual sales increases. Between 2005 and peak-year 2017, new vehicle sales multiplied by a factor of six: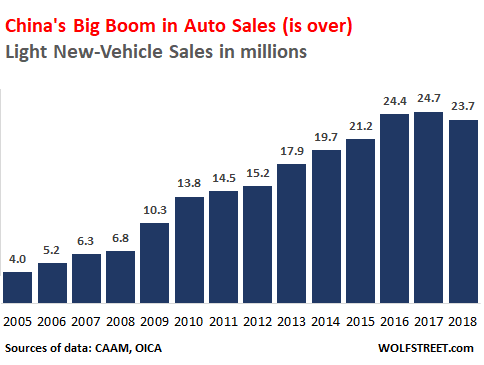 By comparison, over the same period from 2005 to 2017, US auto sales inched up 1%, from 16.95 million vehicles in 2005 to 17.13 million in 2017, with a huge trough in the middle. The Chinese market is now 40% larger than the US market.
Even during the Financial Crisis, China's auto market boomed enormously. By comparison with the US, for the years 2008, 2009, and 2010:
In the US, over the two-year period 2008-2009 combined, new-vehicle sales plunged 35%. In 2010, sales began to recover, but it still left sales down 28% for the three-year period.
In China, new-vehicles sales rose 7% in 2008, and then more than doubled over the two-year period 2009-2010, bringing the three-year sales increase to 118%.
An annual decline in new-vehicle sales of 4.1% was just unheard of in modern China. So we welcome China's auto market to the big club of saturation and decline: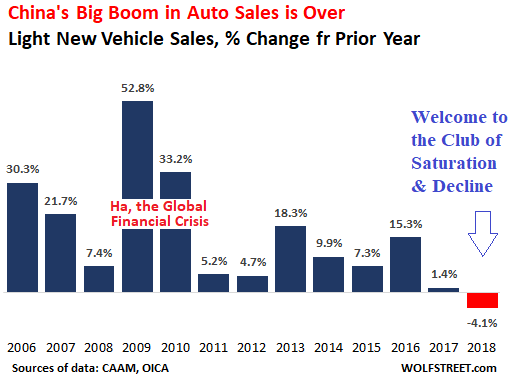 Global automakers were betting heavily on China by building large-scale auto manufacturing capacity with their required Chinese partners. Now these joint-venture investments are translating into the dreaded word: overcapacity. GM and Volkswagen sell more vehicles in China than in any other country, including the US, and most of the vehicles they sell in China are made in China.
For US automakers in China:
GM's sales dropped 10% to 3.65 million vehicles, including a 25% plunge in Q4. But its premium brand Cadillac saw sales jump by 17%.
Ford's sales plunged 37% to 752,000 vehicles, including a December collapse of 59%.
Volkswagen Group was the largest automaker in China in 2018. Its luxury brands did well. Audi sales rose 11% and Porsche sales rose 12%. But VW sales fell 2.1% to 3.1 million vehicles. All brands combined, the group eked out a 0.5% gain for the year, to 4.21 million vehicles.
The largest Chinese automaker, Zhejiang Geely Holding Group, had a strong first nine months, but then sales also dropped: October -10%; November -10%; and December -45%.
As a sign of the times in China, the premium brands gained: Cadillac gained 17%, Mercedes-Benz 11%, Audi 11%, and BMW 7.7%.
Sales of battery electric vehicles and plug-in hybrids surged 62% to 1.255 million vehicles, reaching a record 5.3% of total vehicle sales. China has been piling incentives on electrified vehicles, trying to push this segment to reach 20% of total sales by 2025. In addition, all automakers are now required to produce and sell EVs in China.
The plunge in overall auto sales over the past six months says a thing or two about the state of China's consumers. There is nothing in the data indicating that this was just a blip, as we might have inferred in July or August, or that the surge of demand is coming back.
Auto sales are a reflection of the consumer. And the double-digit plunge in auto sales over the past four months is not a propitious indication about China's consumers going forward or China's economic growth that increasingly depends on these consumers.
"We did not foresee the magnitude of the economic deceleration," Apple said, starting the year out on the right foot. Read…  iPhone Sales Croak, China's Economy Deteriorating Faster than Expected, Apple Warns. Shares Plunge
Enjoy reading WOLF STREET and want to support it? You can donate. I appreciate it immensely. Click on the beer and iced-tea mug to find out how:

Would you like to be notified via email when WOLF STREET publishes a new article? Sign up here.