"We did not foresee the magnitude of the economic deceleration." Oh dude, starting the year out on the right foot.
On Wednesday after the market closed, Apple released a letter to shareholders in which it said that revenues are going to be a lot worse in the quarter ended December 29 than its guidance two months ago, that iPhone revenues have dropped year-over-year, that China's economic problems are deeper than expected, and that iPhone revenues are hurting elsewhere too. This confirms a series of revenue warnings from Apple suppliers.
Shares plunged 7.5% after hours to $146. If shares close at this level on Thursday, it would be the lowest close since November 7, 2017. Shares have plunged 38% in three months. Wow, this was quick: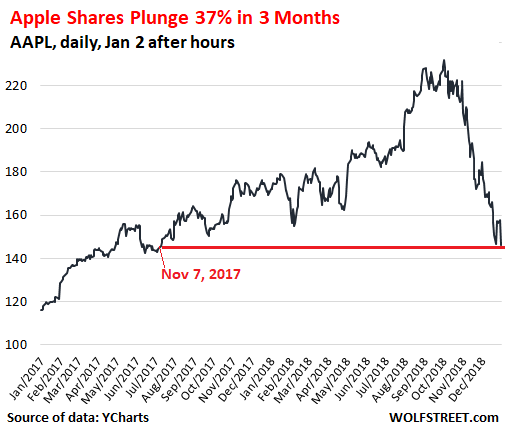 In its "Letter from Tim Cook," Apple slashed its revenue guidance by 6% to 10% from its prior guidance two months ago, to about $84 billion in the quarter, down from its previous guidance of $89 billion to $93 billion.
Just to get this straight, this revenue guidance of $84 billion represents a 5% revenue decline from the quarter a year ago. The price increases of its new models aren't exactly helping a lot, it seems.
Here are some of the key points Apple made in its letter (emphasis added):
While we anticipated some challenges in key emerging markets, we did not foresee the magnitude of the economic deceleration, particularly in Greater China. In fact, most of our revenue shortfall to our guidance, and over 100 percent of our year-over-year worldwide revenue decline, occurred in Greater China across iPhone, Mac and iPad.

China's economy began to slow in the second half of 2018. The government-reported GDP growth during the September quarter was the second lowest in the last 25 years. We believe the economic environment in China has been further impacted by rising trade tensions with the United States.

As the climate of mounting uncertainty weighed on financial markets, the effects appeared to reach consumers as well, with traffic to our retail stores and our channel partners in China declining as the quarter progressed. And market data has shown that the contraction in Greater China's smartphone market has been particularly sharp.

Lower than anticipated iPhone revenue, primarily in Greater China, accounts for all of our revenue shortfall to our guidance…
But it's not just China that's responsible for year-over-year iPhone revenue declines. It's China plus…
Plus, "other emerging markets"
Plus, "some developed markets," where "iPhone upgrades also were not as strong as we thought they would be."
In addition to economic factors hitting iPhone sales, such as the harsher-than-expected slowdown in China, Apple believes there are "other factors broadly impacting our iPhone performance," including:
"Consumers adapting to a world with fewer carrier subsidies," and therefore becoming more price conscious,"
"US dollar strength-related price increases,"
"And some customers taking advantage of significantly reduced pricing for iPhone battery replacements."
In other words, these iPhones are too expensive, and consumers are successfully looking for alternatives, such as buying less costly brands and replacing the batteries in their old iPhones to be able to use them for a few more years.
CEO Tim Cook then explained in an interview on CNBC that it's not the Chinese government pushing down on iPhone sales:
"Well, certainly Apple has not been targeted by the government. So let me take away any kind of doubt of that right up top. There are reports, sort of sporadic reports, about somebody talking about not buying our products because we're American, maybe a little bit on social media, maybe a guy standing in front of a store or something. My personal sense is that this is small.

"Keep in mind that China's not monolithic. Just like America's not monolithic. You have people with different views and different ideas. And so do I think anybody elected not to buy because of that? I'm sure some people did. But my sense is the much larger issue is the slowing of the economy.
In the letter, as well as in the interview, Cook also complained about the trade tensions between China and US.
The letter points out repeatedly that iPhones are the sole problem, and that all other categories are doing great, with the revenues from Services, Mac, iPad, and Wearables/Home/Accessories combined expected to rise nearly 19% in the quarter, year-over-year.
But this is not much of a consolation, given that Apple has become so desperately dependent on iPhones and its strategy of jacking up iPhone prices to overcome weak unit sales. Turns out, there seems to be price resistance after all, even for iPhones. And China may just be ground zero for that price resistance.
Here are some ugly long-term charts that Wall Street doesn't want us to see. And now US stocks are infected too. Read... Long-Term "Buy & Hold" Crushed Stockholders in Largest Markets Except US & India. But for the US, Luck's Running Out
Enjoy reading WOLF STREET and want to support it? You can donate. I appreciate it immensely. Click on the beer and iced-tea mug to find out how:

Would you like to be notified via email when WOLF STREET publishes a new article? Sign up here.