But it wasn't the central bank that pricked the bubble; its interest rate is at a record low!
The relentlessness of the housing busts in the regions of Sydney and Melbourne – they account for about 55% of Australia's housing stock by value – is quite something. At some point, it seems, the price declines would slow down at least for a little while, or even perform a quick bounce, before falling again. But no. The downward momentum is picking up.
For Sydney, according to CoreLogic's Daily Home Value Index, prices dropped 1.8% in December from November, in just one month! The index is now down 11.1% from its peak in July last year: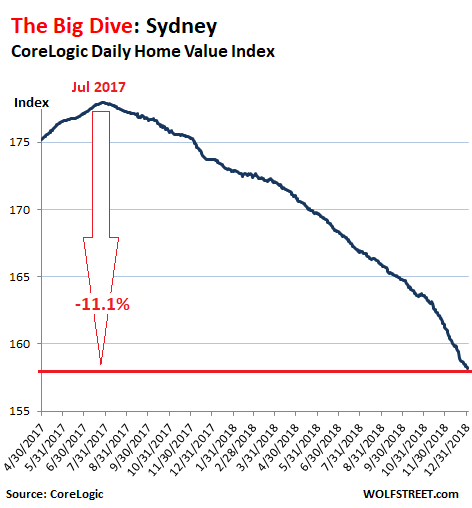 In the calendar year 2018 in Sydney, the prices of all types of dwellings fell 8.9%, with prices of single-family houses down 10.0%, and prices of condos ("units") down 6.3%. These declines pushed the index back to its level of August 2016.
Prices of more expensive homes are falling faster: Prices in the upper quartile of the market fell 10.0%; prices in the lower quartile of the market fell 6.8%.
In Melbourne, the second largest market in Australia, the housing bust lags Sydney's bust by about four months. According to the CoreLogic Daily Home Value Index, since the peak in November 2017, prices of all types of dwellings fell 7.2%, which pushed prices back to February 2017 levels: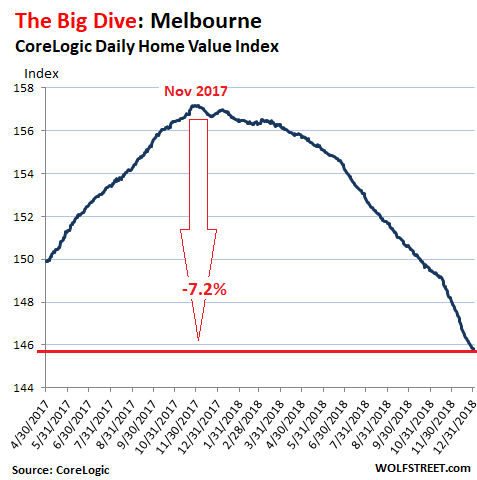 In the calendar year 2018, Melbourne's prices of all types of dwellings fell 7.0%, with single-family houses down 9.2% — having plunged nearly 2% in just the month of December — and "unit" prices down 2.3%.
High-priced homes are on the chopping block: Prices in the most expensive quartile of the market dropped 11.2%; prices in the bottom quartile inched up 0.5%.
In the other capital cities in the year 2018: The housing bust pushed prices back to 2007 levels in Darwin and to 2009 levels in Perth, while prices gained in the remainder:
Brisbane, Queensland: +0.2%
Adelaide, South Australia: +1.3%
Perth, Western Australia: -4.7%; which pushed prices back to levels last seen in March 2009. After peaking in 2014, prices were then felled by the mining bust.
Darwin, Northern Territory: -1.5%; this pushed prices back to levels last seen in October 2007, after having peaked in 2014.
Canberra, Australian Capital Territory: +3.3%
Hobart, Tasmania: +8.7%; but that pace is down from double-digit year-over-year gains earlier in 2018.
CoreLogic's national home price index is down 5.2% from its October 2017 peak. Head of research Tim Lawless said in the report that this is a broad weakening in market that goes "well beyond the correction in Sydney and Melbourne."
The increasingly steep price declines in Sydney and Melbourne can be blamed on the confluence of factors:
Prices are too darn high: After years of steamy price gains, unaffordability for many potential buyers who'd actually live in the homes they'd buy reached crisis levels.
The construction boom is dousing the market with record new supply.
Exposure of the banks' mortgage shenanigans, first in the media and eventually by the Royal Commission investigation, is putting a damper on said shenanigans, thus crimping mortgage lending.
Generally tighter credit availability, according to CoreLogic's report:
Interest-only lending has tracked well below the recently discarded 30% limit, credit growth for investment purposes is virtually flat-lining and owner occupier credit growth slowed sharply over the second half of the year. Lenders are generally seeking out larger deposits from borrowers and have become much more forensic in detailing borrower expense profiles and servicing capacity.
"Lenders are understandably risk averse against a backdrop of falling dwelling values, high household debt, rising supply and heightened regulatory focus following the banking royal commission," said CoreLogic's Lawless.
Consumer sentiment has soured on real estate, not surprisingly, given the well-publicized drop in prices, after the years of you-cannot-lose-money-in-real-estate hype. CoreLogic cites the Westpac/Melbourne Institute Consumer Sentiment survey which showed that measures of housing sentiment were "pessimistic."
Chinese investors got cold feet, after seeing prices drop. CoreLogic explained that "the substantial reduction in foreign buyer activity" and "a reduction in overseas migration" were among the factors "dragging market conditions down even further over the year." And this in a housing market that has become desperately dependent on both – as many locals can no longer afford to buy at these prices.
Interestingly, all this is occurring as mortgage interest rates remain near historic lows, and as the policy rate (cash rate) of the Reserve Bank of Australia remains at its all-time low of 1.5%, where it has been since the last rate cut in August 2016. In other words, it's not the central bank that has pricked this bubble.
In Seattle, house prices dropped 4.4% in four months, the biggest four-month drop since Housing Bust 1, according to the Case-Shiller Home Price Index. Prices also deflated in the San Francisco Bay Area, San Diego, Denver, and Portland. Read… The Most Splendid Housing Bubbles in America Decline
Enjoy reading WOLF STREET and want to support it? You can donate. I appreciate it immensely. Click on the beer and iced-tea mug to find out how:

Would you like to be notified via email when WOLF STREET publishes a new article? Sign up here.