Fears that the bull market died sent people and algos scrambling out of the way.
There were company-specific debacles that sank some of the gorillas, such as Goldman Sachs, Apple, and – oh gosh, not again – GE; and there was the general issue of fears circulating that the bull market has died, with people and algos trying to scramble out of the way:
The Dow dropped 602 points, or 2.3%, to 25,387.
The S&P 500 dropped nearly 2% to 2,726.
And the Nasdaq dropped 2.8% to 7,201.
Goldman Sachs got re-embroiled in corruption allegations
Goldman Sachs shares [GS] plunged 7.5% to $206.05 today. They're down 24% from their 52-week high in March.
The company came under renewed scrutiny for its role in the 1MDB corruption scandal when it emerged late Friday that then-CEO Lloyd Blankfein was the unidentified Goldman executive who attended a 2009 meeting with Malaysian Prime Minister Najib Razak, Malaysian financier Low Taek Jho, and about a dozen other people, referenced in the US indictment unsealed on Friday.
Goldman Sachs arranged $6.5 billion in bond deals in 2012 and 2013 to fund 1MDB. The DOJ alleged Low Taek Jho paid bribes to officials and attempted to launder billions of dollars stolen from the fund. According to prosecutors, about $4 billion of those funds were stolen by numerous people, including friends and family of Malaysia's prime minister at the time.
Former Goldman top banker for Asia, Tim Leissner, pleaded guilty. In the heavily redacted guilty plea, released on Friday, he said: "I conspired with other employees and agents of Goldman Sachs very much in line of its culture of Goldman Sachs to conceal facts from certain compliance and legal employees of Goldman Sachs."
General Electric struggles with a "sense of urgency."
Though shares [GE] have already plunged so much, they nevertheless plunged another 6.9% today to $7.99 a share, after its brand-spanking new outsider CEO, Larry Culp, on the job for only six weeks, got on CNBC and declared boldly and with refreshing straightforwardness what everyone has known for a long time, that after $40 billion of share buybacks since 2012, GE has too much debt.
To avoid a debt restructuring and stay out of bankruptcy court, GE has to sell whatever it can to try to whittle down its debts. This has been the theme for a while. Now the company is doing it with "a sense of urgency," he said. And he emphasized: "We have options."
There's GE's healthcare business for which GE is considering an IPO, he said. And there's Baker Hughes, which GE acquired at the worst possible time and needs to sell — on the principle of buy-high-sell-low — to "generate real cash to bring leverage down," as he said.
But selling cash-flow-producing business units to pay down an overwhelming pile of debt cuts down on cash-flow producing business units the company still has to service the remaining debts. Dismantling an overindebted financialized industrial conglomerate is always ugly.
"It's tough to play offense with the balance sheet in the shape that it is in," Culp said. Shares are down 58% from a year ago because investors have figured that out a while ago.
Apple suppliers unravel
Apple shares [AAPL] dropped 5.0% to $194.17, after its main supplier for its Face ID technology, Lumentum Holdings, chopped its own revenue and profit forecasts, blaming reduced orders from "one of our largest" customers "for laser diodes for 3D sensing" — which can only be Apple. Lumentum shares [LITE] plunged 33% to $37.50.
This came on top of a warning today from another Apple supplier, screen maker Japan Display Inc, which had come on top of warnings by Foxconn and Pegatron a week ago that they would halt plans for additional iPhone XR production lines.
Then JP Morgan analysts had the temerity to cut their price target for Apple by $4 to $270, based on weak orders for the new iPhone XR. Alas, this is still nearly 40% above today's reality.
Apple is the biggest gorilla in the FANGMAN stocks – Facebook, Amazon, Netflix, Google's parent Alphabet, Microsoft, Apple, and NVIDIA. And the other six FANGMAN stocks also got hit today:
In terms of dollars, the FANGMAN stocks have lost $710 billion from their combined market cap peak on August 31, having plunged 15.3% from $4.63 trillion to $3.92 trillion (data via YCharts).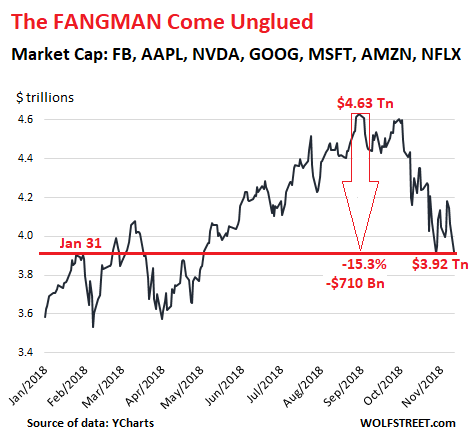 But in terms of the longer view, the FANGMAN stocks have just barely begun to unwind the ludicrous skyward spiral over the past few years. The current sell-off just takes them back to the end of January.
At the other end of the spectrum from these seven more-or-less-tech gorillas are a couple of thousand smaller companies tracked by the Russell 2000 small-cap index. It fell 1.8% today to 1,549 and is down 11% from its peak at the end of August. It's back where it first had been in December last year.
Neither the FANGMAN nor the Russell 2000 took a big hit during the January-April sell-off. But now they both are back where they'd been before that sell-off. That both the largest gorillas and the smallest featherweights are caught in the downdraft show just how widespread the sell-off is.
Retail investors were lured to GE by the siren song of a "buying opportunity" and a fat yield throughout the sell-off. Read… This is What Retail Investors Did with GE This Year as it Plunged
[Correction: The share buyback data on GE has been corrected; it previously reflected an error on my part] 
Enjoy reading WOLF STREET and want to support it? You can donate. I appreciate it immensely. Click on the beer and iced-tea mug to find out how:

Would you like to be notified via email when WOLF STREET publishes a new article? Sign up here.