Lured by the siren song of a "buying opportunity" and a fat yield.
GE shares plunged another 10% this morning to a low of $8.15 before recovering a little. They're now a big step closer to the Financial Criss low of $6.66, which had been the lowest since the early 1990s. And for most of the year, retail investors – as measured by clients of TD Ameritrade – were net buyers of GE and bought the dips, lured by the Wall Street siren song of a "buying opportunity" and a fat dividend yield.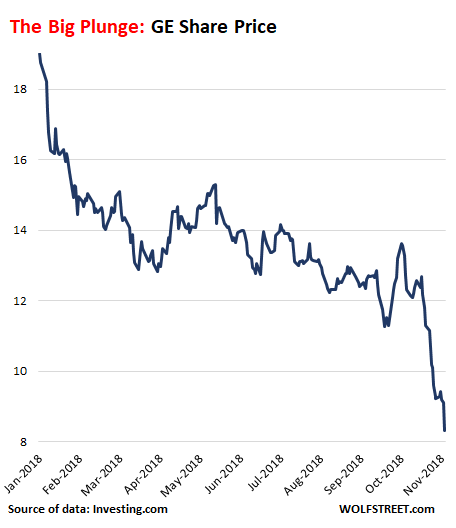 But that sacred dividend was unceremoniously slashed a second time while people were distracted by Halloween, to a penny this time, and the fat dividend yield suddenly is near-nothing. GE, which lost $23 billion in the third quarter based on a huge write-off, is in the process of dismantling itself to deal with its debts and stay alive, after "unlocking value" by blowing and wasting $40 billion [corrected amount] in mostly borrowed cash since 2012 on buying back its own shares.
It now is buckling under $263 billion in liabilities, not counting any off-balance-sheet liabilities. Its accounting is being scrutinized by federal authorities, GE disclosed. And there are fears that some unknown unknowns might emerge. GE has been shedding divisions and assets to shrink itself to health, and as it is dismantling itself, there are fewer business units available to generate cashflow to pay for this debt.
These liabilities are so huge in comparison to its remaining assets that when the $79 billion in "goodwill" and "other intangible assets" are excluded from its assets, GE is left with what we call "tangible equity" of negative $31 billion. In other words, this former icon of American industrial innovation and strength has been gutted by share buybacks. GE would be OK-ish today, if it had not wasted $40 billion on monstrous share buybacks to "unlock value" to please activist shareholders and Wall Street.
The plunge-du-jour has been triggered by a brutally hype-free note by JPMorgan Chase analyst Steve Tusa, which he accompanied with a cut in his share-price target to $6, the lowest among Wall Street analysts.
The report cited surging liabilities (see above), weakening cash-flow outlook, and lousy Q3 results on "almost all fronts," including a 33% plunge in revenues at GE's largest division, its power division. And then this (Bloomberg):
"While the stock is down about 70 percent from the peak of $30, this move still does not sufficiently reflect the fundamental facts," Tusa wrote.
"We are skeptical around calls for a bottom until management resets EPS expectations that are closer to free cash flow, something we believe they haven't done for almost 20 years," Tusa wrote.
GE's difficulties, which have been going on in public view for years, were papered over with hoopla about its stupendous share buybacks. Once the hoopla dissipated, the problems came to the front pages. But retail investors couldn't resist the fat dividend yield (now reduced to near zero) and the lure of buying the dip.
We can get a feel for how retail investors dealt with the stock. TD Ameritrade publishes a monthly Investor Movement Index (IMX) with a comment on what TDA clients have bought on a net basis (buys minus sells). These are the comments concerning GE:
In January, GE plunged 10% from $17.98 to $16.17: "Net buying activity favored the Technology and Industrial sectors, as Facebook Inc. (FB), Amazon Inc. (AMZN) and General Electric Inc. (GE) were net buys during the period," the IMX report noted on February 5.
In February, GE dropped 12.7% from $16.17 to $14.11: "TD Ameritrade clients appeared to use the pullback in equities markets as a buying opportunity, and were net buyers of equities during the February IMX period. General Electric Inc. (GE) and Ford (F) both neared multi-year lows, and were net buys," noted the IMX report on March 5.
In March, GE fell 4.5% from $14.11 to $13.48: "General Electric Inc. (GE) was a net buy as shares fell below $13 for the first time since 2009, with a slight rebound late in the month amid reports Warren Buffet may be considering a stake in the company" – April 9.
In April, GE rose 4.3% from $13.48 to $14.07: "TD Ameritrade clients continued to find General Electric (GE) intriguing, and the stock was net bought after the company announced it would merge its transportation unit with Wabtec" – May 7.
In May, GE remained flat, closing at $14.08: "Additional popular names bought include General Electric (GE)" – June 4.
In June, GE fell 3.3% from $14.08 to $13.61: "Additional popular names bought include General Electric (GE)" – July 9.
In July, GE remained flat, ending at $13.63. The IMX was silent on whether clients were net buyers of GE – August 6.
In August, GE fell 5% from $13.63 to $12.94: "Net buying, coupled with increasing relative volatility among some widely held names, including Apple Inc. (AAPL), Facebook Inc. (FB), and General Electric Inc. (GE), helped push the score above 6.0 for the first time since January" – September 10.
Since then, GE shares have plunged another 35%. One "buying opportunity" after another crushed retail investors who still believed in the fat dividend yield and in the American icon that was "oversold" and would surely surge again. And all along, GE shares took the hard-earned money of retail investors with them.
However, TDA's IMX reports for the months of September and October (released yesterday) was silent on GE and whether TDA clients were net buyers of GE. Perhaps finally, after a plunge of over 50% so far this year, they have turned with impeccable timing into net sellers.
The hail of two-notch downgrades didn't help. Read… What General Electric Is Doing to Dodge the Question: "When Will GE File for Bankruptcy?"
Enjoy reading WOLF STREET and want to support it? You can donate. I appreciate it immensely. Click on the beer and iced-tea mug to find out how:

Would you like to be notified via email when WOLF STREET publishes a new article? Sign up here.