The myth of the "blackout period." And the price of "unlocking value."
Share buybacks weren't happening today. Shares fell, after three days of rallying that followed the worst October since 2008, which had wiped out $4 trillion in overvalued market capitalization in the US, Europe, and Asia.
Shares fell today in part because Apple [AAPL], the giant in the indices, gave iffy guidance for the holidays Thursday evening; and with product sales not going anywhere, and only price increases boosting revenues, it said it would no longer disclose unit sales. This combo worked like a charm, and shares dropped 6.6%.
So where are the corporate share buybacks when you need them? This is when companies buy back their own shares in order to prop up their price and thereby the overall market. Where is this panacea that was considered securities fraud until 1982?
Throughout October, Wall Street gurus promised that shares would rise as soon as companies emerged from their "blackout" period that prevents them from buying back their shares.
Alas, there is no federally mandated "blackout" period. There are only some rules that companies should follow in order to be protected from securities fraud liability. SEC Commissioner Robert Jackson Jr. explained earlier this year:
Those rules, first adopted in 1982, provide companies with a safe harbor from securities-fraud liability if the pricing and timing of buyback-related repurchases meet certain conditions. After experience proved that buybacks could be used to take advantage of less-informed investors, the SEC updated its rules in 2003, though researchers noted that several gaps remained.
These rules as updated in 2003 for share buybacks are easy enough to meet. They include:
Buybacks cannot happen in the last 10 minutes of the trading day or after-hours, except under certain conditions.
A company has to use a single broker, rather than multiple brokers, for the trades, so that it cannot easily engage in a bidding war with itself to drive up the price.
A company must buy shares at the market price.
A company cannot buy back on a given day over 25% of the shares' average daily trading volume, as measured over the previous four weeks.
Then there's an issue with insider trading – and a way around it. Executives have access to inside information, particularly at the end of the quarter when the quarter's data are being gathered and put together. To remain in the "safe harbor" against securities fraud accusations, companies have established "blackout periods" for share buybacks. The periods normally restrict buybacks from shortly before the quarter ends until two days after the results are released. For many companies, this "blackout period" is somewhere between four to eight weeks.
However, a separate rule (Rule 10b5-1) says that share buybacks during the "blackout" period are just fine if companies have a pre-established plan with scheduled buybacks. For example, the company can schedule in advance heavy share-buybacks on the three days following its earnings releases. It must specify a minimum and maximum price and the number of shares. And then no problem.
Nevertheless, Wall Street gurus keep expressing their fervent believe that massive buybacks would kick in after the blackout period and bail out these rotten markets.
Alas, companies have massively bought back their own shares in October, even during the blackout period, most likely by following the rules to the T.
Over the period of October 1 through 29, companies blew $39 billion on share buybacks, according to preliminary estimates from JPMorgan Chase, based on the average drop in share count across the S&P 500, FTSE Russell 1000, Datastream US, and MSCI US indexes, cited by The Wall Street Journal.
This was up from $30 billion in September. Based on these estimates, over the first 10 months, companies bought back about $350 billion of their own shares, an average of $35 billion a month. So in October, yes that terrible October "blackout" period, share buybacks were 11% above average for the year so far.
To help things along, numerous companies, as their shares plunged upon reporting earnings, have come out with new promises of big-fat share repurchases – though they're not obligated to buy back those shares, and it could be just all share-manipulation hype. The WSJ lists some candidates:
Cosmetics firm Estée Lauder Co s., whose shares dropped by as much as 14% during October, on Wednesday announced plans to buy back 40 million shares, or 11% of the total outstanding. The New York-based company had spent more than $240 million buying back its own stock over October, it said.

Semiconductor-equipment maker Rudolph Technologies Inc., based in Massachusetts, pointed to "undervalued market conditions" on Monday as it announced it had spent $14.3 million completing a buyback plan. The firm's shares dropped as much as 20% in October.

This week, International Business Machines Corp. authorized $4 billion worth of buybacks, and financial-exchanges operator Intercontinental Exchange Inc. announced a plan for repurchases worth $2 billion.
Let's take a gander at International Business Machines [IBM], one of the biggest share buyback queens. Since 2000, it blew $146 billion on share buybacks. The chart below shows the cumulative amounts since 2013 that IBM wasted on share buybacks: $43 billion (data via YCharts):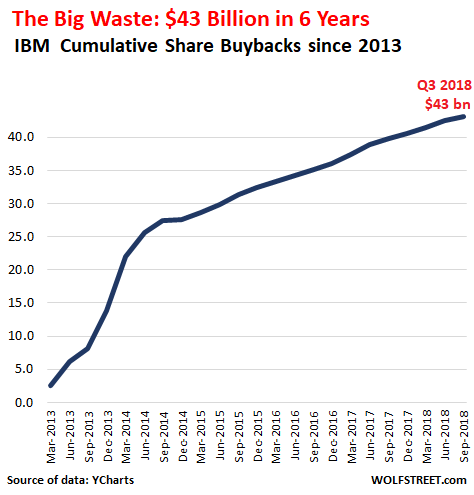 Wall Street gurus keep hyping that share buybacks "unlock shareholder value," or "return cash to shareholders," or some such thing. But here's what IBM's share buybacks did to shareholder value, as measured by the stock price: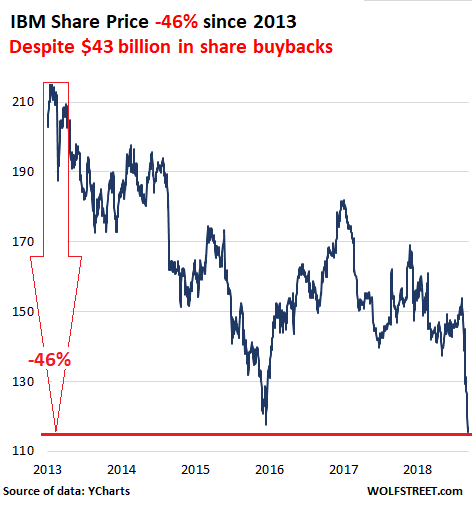 IBM has been buying back the shares it issued its own executives as part of their stock compensation plans, and the shares it issued to buy other companies, including minuscule privately-owned startups for billions of dollars. Buybacks covered up the dilutive effects from those actions.
IBM could have spent this money on research and invented something cool. But that would have been too hard. Far better to farm out much of the work to cheap countries like India, shut down US operations, waste money on share buybacks in a vain effort to manipulate up its shares, and instead watch them go to heck.
Infamous share buyback queen Sears Holdings, which blew, wasted, and destroyed $5.8 billion on share buybacks between 2005 and 2010 to manipulate up the share price, is now bankrupt and will likely be liquidated, with zero value for shareholders.
But companies appear to be backing off their share buybacks: $156 billion in buyback plans were announced in Q3, down from $437 billion in Q2 and down from $242 billion in Q1, according to TrimTabs, cited by the WSJ.
Despite their miserable performance record, these share buybacks have been the only thing that was – if barely – holding up the stock market. But where are they when you need them the most?
Another share buyback queen is GE. Since 2012, it wasted a breath-taking $40 billion on share buybacks (YCharts data), much of it between 2015 and 2017, despite a huge hole in its pension fund, deteriorating operations, and its sick finance division. But its shares have collapsed, and it is now in the process of dismantling itself. Read… What General Electric Is Doing to Dodge the Question: "When Will GE File for Bankruptcy?"
Enjoy reading WOLF STREET and want to support it? You can donate. I appreciate it immensely. Click on the beer and iced-tea mug to find out how:

Would you like to be notified via email when WOLF STREET publishes a new article? Sign up here.