Part of a global trend, as exasperated consumers are squealing, but no country has threatened to do what Mexico proposed.
Mexico's stocks are plummeting, with the S&P/BMV IPC index down 5.8% on Thursday — the worst drop in seven years — and another 2.8% by midday on Friday. The dollar-denominated ETF, iShares MSCI Mexico [EWW], plunged 11% over the past three days and is down 22% since August 8: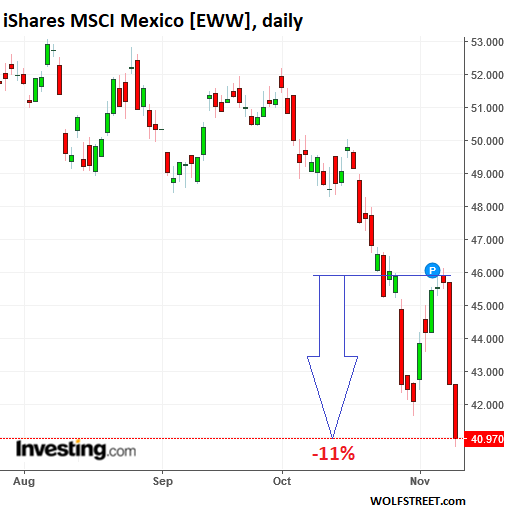 What happened? Mexican stocks, which had been caught up in the sell-off in October and the cancellation of the mega-airport and corruption project at the end of October, bounced a little in November, but then took another hit on Thursday when a senior Mexican senator from the president-elect's party proposed a bill that would ban or curb banks from charging commissions for many services.
Shares in the country's largest domestic-owned bank, Grupo Financiero Banorte, plunged 19% Thursday and Friday so far, Santander Mexico  Inbursa, and Gentera all dropped over 8%.
If the proposed banking initiative gets passed, it will be a hammer blow for Mexican lenders, for whom commissions and fees provide around a third of revenues. That, says Ricardo Monreal, the bill's sponsor, is precisely the problem: the banks in Mexico earn more in commissions than in almost any other Latin American country. And each year the amount grows. In 2017, the banks earned 8% more from commissions than in 2016.
This is part of a wider global trend. Each year U.S. banks generate record revenues from rising overdraft and ATM fees, as well as higher maintenance charges on accounts. According to one study, Chase, Wells Fargo, and Bank of America made around $6.4 billion last year from ATM and overdraft fees alone, almost $300 million more than in the previous year.
In NIRP paradise Europe, the banks' dependence on fees is, if anything, even greater. In Spain the six largest banks banks earned 12% more from commissions and fees during the first nine months of 2018 than they did during the same period of 2017. In France, the situation has become so serious that the Bank of France has launched an enquiry into abusive bank fees.
The EU is also taking matters into its own hands, having recently passed a law that forces the region's lenders to be more transparent about the fees they charge their customers. From 2019, all banks customers will receive – at least once a year and free of charge – a 'Statement of Fees' outlining all the extra commissions they were charged on basic banking services. This should help customers more easily compare each bank's fee gouging practices.
But no government has dared go quite so far to tackle this fee gouging problem as Mexico's incoming administration. Its proposed bill would prohibit banks from charging clients in a whole host of areas, including:
Checking their account balance.
Requesting past bank statements.
Withdrawing cash.
Replacing bank cards, whether due to loss or theft.
Depositing a check.
Annual credit card fees.
Maintenance fees on low-balance accounts.
The bill would also require the Bank of Mexico and Mexico's banking regulator to draw up a plan to incrementally lower commissions on bank transfers.
Naturally, the banks are up in arms. "It's terrible," said Sergio Zermeno, a Mexican banking expert. "What's truly worrisome is that we're barely emerging from the shock that hit the country's financial markets, resulting from the cancellation of the airport."
That happened just ten days ago, on October 29. Following a referendum on the issue, which returned a clear majority in favor of scrapping the project, now in its fourth year of development, Mexico's President Elect Andres Manuel Lopez Obrador (AMLO for short) announced that he would do precisely that, in the process jeopardizing billions of dollars of investment, some of it already spent.
The news triggered an immediate slide in the shares of Grupo Financiero Banorte, the bank most exposed, albeit indirectly, to the airport project, Banorte, whose stock also suffered the biggest hit Thursday and Friday. Over the past four weeks, its shares tumbled 28%.
But it's not just Mexican banks that could be affected by AMLO's proposed fee limit bill. Most of Mexico's biggest banks are subsidiaries of global banks — a hangover from the Tequila Crisis — and their revenues and profits are arguably even more heavily dependent on fees and commissions.
A recent investigation by Mexico's Commission for the Protection and Defense of Financial Services (CONDUSEF) revealed that the five biggest global banks operating in Mexico — Citi, BBVA, Santander, HSBC and Scotiabank — charge, on average, 19 percentage points more in fees and commissions than they do in their home markets. A staggering 39% of Santander Mexico's revenues come from commissions and fees, compared to 20% in Spain. For Citi's Mexican subsidiary, Banamex and HSBC Mexico, it's 33%, and for BBVA Bancomer, it's 36%.
For Bancomer's parent company, BBVA, which depends on its Mexican market for around a third of its global profits and is already reeling from the ill effects of Turkey's debt crisis on its subsidiary there, Garanti, the impact of a cut in fees could be brutal. The bank's shares in Madrid tumbled over 6%, their worst fall since the Brexit vote in June 2016, and are now trading at their lowest level since that fateful day. So far this year, they have plunged 30%. Somewhat less exposed to Mexico, Santander saw its shares slide over 2%. By Don Quijones.
Now everything is up in the air, so to speak. Read…  Whiff of Panic After Mexico Voted to Scrap Mega-Airport & Corruption Project
Enjoy reading WOLF STREET and want to support it? You can donate. I appreciate it immensely. Click on the beer and iced-tea mug to find out how:

Would you like to be notified via email when WOLF STREET publishes a new article? Sign up here.