We're overestimating growth, thinking of it as heading towards low growth. In reality, we're heading towards negative growth, once adjusted for inflation.
Canadian mortgage credit growth is falling, but how bad is it in real terms? People are comparing today's low growth numbers to the mid-1990s. While there are some parallels, it more accurately resembles the early 1980s. Mortgage credit growth, when adjusted for inflation, is heading towards negative numbers. We haven't actually experienced negative real growth in over 30 years.
Why Real Mortgage Credit Is Important
In order to more accurately observe trends, analysts will sometimes inflation adjust dollar amounts. Inflation is the decrease in power of money, caused by rising or falling prices in goods. Inflation tends to obfuscate the true trend over long periods of time. Did the currency go to s**t, or did we see a behavioral change? Was it low growth, or negative growth? To get a better picture, it's sometimes (almost always) useful to adjust for inflation. When numbers are adjusted for inflation, they're called real numbers.
Looking at real numbers allows us to observe the trend, without the distortion of currency value at the time. This is particularly important when looking at the early 1980s for Canada. During that period, inflation was totally out of control. Today we often think of that period as low growth, with a brief negative contraction. In actuality, it was a very large contraction in real terms.
Okay, no one thinks about the early 1980s rate of credit growth, but some of you should!
Canadian Mortgage Credit Growth Is Over 3%
Canadian mortgage credit growth is pretty weak when looking at unadjusted numbers. The annual pace of growth fell to 3.4% in September, down 38% from last year. This is the lowest pace since June 2001, and on target to head lower according to recent performance. It's low growth, but at least it's not negative is what most are thinking.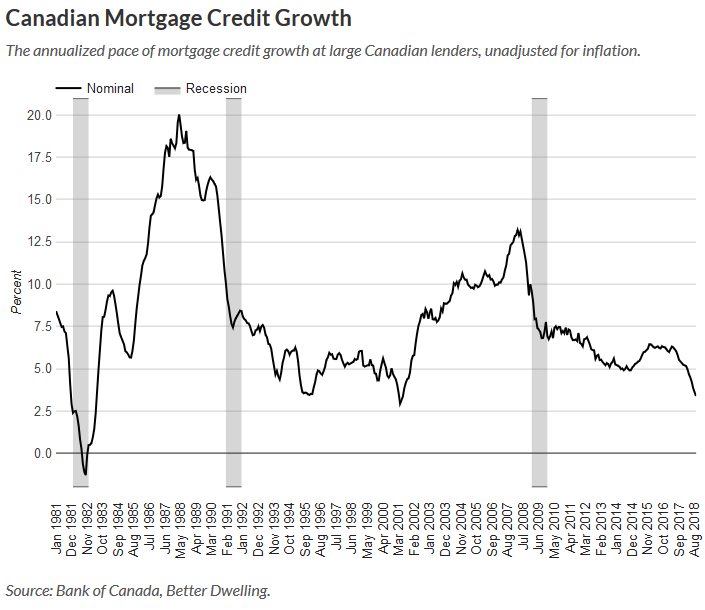 Real Canadian Mortgage Credit Growth Is Almost 1%
When adjusted for inflation, the picture is getting a little more dreary for lenders. Real mortgage credit is at 1.14% growth in September, 71% lower than last year. The rate is falling at nearly twice the pace most people are expecting. Real credit growth hasn't been this low since 2001, and even then it was only this low for 4 months.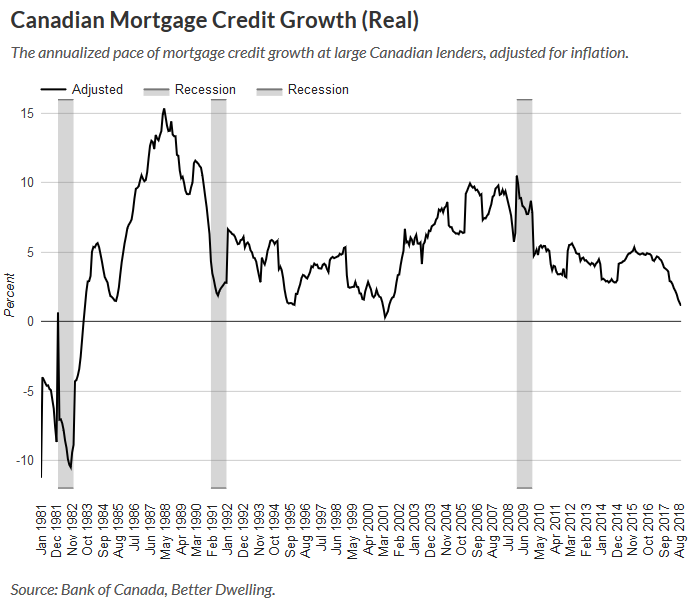 The low growth will most likely to turn negative, considering the current trend. In 2001, the last time real credit growth was this low, interest rates were slashed to stimulate growth. That helped reverse the downward spiral after 4 months. Today, that's not on the table.
The Bank of Canada's most recent hike occurred less than a month ago. Typically, the bank's own research shows it takes between six and twelve months to adjust to a policy hike. The full impact of the hike won't be felt for another half a year at least. The bank is also on the path to rate normalization, which means the policy rate needs to rise another 42%. That four month window in 2001 is probably looking pretty good to lenders right now.
We're currently overestimating growth, and thinking of it as heading towards low growth. In reality, we're heading towards negative growth, once adjusted for inflation. That includes the record amount of immigration we're trying to use as credit growth stimulus. By Stephen Punwasi, Better Dwelling
A massive survey of recent homebuyers reveals all. Read…  Foreign Buyers Made Me Do It: Canada Reflects Back on its Housing Bubble
Enjoy reading WOLF STREET and want to support it? You can donate. I appreciate it immensely. Click on the beer and iced-tea mug to find out how:

Would you like to be notified via email when WOLF STREET publishes a new article? Sign up here.