Time for some hefty share buybacks.
Apple suppliers are talking and filling in some details on demand for iPhones. And shares of Apple dropped another 4% mid-morning, after having dropped 6.6% on Friday, after it had reported revenues and earnings Thursday evening. Earnings and revenues rose sharply in the quarter, but only on price increases, not on increased device sales. This was spiced with an iffy forecast for holiday sales and the announcement that it would stop releasing unit-sales data for iPhones, Macs, and iPads to throw a merciful veil over the situation.
On Friday and Monday morning, market cap has plunged by about $100 billion. Shares are now down 14% from their closing price of $232.07 on October 3: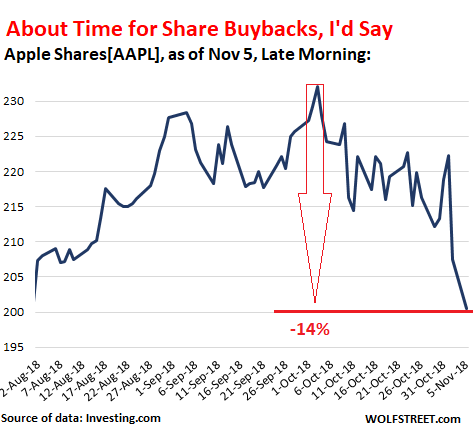 It's tough out there in the smartphone market – and that's what Apple has become dependent on. The market is mature. Overall global shipments in 2017 were flat and are expected to inch down this year, according to IDC. In this environment, sales increases come down to a zero-sum market share battle, and Apple's high prices appear to not be very helpful in that respect.
"Apple has signaled disappointing demand for the new iPhone XR" that started selling in October, the Nikkei Asian Review reported this morning, citing sources from three Apple smartphone assemblers, headquartered in Taiwan: Foxconn (Hon Hai Precision Industry), Pegatron, and Wistron.
Apple told Foxconn and Pegatron to halt plans for additional iPhone XR production lines, the sourced told the Nikkei:
"For the Foxconn side, it first prepared nearly 60 assembly lines for Apple's XR model, but recently uses only around 45 production lines as its top customer said it does not need to manufacture that many by now," a source familiar with the situation said.
According to the source, Foxconn would produce 20% to 25% fewer units (or about 100,000 fewer units per day) than the "original optimistic outlook."
Apple supplier Pegatron, according to the Nikkei, "is suspending plans to ramp up production and awaiting further instructions from Apple, a supply chain source said."
"The utilization for the XR production is not reaching its maximum capacity now," the source added.
Wistron, a smaller Apple supplier, was asked to stand by for rush orders, but has received no orders for the iPhone XR for this holiday season, according to Nikkei's sources.
This puts another big damper on hopes for breath-taking iPhone XR sales this holiday season. Among the new models, this is the less outrageously expensive one, compared to the iPhone XS and high-end XS Max.
Instead, customers appear to go for the older and less expensive iPhone 8 and iPhone 8 Plus models, for which the key suppliers are respectively Pegatron and Foxconn. The Nikkei:
"Suppliers of iPhone 8 and iPhone 8 Plus are getting a combined order of around 5 million more units," one source said. Apple previously planned 20 million units for the older iPhone models this quarter, but raised the figure to 25 million units, the individual said.
The Nikkei added:
The Silicon Valley company prepared more cautiously for production this year, looking to avoid severe inventory corrections later. Apple asked suppliers to prepare 20% fewer components for this year's new iPhones compared with last year. The company is now reviewing iPhone demand weekly to adjust orders quickly in response to the market, a source said.
Price does matter, it seems. Apple has done exceedingly well positioning and marketing its products at prices that are often far higher than those of its competition. This has produced enormous sales at big-fat profit margins, leading at the peak to a $1 trillion market capitalization, and you can't blame the company for its ingenious strategy of using its excellent and innovative products to relentlessly wring out enthusiastic consumers to the maximum possible.
But this strategy appears to have its limits in a mature or even declining market for smartphones, where the zero-sum battle for market share with Chinese and Korean smartphone makers is also fought on price.
So now is the time for Apple to step in and blow some serious money on buying back its own shares, to get them to turn around, for crying out loud.
Here's the myth of the share-buyback "blackout period" and the real price of "unlocking value." Read…  Where the Heck are Share Buybacks in This Rotten Market?
Enjoy reading WOLF STREET and want to support it? You can donate. I appreciate it immensely. Click on the beer and iced-tea mug to find out how:

Would you like to be notified via email when WOLF STREET publishes a new article? Sign up here.