Of the seven biggest, six have plunged by 78% to 92%.

Cryptocurrencies and tokens are multiplying like rabbits: There are now 1,926 listed on CoinMarketCap.com, 500 more than early 2018. And even as the number of cryptos continues to swell, each crypto constantly creates new units through "mining." This dilution and hyperinflation is worse than with all but the worst fiat currencies, such as the Venezuelan bolivar.
Cryptos are "decentralized." That was one of the major selling points in whitepapers full of intelligent-sounding gobbledygook and other propaganda promoted in myriad ways, including by an army of crypto trolls and celebrities paid by the tweet. Because cryptos are decentralized, everyone can create their own, and all kinds of outfits are mining new units of existing cryptos. It's really just a big joke. But people are losing large amounts usually expressed in their hated fiat currency. The pain is real. And the numbers are big.
At the peak on January 7, total market cap was $704 billion, per CoinMarketCap at the time.
But new cryptos arrive all the time, and cryptos are also multiplying themselves via the mining process. CoinMarketCap figures the market cap going backwards, based on today's existing cryptos to arrive at a theoretical market cap at a date in the past, as if all those new cryptos and tokens had already existed on that day in the past. And by this measure, the theoretical market cap for January 7 was $830 billion.
Based on this measure, the aggregate market cap has plunged 77%, from $830 billion to $192 billion in eight months. $638 billion vanished or transferred to those who sold in time from those who didn't.
The good thing for the US economy is that much of this market cap destruction has hit people around the globe, and people in the US got whacked by only a portion of it.
On December 11, I asked: "Peak Bitcoin Media-Mania Yet? In Ten Practically Funny Pictures, because the MSM was fanning with all its might the bitcoin mania. Looking back, my screenshots of front pages are amusing. Those were heady times! But I missed my target. I was six days early. The bitcoin peak wasn't until December 17.
Of the top seven cryptos by today's market cap, six have collapsed by between 78% and 92% from their respective peaks. Several of them are where they were a year ago or 15 months ago. Of the top seven, only Bitcoin plunged less than 78%.
Bitcoin is down 68% from its peak, and is back where it was on October 31, 2017 (all charts via CoinMarketCap.com, red and blue marks mine):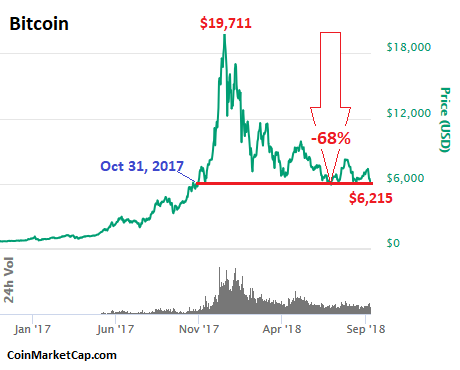 Ethereum collapsed 86% from its peak and is back where it was over 15 months ago, on May 29, 2017: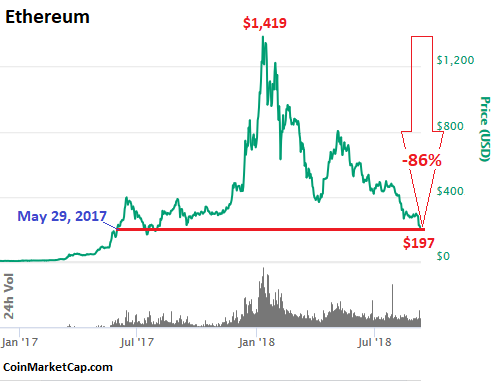 Ripple XRP has collapsed by 92% from its peak on January 4, 2018, and is back where it had been over 15 months ago. That 1,1140% spike didn't last long. It boggles my mind why not everyone sold during and after that spike. And why did anyone buy? What were they thinking? That this would continue? Note how nearly impossible it is now to unload a major position because volume (grey columns in the chart) has died down, and trying to dump a load is going to cause the price to collapse further.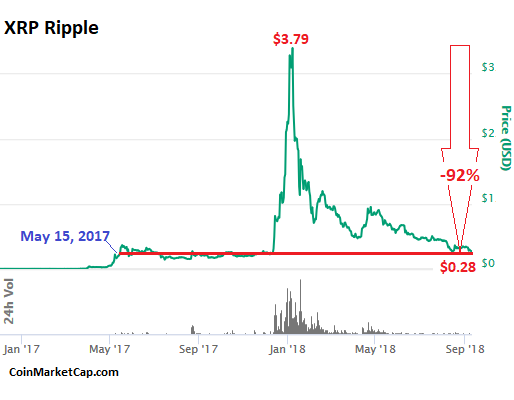 Bitcoin Cash was going to be the new thingy. It was split off from Bitcoin in August 2017. Over the two days from November 11 to 12, it quadrupled, a phenomenon I observed with a lot of headshaking, to $2,448. By December 20, it shot to $4,300. Now it has collapsed 89% from the peak to $469, below the price where it had started out ($556).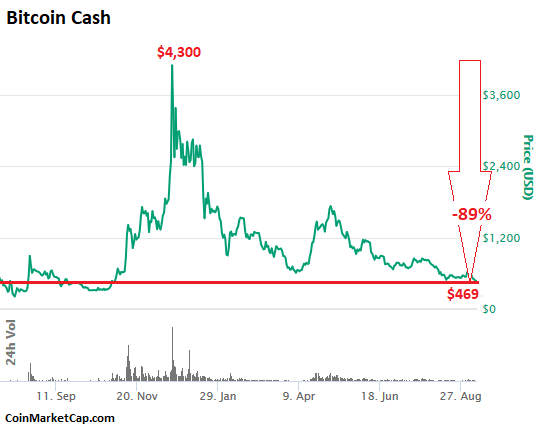 EOS is another late-comer. It kicked off in July 2017 with what became the biggest ICO at the time. It did a beautiful double spike peaking at $21.45 on April 28. In the four months since then, it has collapsed 78% and is back where it had been on December 7: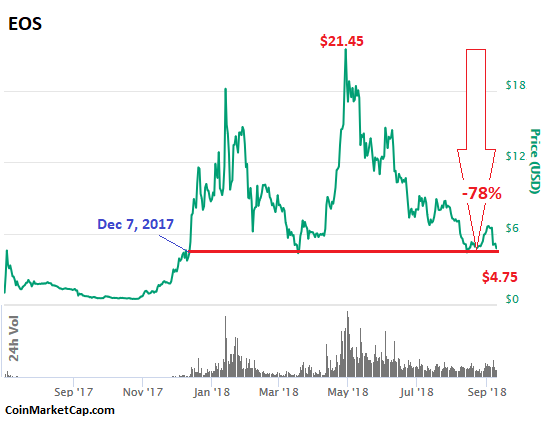 Stellar shot up in six weeks from about 3 cents to 86 cents by January 3, 2018, and has since collapsed 78% to 19 cents: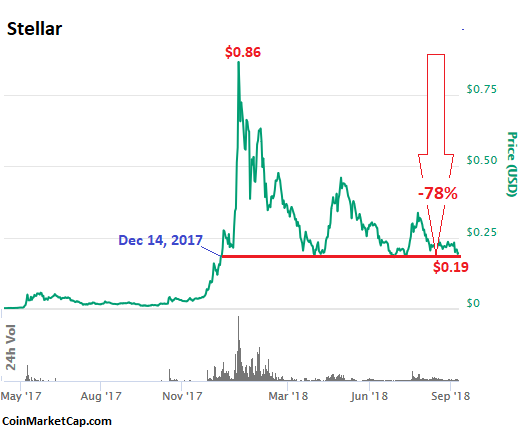 Litecoin peaked on December 18, 2017, at $353 and has now plunged 85%. Its founder admitted on December 20 that he'd wisely dumped his entire stake, using the full force of the first-mover advantage. True Believers were left holding the bag: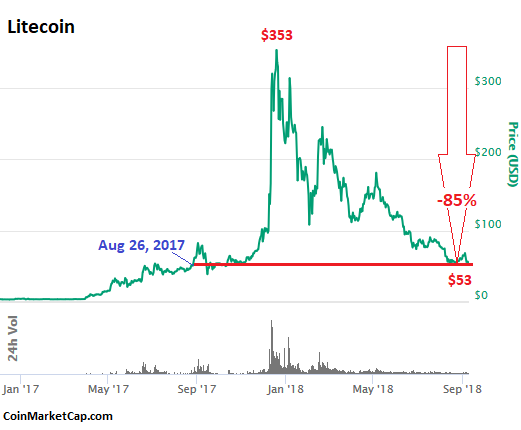 Of the nearly 2,000 cryptos, there are many that have become worthless and trading volume in them has died down. Even among the larger ones, there are plenty that have plunged 90% or more. In other words, most of that wealth has already vanished or was transferred to sellers who took that hated fiat money and laughed all the way to the hated bank. What remains is a mop-up operation that may drag out for a while, kept alive by some exciting but fleeting moments of hope.
Back to fiat money. Read…  The Fed's QE Unwind Hits $250 Billion
Enjoy reading WOLF STREET and want to support it? You can donate. I appreciate it immensely. Click on the beer and iced-tea mug to find out how:

Would you like to be notified via email when WOLF STREET publishes a new article? Sign up here.