In ten practically funny pictures.
Bitcoin mania is now everywhere. It's hard to have a conversation with regular people without sooner or later getting into bitcoin. Some of this is just for fun. Manias breed amazement. Miracles are wonderful to behold. But some of it is pretty serious.
"We've seen mortgages being taken out to buy bitcoin," said Joseph Borg, president of the North American Securities Administrators Association and director of the Alabama Securities Commission, on CNBC's Power Lunch today. "People do credit cards, equity lines," he said.
Bitcoin futures trading started Sunday night on the Cboe futures exchange. Next week, the CME will offer trading in bitcoin futures. This way, speculators can bet with unlimited derivatives on an unregulated digital entity that is backed by nothing and whose cash trading takes place in unregulated opaque and easily hacked exchanges around the world.
But Borg doesn't think that futures contracts legitimize bitcoin. Innovation and technology always outrun regulation, he said.
"You're on this mania curve. At some point in time there's got to be a leveling off," he said. "Cryptocurrency trading is here to stay. Blockchain is here to stay. Whether it is bitcoin or not, I don't know."
And so the media mania over bitcoin has become deafening. But there were also some bitcoin-free zones.
Here's CNBC's home page with three "bitcoin" headlines at the top part of the page, including the featured article: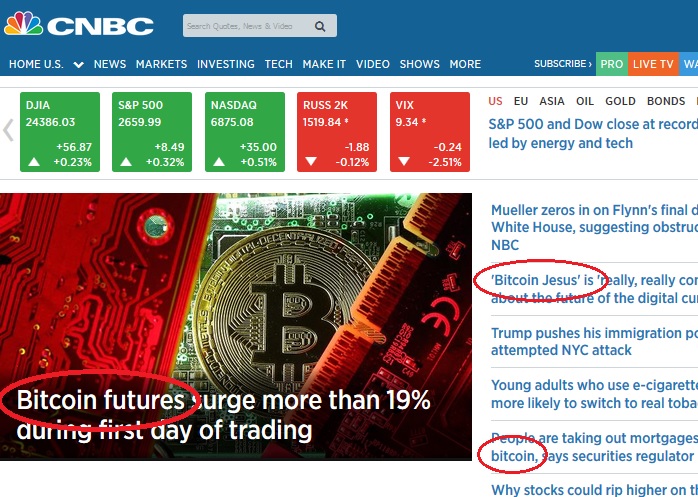 And MarketWatch with seven articles on bitcoin at the top of its homepage, including the featured article: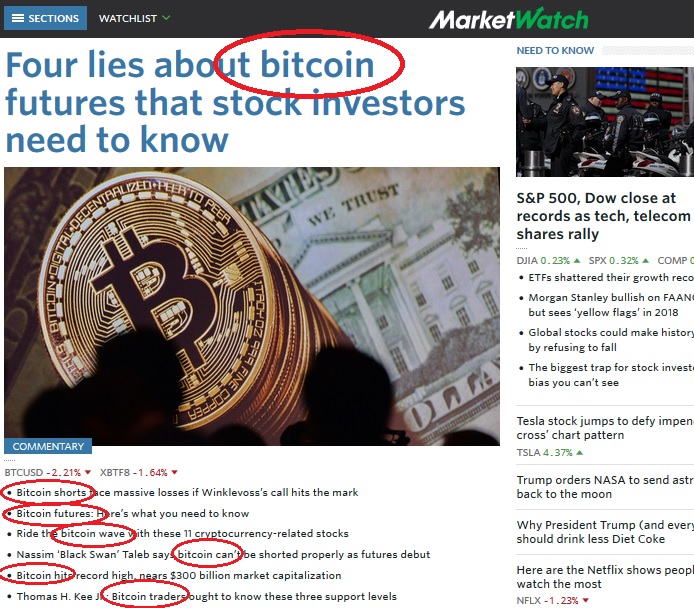 Bloomberg had five articles at the top of its homepage, including the featured article: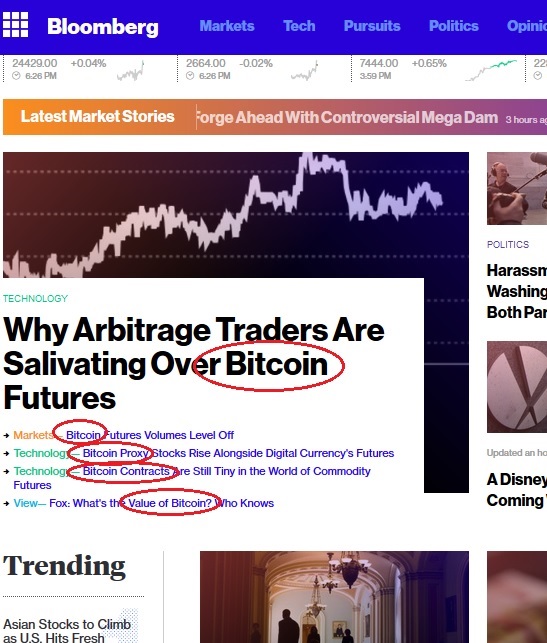 Yahoo Finance — oh my! — showed 15 bitcoin articles among the first 12 hours of articles on its endless homepage.
This includes wonderfully, "Is it too late to buy Bitcoin?" To show how important the whole affair is, Yahoo featured a bitcoin article and a bitcoin video at the very top, its two most important topics: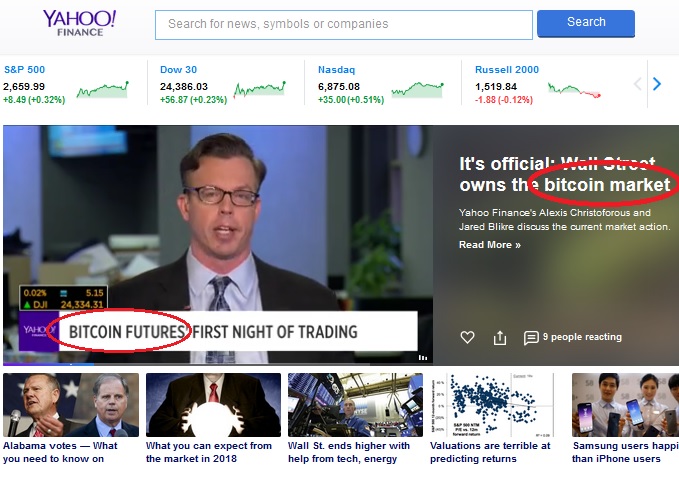 The Wall Street Journal was slightly more subdued with three bitcoin articles on the homepage.
But none of them were featured and all of them were beneath some other priorities. The three articles include one — "Buyers Get Unwanted Message: Wait in Line" — that doesn't mention bitcoin in the headline on the home page, but once you click on the article, the headline starts with "Bitcoin Buyers Get…"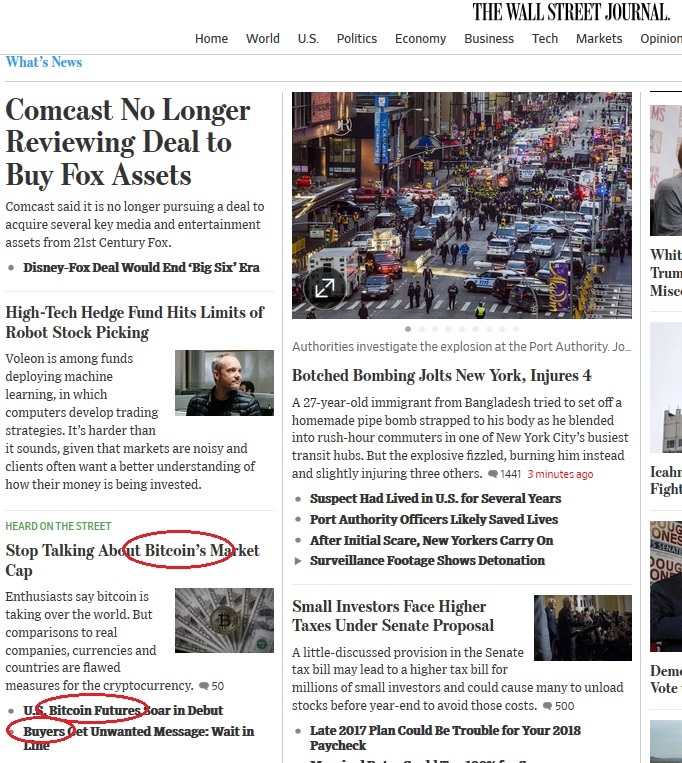 Reuters had only two bitcoin articles in prominent positions at the top, but none were the big featured article. Comcast got that spot:

But the Washington Post was very lackadaisical in its bitcoin mania, with only one article on the home page, way down near the bottom under "Business & Real Estate":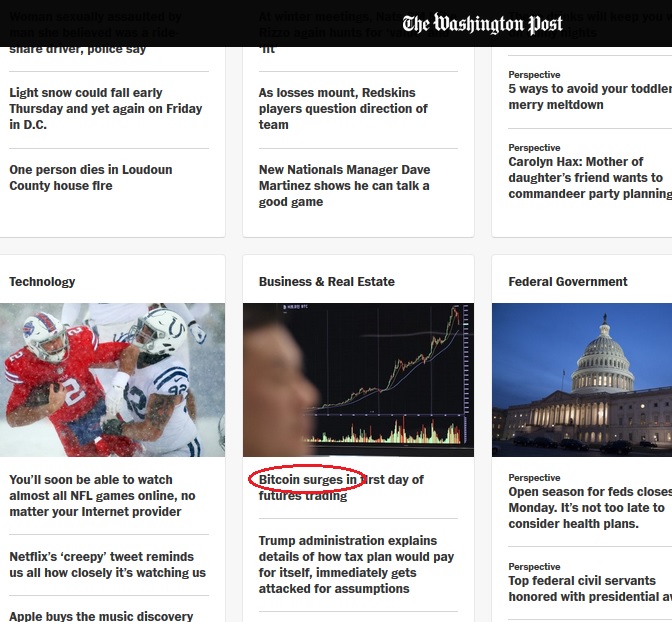 The New York Times failed to show the proper enthusiasm with no bitcoin articles on the homepage.
However, after clicking my way to the business section, I found a "bitcoin" headline about halfway down, and it wasn't particularly enthusiastic either: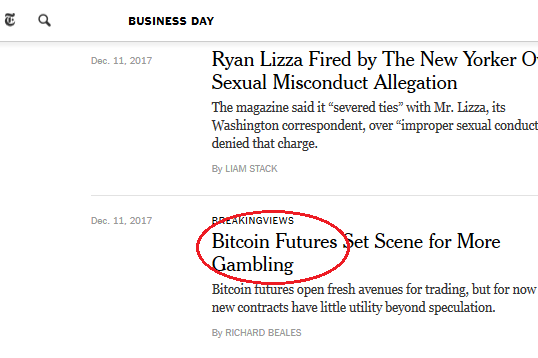 USA Today had three bitcoin headlines on its homepage, but all three led to the same article. Here is the first reference: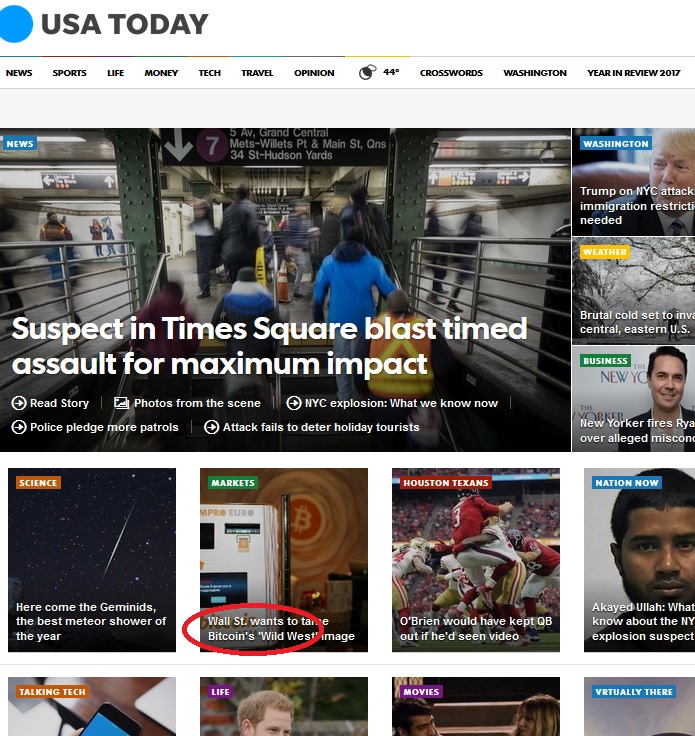 The Los Angeles Times was focused on the horrific fires now ravaging southern California, including parts of Los Angeles.
"The Inferno that won't die," its lead article said. Even bitcoin mania has to cede space when the city burns. So bitcoin mania got pushed way down. There were only two bitcoin articles: one from December 7 in the section where old articles are regurgitated; and the other from today, obtained from the Associated Press. It formed the lead article in the Business & Technology section way down on the homepage, shown here: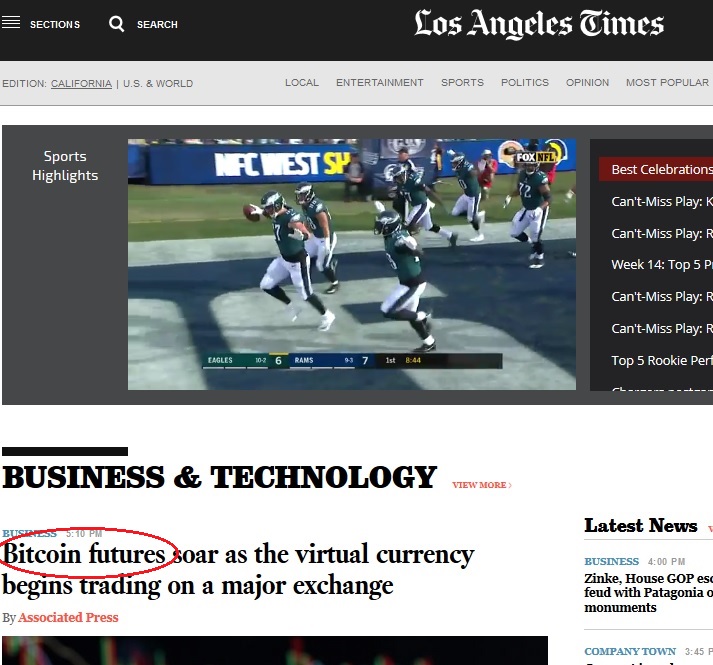 There were some notable bitcoin-free zones, however, at least for the moment, including NPR's home page and perhaps surprisingly the homepage of the San Francisco Chronicle.
So is this how good it's going to get? Is this peak bitcoin mania?
We don't know what other crazy surprises this religious fervor over the digital betting entities is going to bring in the future, but one thing is for sure: bitcoin's total dominance of the financial media, which took a while to build up and suddenly erupted, is an amazing sight to behold.
$21 billion of debt. Off-balance-sheet entities. Moody's wakes up, downgrades it four notches, with more to come. Read…  Enron Déjà Vu? Citi, BofA, HSBC, Goldman, BNP on the Hook as Steinhoff Spirals Down
Enjoy reading WOLF STREET and want to support it? You can donate. I appreciate it immensely. Click on the beer and iced-tea mug to find out how:

Would you like to be notified via email when WOLF STREET publishes a new article? Sign up here.